Spinks-Latimore, Alexander-Rodriguez Weights and Quotes
Photos by David Martin Warr/DKP - Cory "The Next Generation" Spinks weighed in at 152 ¾ pounds and DeAndre "The Bull" Latimore tipped the scales at 153 ½ pounds Thursday at the Drury Plaza Hotel in St. Louis. The former four-time world champion Spinks (36-5, 11 KOs) will take on IBF No. 6-ranked contender Latimore (19-1, 16 KOs) Friday from the Scottrade Center for the vacant IBF junior middleweight championship live on SHOWTIME..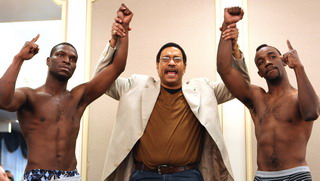 Devon Alexander "The Great" measured 140 pounds and Jesus "Chuy" Rodriguez weighed in at 141 pounds. The Gateway City's fastest-rising star, undefeated World Boxing Council No. 1-ranked super lightweight Alexander (17-0, 10 KOs) will face Rodriguez (19-3, 5 KOs), of Salinas, Calif., a winner in 11 of his last 12 outings, in the ShoBox co-feature.

Both fights will be televised on ShoBox: The New Generation live on SHOWTIME beginning at 11 p.m. ET/PT (10 p.m. CT, delayed on the West Coast). A full undercard will be presented. Doors open at 6 p.m.

What the four fighters had to say before Thursday's weigh-in: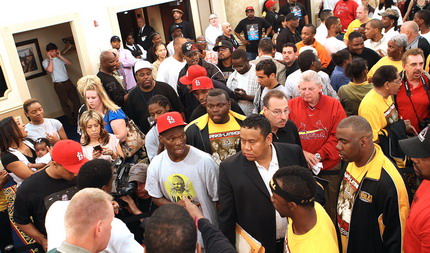 CORY SPINKS

"I'll do what I do best, frustrate him and box him."

"We've been stressing in camp that it's going to be a fight, not just a boxing match. You can't just box and move. You got to make people respect you."

"Latimore has a whole lot of flaws. He's loaded with flaws. He's basically a come forward, wing it type guy."

"Any man that has the guts to get in the ring can hurt you. We've trained hard like any other fighter. I'm not taking him lightly. I'm going in there to punish him."

"We want to take this guy to a place that he's never been before. Take him deep. He's never been in a situation like this before. He's never been in a world title fight. We're going to have to put some punishment on this guy."

"Against Verno (Phillips) I brought an 'F' grade. Plain and simple. Everything wasn't right. It was just wrong. But on Friday night, I'm bringing an 'A.'"

"This fight is going to come down to who wants it the most."

"This fight is do or die for me. I still have things to prove and that's what I'm going to do. I want to prove I'm one of the best out there and I'm fighting to let everyone know that."

"I can fight any style. It doesn't matter if they're southpaw or orthodox. Latimore is young, he's dedicated and he's strong. But he's not ready for me."

"The 13-month lay-off has no effect for me. This fight was supposed to happen a long time ago. I've been ready for this for a long time.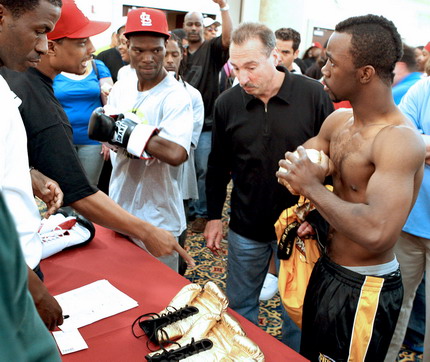 DEANDRE LATIMORE

"I've grown up looking up to Cory, but his is a business. This is how I feed my family. I can't let him and I being friends get in the way of that. I'm going in for the kill. I've been waiting my whole life for this."

"We've noticed him losing his legs and losing his grove. But we're preparing for the good Cory Spinks. We're ready for the best he has so we're bringing the best DeAndre Latimore for him. It doesn't matter what he's done in the past, we're preparing for what we know he's possible of."

"I'm going to fight like DeAndre. We're going to be aggressive and we're going to land shots that we know can land. It's all about pressure."

"Our key is to slow him down as much as we can. We've prepared for the best Cory out there. We're not taking anything for granted."

"I'm focused on the fight and I know what I have to do. I set my goal and I'm ready to go accomplish it now. I have to go in there and do what I've been training to do. I've been preparing for this for a long time."

"I'm not anybody's opponent. I'm going to be on top of the fight game for a long time."

"About two years ago I was just a brawler. But I wanted to learn, so I picked up everything and ran with it."

"When I lost, I just didn't have the right people controlling me at the time. Now I have everything down and I'm ready to show what I can do with it."

"I've been knocked down as a pro once before (in the Ian Gardner fight). I won't go down again."

"I got to make him fight my fight and I have to go get what's mine."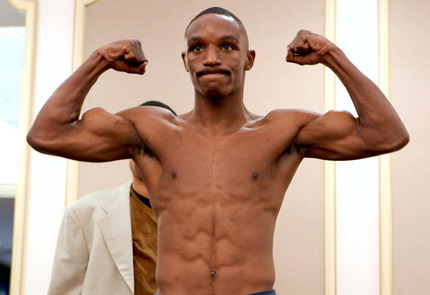 DEVON ALEXANDER:

"I love fighting and right now I'm on a mission to capture the WBC belt. Whoever I fight is in my way and I have to take him down. That's how I see it."

"For me, when I fight guys that can fight, that's when I'm at my best. Rodriguez is determined, he's solid."

"We're going to get him from the opening bell."

"This is boxing. If you're not ready by now you're never going to be ready. I've been blessed with the skills to fight anybody. I'm ready for the world title fight, but first, I'm ready for Rodriguez."

"As long as I train hard, I think I have the skills to beat anybody that I get in the ring with. But the only thing I'm thinking about right now is Friday night."

"I'm a totally different fighter than the last time I fought on ShoBox. I'm like a sponge now, just learning, fighting and soaking everything up."

"I've learned a lot from Cory (Spinks). The speed, the defense, how's he able to get out away from punches. I saw how he carried himself when he was a world champion and I've learned a lot from that."


JESUS RODRIGUEZ

"I've moved on from that (Mike) Alvarado lost. Devin is a busy fighter from what I've seen. But, I think Alvarado was a little stronger physically."

"I don't know how fast he really is. He looks fast because his opponents just stand there for him. I think I need to disrupt that breathing and jump on him. That will be the difference.

"I think I've fought tougher opposition and more game fighters than he has."

"I've never fought a southpaw, but I've had plenty of sparring with them. I've been sparring with Robert Guerrero.

"After they called to tell us the Zab Judah fight was off, we were still in the gym, but it wasn't as intense. One week after Judah fell out, I took this fight."

"Devin has never fought at an intensity he is going to see on Friday night. They're already talking about (WBC/WBO Champion) Timothy Bradley. They have no idea what they are getting into."

"This is a great opportunity. I was getting ready for Zab Judah, the fight falls through and I get a chance at the No. 1 spot. My life can turn in just one fight, as can his."

"We both have to go at it. After this fight, one goes up and the other goes down. We're going for everything."

"It's a shot at the No. 1 spot. People pray for these opportunities and it just came knocking on my door."

"The way I was training was so intense that I should be able to come out with a victory. My body is in great shape and everything is just starting to fall into play."

"We're back and we're going to have to prove it Friday night."

Nick Charles will describe the ShoBox action from ringside with boxing historian Steve Farhood serving as expert analyst. The executive producer of ShoBox is Gordon Hall with Richard Gaughan producing and Rick Phillips directing.

For more information on SHOWTIME Sports, including exclusive behind-the-scenes video and photo galleries, complete telecast information and more, please go to the new SHOWTIME Sports website at http://sports.sho.com. Article posted on 24.04.2009
previous article: E-Bite: Adrian 'El Tigre' Granados on Fighting in Mexican Tourney Tonight!
next article: News: Bones Adams; Kid Diamond; John Bray; More