Froch-Taylor: SHOWTIME Photo Gallery And Media Prediction Poll
NEW YORK (April 24, 2009)–- Tom Casino/SHOWTIME - Carl Froch is a supremely confident, unbeaten fighter who opted to come to America to defend his WBC 168-pound title against former undisputed middleweight champion Jermain Taylor this Saturday on SHOWTIME (9 p.m. ET/PT, delayed on the west coast) for one sole reason – to make a name for himself in the United States. So, did Froch, of Nottingham, England, make the correct decision and will he defeat Taylor, of Little Rock, Ark., in the main event on SHOWTIME CHAMPIONSHIP BOXING from Foxwoods Resort Casino in Mashantucket, Conn.? You'll have to tune in to find out. Those who participated in a SHOWTIME Media Prediction Poll gave a clear edge to Taylor, who was tabbed to triumph on 29 of the 44 predictions..

Few, if any, predicted a blowout, however, and almost all expect to see a close, hard-fought match. The major sports books and gambling websites agree with the media as Taylor is a slight favorite.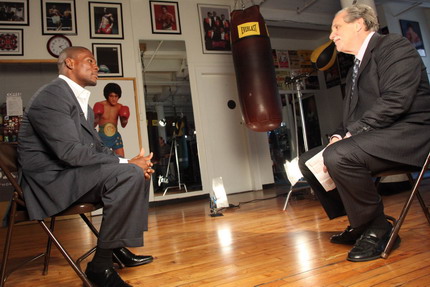 How the media see the eagerly awaited 12-round WBC title fight:

James Slater, EastsideBoxing.com, (Froch): "I think Froch will be physically stronger than Taylor and I think he wants it more. Jermain may be the better, smoother boxer, but "The Cobra" will jump right on him and not allow "Bad Intentions" to get into his groove. This is the acid test for Froch, but I feel he will pass it with a late stoppage or a pretty clear points margin.''

Tim Smith, New York Daily News, (Taylor): "Since I've never seen Froch, I can't say whether it will be difficult or easy, but I can see Taylor outboxing him and winning a decision.''

Kevin Iole, Yahoo! Sports, (Taylor): "Froch has a good chin and isn't going to go anywhere. But Taylor has been in with the better competition and is highly motivated to reclaim a championship. He'll have some anxious moments, but he'll pull away to record a unanimous decision victory.''

Robert Morales, Long Beach Press Telegram/Los Angeles Daily News, (Taylor): "Jermain Taylor has fought much tougher opposition during a career in which he hasn't received enough credit for his accomplishments. I believe that experience is going to play a big role in him defeating a fighter whose list of opponents leaves much to be desired. Froch has only fought once in the United States and it was against a club fighter at the Avalon in Hollywood (Calif.), which means nothing. This fight is going to be in Connecticut; that's just another advantage for Jermain. Because of the idea that he has not been given enough credit for what he has done, that just makes him even hungrier to win this fight. Taylor by lopsided decision.''

Flattop, FightNews.com (Taylor): "Taylor needs to box a measured fight, jabbing and out-maneuvering the heavy-handed Froch from a distance. Froch can win if he makes it a
toe-to-toe battle, as Kelly Pavlik did in the first fight with Taylor. But Taylor learned not to brawl with a brawler from the first encounter with Pavlik and fought a more tactical rematch, although unsuccessful. Taylor by unanimous but unpopular decision.''

Steve Kim, MaxBoxing.com, (Taylor): "In a closely contested fight, I'll take the speed and athleticism of Taylor over the consistency of Froch. Taylor wins a decision.''

Johnny Falgoust, USA Today, (Taylor): "Taylor by KO 8. Froch's power doesn't appear to be as good as his record indicates. He also doesn't have the reflexes to get away with carrying his left hand so low. Taylor's right hands should find a home easily. Although Froch holds the belt, he's the one stepping up in competition, not Taylor.''

Kevin Mitchell, The Observer, UK, (Froch): "Carl Froch has been boxing like a pro since he was a young amateur. He is a natural, as is Jermain Taylor. So this has the potential to be a classic boxing match. However, Froch has a hardness about him that will shock Taylor. He is a physically mature super middleweight up against a middleweight whose resolve and dedication have not always been up to scratch. Froch keeps the title by late stoppage.''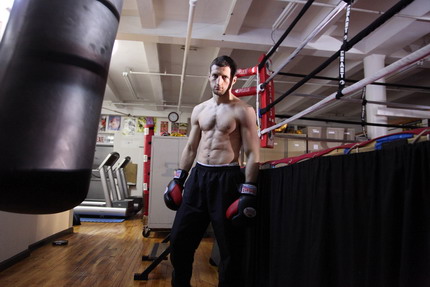 Bobby Cassidy, Newsday, (Taylor): "It's always tough to pick against a guy who has never lost, but I don't see Froch being able to outslug Jermain. I think that Taylor is very comfortable at 168 and that his handspeed will carry the day as he wins a unanimous decision.''

Michael Rosenthal, The Ring-Online, (Taylor): "I'm impressed with Froch's record and his willingness to fight in the United States but I don't think he's faced anyone with Taylor's ability or quickness, although Jean Pascal is capable. If Taylor can twice give Bernard Hopkins fits, he'll be able to beat Froch by unanimous decision.''

Karl Freitag, FightNews.com, (Taylor): "Joining a growing list of recent British champions to cross the pond, will Carl Froch be a Joe Calzaghe or a Clinton Woods? Jermain Taylor will test Froch as he's never been tested before. The feeling here is that Froch has more Woods in him than Calzaghe. Taylor won't stop him, though, but will win a 12-round decision.''

Ramon Aranda, 411mania.com, (Taylor): "Taylor will be more at home at super middleweight and his desire to be a world champ again will carry him through this fight. Froch is a strong 168-pounder but I haven't been too impressed with what I've seen out of him. I think he gives Taylor problems early on, but Taylor has a better second half and wins a close decision.''

Clive Bernath, SecondsOut.com, (Taylor): "This is a tough fight to call but I do believe if a peak Jermain Taylor turns up he will win. Froch is bigger, stronger and possibly better conditioned but he has not fought in this class before and his defense is weak to say the least. Taylor is faster, more experienced. And if the same fighter that beat Bernard Hopkins turns up I see him breaking through Froch's fragile guard and outpointing him over 12 hard rounds.''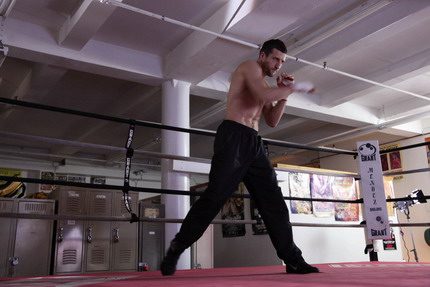 Thomas Marriott, 15rounds.com, (Froch): "I can see each man winning in one fashion, Taylor by decision or Froch by KO. My head tells me Taylor, being he can probably outbox Froch most of the fight. I'm going with my heart, though, and pick Froch by a late stoppage. Taylor's lack of stamina and willpower, at times, has bothered me. I think Taylor wins the early rounds, but Froch wears him down and TKO's him late – perhaps around the 11th round the cobra will strike.''

Lee Bellfield, SaddoBoxing.com, (Froch): "At the time of writing this prediction, I found it hard to believe that no agreement had been made to screen this fight on UK TV, particularly since I think it's Froch's time now. Having won the crown in an exciting fight against Jean Pascal four months ago, Froch won't give up the title without a scrap and I've always had this feeling he's wanted this fight more than Taylor. Although Taylor has fought better, he also has flaws. I feel Froch's will to win should see him through against Taylor. At worst, I think Froch will win on points, but he may possibly stop Taylor late in the same way that Kelly Pavlik did.''

Brett Conway, MaxBoxing.com, (Froch): "Froch by unanimous decision. After beating Hopkins, Taylor would be my choice, but since then he has not measured up to expectations. Froch, on the other hand, has just come off a tough win against Jean Pascal, a fight that some considered the fight of the year for 2008. Froch is just too battle tested for Taylor. His toughness will wear the former middleweight champ down and he will win a unanimous decision.''

Matt Richardson, FightNews.com, (Taylor): "This should be a fun fight for as long as it lasts. I think there is a tendency now to assume all European super middleweights are underrated since so many of us on this side of the pond underestimated Joe Calzaghe for so long. But Froch is no Calzaghe. He's fun and exciting but I can't see him beating a rejuvenated and more physically comfortable (at 168) Jermain Taylor. Taylor wins by late TKO or decision.''

Jack Obermayer, Boxing Digest, (Taylor): "Lots of factors to consider, almost so, that this is a draw or toss-up fight. Can Froch be top flight away from home? Will Taylor move too much and thus make him look afraid in the eyes of the judges? Originally, I was a Froch man, but I feel that Taylor is enough of a solid – not great – boxer-puncher to control most of the limited action. Nonetheless, it'll be interesting in how it unfolds. Taylor by decision.''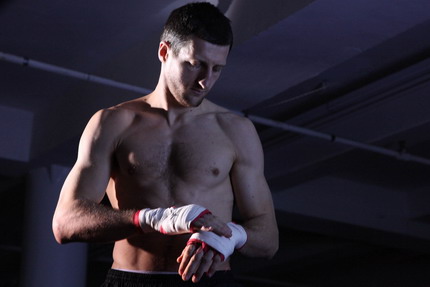 Tim Starks, QueensberryRules.com (Taylor): "Both Froch and Taylor have loads of flaws, but in each of their last fights, they showed they have enough good traits to make them super middleweights to be reckoned with. I expect a good style match-up and close bout. What tilts me to 'Taylor by decision' is that one of Froch's flaws – that junk where he fights with his hands down – makes him far too hittable, and some of Taylor's good traits, like his speed and jab, make Taylor just the man to exploit it over and over again.''

David M. Lee, (411mania.com, (Froch): "Froch by TKO in the 10th. He is too big, too strong and too heavy-handed. Although Froch's defense is always a worry, I don't believe Taylor carries a big enough stick to stop a full-blown super-middleweight like Froch.''

Francisco Salazar, FightNews.com, (Taylor): "I'm a firm believer in that it's who you have fought. Taylor has faced the stronger and more talented opposition. Carl Froch has faced Jean Pascal and Robin Reid, scoring decision victories. Taylor wins a close decision in a bout that might feature at least one knockdown – by something like 115-112.''

Brian Blake, TalkingBoxing.com, (Froch): "Jermain is one of the best boxers America has seen in recent years, but I don't think that will be enough. His chin has been cracked and it will be tested once again. He'll try to box but once he gets touched he'll feel the need to go toe to toe and it won't pay off. It will be a see-saw fight until the seventh round when 'The Cobra' takes out 'Bad Intentions.' ''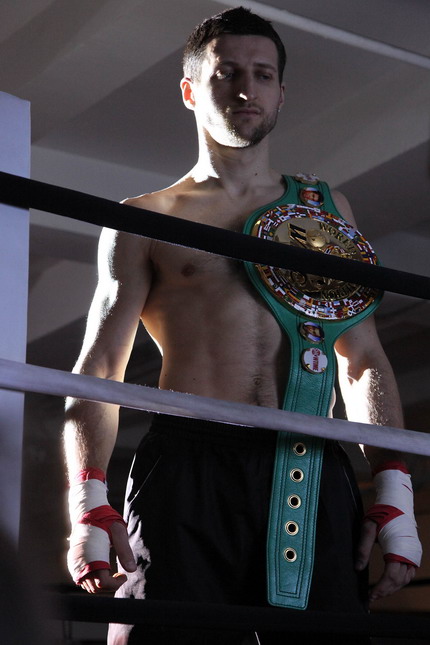 Scott Fyfe, The Sunday Post – Scotland, (Froch): "If Taylor could not stop Jeff Lacy, he is unlikely to be able to come close to halting Froch. After waiting so long to become a recognized world champion, Carl will put on a showcase in this one to underline he's the emerging force in the super-middleweight division. Froch rolls on by decision.''

Mariano Agmi, FightNews.com (Taylor): "Taylor will be significantly faster than Froch, and the disparity in big-fight experience will be the difference. I expect an exciting bout where each fighter is stunned. In the end, I see Taylor using his superior boxing skills to pull out a tough but well-deserved 12-round unanimous decision victory in a close, competitive fight.''

Gunnar Meinhardt, German Boxing, (Froch) : "Froch will prevail – not only because of his determination to enhance his reputation in America but also because of his power and hunger to be the best at 168 pounds. Froch wins an exciting fight by decision or late stoppage.''

Patrick Cassidy, 411mania.com, (Froch): "Froch's handspeed will be a big problem for Taylor. Jermain was worn down over 12 rounds by Kelly Pavlik in their second fight and I expect Froch's naturally bigger frame to weigh on Taylor in this one. Froch wins a close split decision.''




Alex Dombroff, FightNews.com, (Taylor): "Taylor has too much natural boxing ability for the forth-coming brawler, Froch. It is quite possible that Taylor could beat himself, if he forgets about his jab and stands in with Froch. But something tells me Froch doesn't have enough Kelly Pavlik in him, and Taylor gets by with a decision victory.''

Zachary Levin, Boxing News, (Froch): "Froch wins a close decision. I think his movement, sneaky punches, awkward angles and underrated pop are going to trouble Taylor throughout. As Froch fades and makes mistakes in the last few rounds, Taylor will land some convincing blows. But it'll be too little too late.''

Chris Strait, Stick and Move w/ Chris and Chris at www.stickandmoveshow.com, (Taylor): "While's Froch's win over Pascal was impressive, it wasn't that long ago that we were less than impressed with Pascal even as he fought journeymen on ESPN2. I think it will take Froch only a few rounds to realize he's in over his head, and he will not attempt to ruffle Jermain's feathers. Taylor outboxes him to an easy decision win.''

Scott Swerbinsky, Pound 4 Pound Apparel Internet Radio (Taylor): "I love Taylor in this one. He's too big, strong, fast and hungry. Taylor wins by KO or dominating decision.''

Antonio Castro, KNR2 Boxing show, Cleveland, (Taylor): "This is too big of a jump up in class for Froch, who will also have to win on foreign soil. It won't be pretty, but Taylor will win a clear-cut unanimous decision.''

Dennis Bernstein, pound4pound.com, (Taylor): "Taylor's fought far better competition and needs a convincing victory to put him back in the forefront of the minds of the American boxing fans. Froch's WBC super middleweight title win was against unknown, then-unbeaten Jean Pascal and prior to that he beat a 37-year-old ex-Polish military man who took the fight on three days' notice – not exactly Kelly Pavilk and Bernard Hopkins. If Taylor uses his reach advantage and stays on the outside, he should be able to wear Froch down. Froch's straight ahead, plodding style is perfect for the bigger and more athletic Taylor. (Still) Jermain needs to prove he's a finisher. He hasn't stopped an opponent in over four years. Bottom line is, another Englishman goes home unhappy. Taylor takes it by TKO 10.''

David Duenez, There Will Be Blood Fight Show, (Froch): "Even though Froch's opposition does not equal Taylor's, Jermain's history for walking himself back to the ropes on his own will cause himself to be trapped against a big puncher like Carl. As we know, Froch does not have the speed or the experience like Taylor, but has the willingness to win. Taylor still has not adjusted his game plan and still tends to fall in the shoot-outs. Instead of boxing himself out of danger, he leaves an open window for someone like Froch to get a KO. Taylor is obviously the boxer, but he has yet to complete his schooling in the boxing manual. At this point in Taylor's career, a fight with Froch should be a minor test for him, but the lack of progression in his skills in this fight is going to be the testament of where his career goes next. Froch by late knockout stoppage.''

Phil Santos, Overhandright.com, (Taylor): "Taylor boasts a résumé with names like Hopkins, Wright and Pavlik and was once recognized as the world's best at 160. The trouble is every time JT faces an elite opponent (1) he never scores a knockout and (2) looks hittable and makes the fight more difficult than it has to be. For Froch this is his big shot. His most notable victories came over fringe contenders, at best, but to his credit he's still unbeaten and does possess good power. Froch is a nice fighter but Taylor's speed and experience should own the night. Despite what history tells me, I expect Taylor to score a TKO in 5.''

Jane Warburton, SaddoBoxing.com, (Froch): "I expect this to be an exciting and close contest. Taylor has fought great opponents, but I think Froch's speed and 'cobra sting' gives him the edge. Froch retains title on a unanimous decision.''

George Elsasser, BraggingRightsCorner.Com, (Taylor): "Having never seen Froch, undefeated or not, the scalps taken are as faceless to me as he is. Even a tainted Taylor since the Pavlik misadventures should be enough to claim the WBC strap. Taylor takes a decision.''

Dave Wilcox, Talkin Boxing with Billy C" Radio Show/RingSports Magazine, (Taylor): "It seems the current opinion is that Taylor has seen better days and Froch will overpower the Arkansas native. I couldn't disagree more. Taylor will be too slick and he will win a clear-cut unanimous decision to put himself back in the picture for some big paydays.''

Rusty Rubin, RingSports.com, (Taylor): "Taylor has been a hard fighter to understand. After he eked out a win over BHOP, instead of learning and correcting some mistakes, he seems to have lost his confidence. Make no mistake, Taylor can fight with the best of them; in fact, he has. Froch is an up-and-comer and this will be his biggest test. The obvious question is, which Taylor will show up. If he fights like he did in his two fights with Hopkins, he's an easy winner. If not, we have a horse race. Assuming the fight goes to the judges, and I believe it will, Taylor, who's certainly fought better competition, will take a unanimous decision.''

Howie Reed The Square Ring, (Froch): "The champion successfully defends on a 12-round decision.''

Luke Kohler, BoxingInformer.com, (Taylor): "Taylor has a clear class edge, having beaten Hopkins (twice) and being in the ring with Pavlik (twice) and Wright. Froch still seems to be a bit rough around the edges and hasn't fought at this level. I think this is a solid action fight with Taylor being able to win rounds more clearly. Froch will have his moments, but as we've seen before, it's very difficult to look good against Taylor. Froch's low left hand will make Taylor's jab look good and Froch's flurries won't be enough. That said, you never know what you're getting from Jermain, so I can't say I'd be surprised at a Froch victory. But in the end, Taylor's experience will show as he pulls it out on the cards in a close, exciting fight.'' Article posted on 24.04.2009
previous article: Only 8 Days Away: Ricky Hatton v Manny Pacquiao
next article: Emanuel Steward - "David Haye Brings An Excitement Like Cassius Clay In 1963"