Froch, Taylor, Hershman SHOWTIME Quotes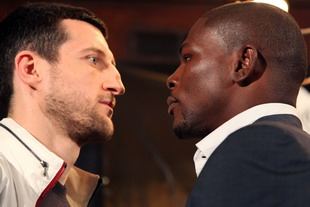 23.04.09 - Photos: Tom Casino/SHOWTIME - the principals for Saturday night's highly anticipated world title fight on SHOWTIME participated in a final press conference on Wednesday at Gallagher's Steak House in Manhattan.

CARL FROCH - "It is my pleasure to be here in America. I was in Canada for three weeks and now have been here for the last week training. We've had a good camp. Sparring has been very intense with guys who are hitting me like Jermain will. Jermain seems very confident, talking about being back and No. 1 but make no mistake. This is my belt. I am the champion. I am undefeated. Only a few warriors have gone the distance with me. Everyone else hasn't been able to stay in there.

"(Joe) Calzaghe didn't want to fight me. When I became the champion it was vacant and you don't get as much respect that way for some reason. But I am the WBC super middleweight champion and come Sunday morning Jermain Taylor will be disappointed that he doesn't have the belt. I'm showing the Americans what 'The Cobra' is made of.."


JERMAIN TAYLOR

"I have found the hunger again and it took fighting Carl for the belt to get it back. If I catch him he's going to sleep.

"At 168 I'm more focused on boxing, because I don't have to worry about making weight. This fight I want to show the doubters. I want to make a statement.

"This is a comeback fight for me and will probably be remembered by the outcome. It's the kind of fight I need."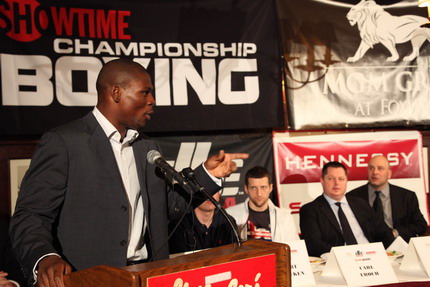 KEN HERSHMAN

"Carl Froch and Mick Hennessy are the champs here. They didn't have to come over here and take this fight. My hat is off to them for coming here and doing this. This is a world class level event with world class level fighters. There are not many fighters that would come over here and do this.

"I've been a long time fan of Jermain Taylor. He is one of the most prolific fighters with one of the most impressive resumes. He has never shied away from a fight and this is a testament of that."


Undefeated Carl "The Cobra" Froch will defend his World Boxing Council (WBC) super middleweight title against Jermain "Bad Intentions" Taylor, a former undisputed middleweight titleholder, live on SHOWTIME (9 p.m. ET/PT, delayed on the west coast) from the MGM Grand at Foxwoods in Mashantucket, Conn.

The event is co-promoted by DiBella Entertainment and Hennessy Sports.

Froch (24-0, 19 KOs), of Nottingham, England, will be making the first defense of the vacant 168-pound crown he gained in his last outing with a unanimous 12-round decision over Jean Pascal on Dec. 6, 2008. He earned the title shot after registering a fourth-round TKO over Albert Rybacki on May 20, 2008, on ShoBox: The New Generation on SHOWTIME.

Taylor (28-2-1, 17 KOs), of Little Rock, Ark., has had a prolific pro career since winning a bronze medal for the United States in the 2000 Olympic Games. The six-foot-one-inch, 30-year-old Taylor is the only boxer to twice defeat future Hall of Famer Bernard Hopkins.

Tickets, priced at $200, $100, $75 and $50, are on sale at www.mgmatfoxwoods.com, your local Ticket Master and MGM Grand Box Office 866-646-0649.

Senior VP and General Manager of Sports and Event Programming for SHOWTIME, Ken Hershman, Froch and Taylor discussed the upcoming match and fielded questions from the media.

For information on SHOWTIME Sports, including exclusive behind-the-scenes video and photo galleries, complete telecast information and more, please visit the SHOWTIME Sports website at http://www.sho.com/sports. Article posted on 23.04.2009
previous article: UK Boxing: Michael Sprott; Don Broadhurst; Tony Jeffries
next article: Norton, L. Spinks and Hagler to Attend HOF Weekend