Bradley/Holt Weigh-In Photos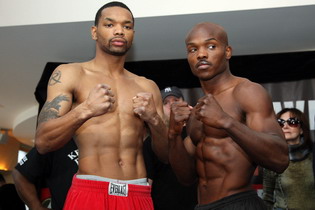 04.03.09 - click here to watch Al Bernstein preview the Tim Bradley-Kendall Holt match

Photos: Tom Casino/SHOWTIME - WBC champion Timothy Bradley weighed 138.6 pounds at Friday's weigh-in. In what will be an exciting, close, hard-fought fight, Bradley and WBO belt-holder Kendall Holt clash in a 140-pound world title unification bout tomorrow/Saturday, April 4, on SHOWTIME (10:45 p.m. ET/PT, delayed on the west coast).

Holt weighed 139.9 pounds for the eagerly anticipated 12-round matchup at the Bell Centre in Montreal. Holt (left) and Bradley pose and square off after the weigh-in on Friday. Librado Andrade and Vitali Tsypko, who meet in a 12-round IBF super middleweight eliminator in Saturday's co-feature on SHOWTIME CHAMPIONSHIP BOXING, weigh in today/Friday at 6 p.m. ET/3 p.m. PT..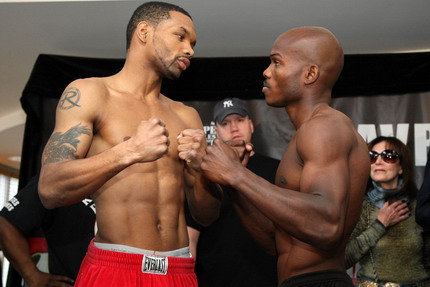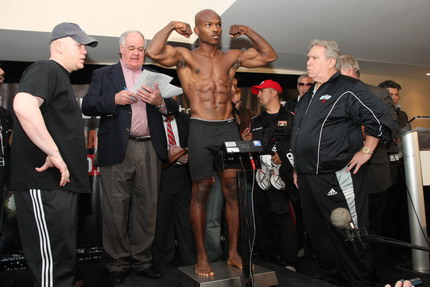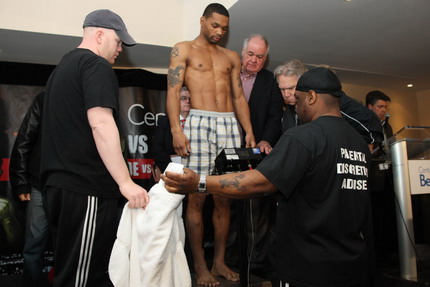 Bradley Ready to Sentence Holt!

MONTREAL, CANADA (April 3, 2009) – Undefeated World Boxing Council super lightweight champion TIMOTHY "Desert Storm" BRADLEY gave his opponent World Boxing Organization junior welterweight champion KENDALL "Rate R" HOLT an early going away gift at yesterday's news conference at the Bell Centre – a pair of suspenders.

"Kendall, when I take your belt home with me Saturday night, you're going to need something to hold your britches up with," said Bradley as he held up the suspenders to the delight of the media and the good-humored Holt. "Call it a suspendered sentence handed down by these two judges, Justices Right and Left." (photo attached. Credit: Tom Casino/SHOWTIME)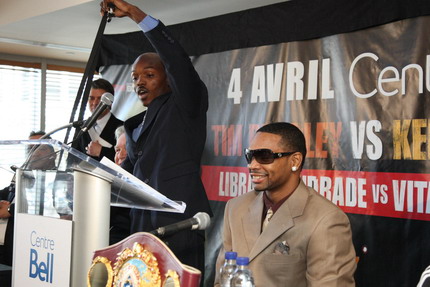 "The "R" in "Rated R," is going to stand for Retired," added Gary Shaw, who co-promotes Bradley with Thompson Boxing Promotions. "The unified 140-pound title is going back to Palm Springs."

Bradley (23-0, 11 KOs), from Palm Springs, Calif. and Holt (25-2, 13 KOs), of Paterson, NJ, collide Tomorrow! Saturday, April 4. SHOWTIME Championship Boxing will broadcast the fight live from the Bell Centre in Montreal, Canada, beginning at 10:45 p.m. ET/PT (delayed on the West Coast.) The broadcast will open with the International Boxing Federation super middleweight title elimination bout between Ukraine's Vitali Tsypko (22-2, 12 KOs), and Librado Andrade (27-2, 21 KOs), of La Habra, Calif.


WORLD BOXING COUNCIL NEWS

April 3, 2009 – Mexico City. From WBC President José Sulaimán:

The WBC wishes to ratify the ruling of the WBC Board of Governors during the general assembly at its annual convention in Chengdu, China, with regards to the Timothy Bradley Jr. vs. Kendall Holt fight on April 4.

Bradley, the WBC super lightweight champion, was given special permission to fight Holt, the champion of the WBO, instead of making his mandatory defense.

Consequently, the WBC will allow 15 days for the winner of the fight to decide which championship belt he will keep, with the obligation to fight the WBC's mandatory contender immediately without any intervening fight.

The WBC wishes the best of luck to the promotion and all fighters involved. Article posted on 03.04.2009
previous article: Roach: "Floyd Training Hatton is our Biggest Advantage"