Showtime Workout Photos: Holt, Bradley, Andrade, Tsypko
02.04.09 - Photos: Tom Casino/SHOWTIME Kendall Holt (left) hits the mitts. Holt's fists will be flying this Saturday, April 4, when the WBO champion faces WBC titleholder Timothy Bradley in a 140-pound world title unification fight on SHOWTIME (10:45 p.m. ET/PT, delayed on the west coast). Holt will bring a record of 25-2, 13 KOs into the important, highly anticipated 12-round showdown at the Bell Centre in Montreal..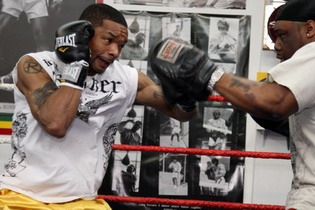 The unbeaten Bradley (23-0, 11 KOs) has a confident look as he flexes and poses during an open media workout Wednesday at the Hardknox Gym in Montreal.

Librado Adrade (27-2, 21 KOs), who meets Vitali Tsypko (22-2, 12 KOs) in an IBF super middleweight elimination bout in Saturday's 12-round co-feature on SHOWTIME CHAMPIONSHIP BOXING, checks out his hands and answers questions during the workout.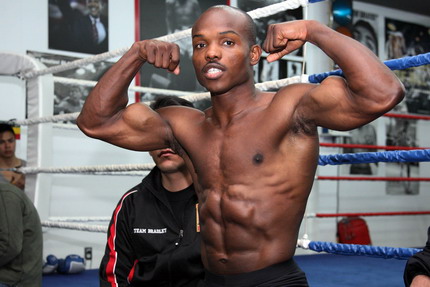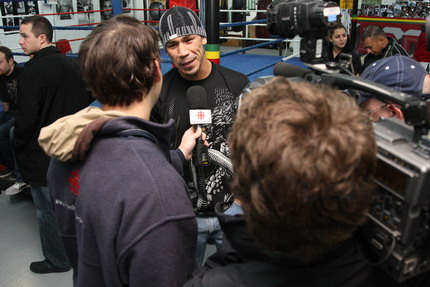 The serious-minded Tsypko was all business as he whacked the bag and jumped rope Wednesday.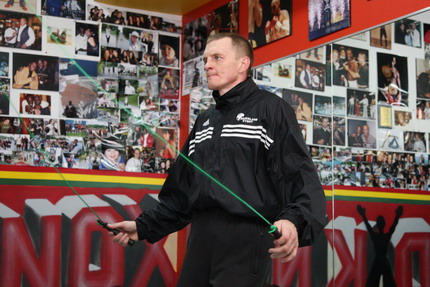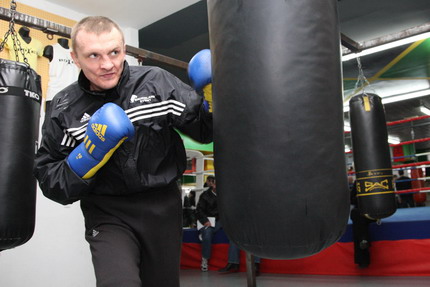 HOW THEY PICK 'EM: EXPERTS OVERWHELMINGLY EXPECT BRADLEY TO WIN -- IN ABSOLUTE SQUEAKER

~ SATURDAY, APRIL 4, 2009, LIVE AT 10:45 p.m. ET/PT ON SHOWTIME® ~

NEW YORK (April 1, 2009)–-If the media members who participated in the SHOWTIME Media Prediction Poll have called it correctly then Timothy Bradley's going to walk away victorious over Kendall Holt Saturday on SHOWTIME. But it will it be close.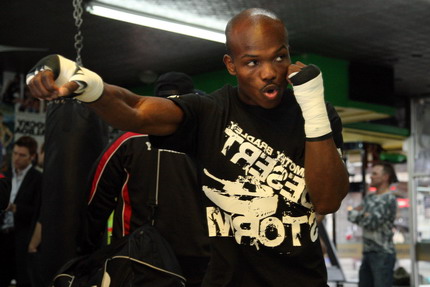 Bradley, the World Boxing Council (WBC) champion, and his World Boxing Organization (WBO) counterpart Holt clash in an eagerly awaited 140-pound world title unification showdown from the Bell Centre in Montreal, Canada, on SHOWTIME CHAMPIONSHIP BOXING live at a special time 10:45 p.m. ET/PT (delayed on the west coast) to accommodate fans watching the conclusion of the 2009 NCAA® Men's Final Four®.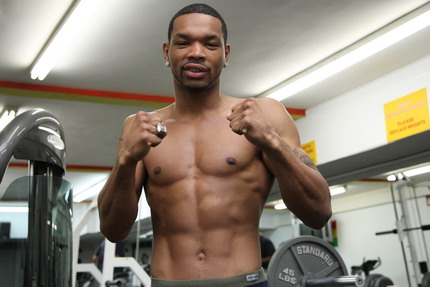 The majority of those who participated in a SHOWTIME Media Prediction Poll not only could not state with conviction who would win, but how the tough, close fight would play out. Several possible scenarios and story lines were predicted.

One thing almost all the experts agreed on: This will not be a waltz.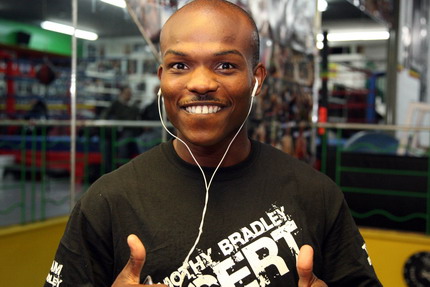 Bradley was a popular, landslide winner in the Poll, garnering 39 of the 46 predictions (with one draw). Three others view what will be an exciting fight too close to call.

The major sports books and gambling websites agree with the media as Bradley is a slight favorite on most sports betting websites. At sportsbook.com, the money line is minus 150 for Bradley and plus 120 for Holt.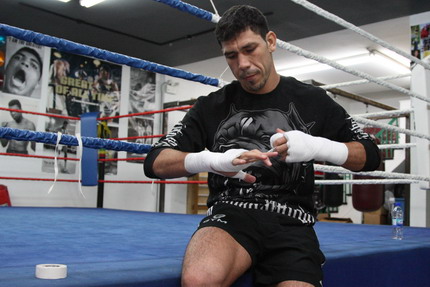 Viewers will get their chance to weigh-in as well. At the top of the telecast and during the opening fight of the night, SHOWTIME will pose the questions for fans to text in: What will be the key factor in Bradley vs. Holt? 1. Bradley's speed; 2. Bradley's lack of one-punch power; 3. Holt's power or; 4. Holt's suspect chin? Article posted on 01.04.2009
previous article: UK Boxing: Rogan vs Sexton; Peter McDonagh; George Hillyard
next article: Carl Froch, Jermain Taylor Teleconference Highlights