Povetkin, Estrada Weigh-In Photos
Weights from Dusseldorf - Heavyweight: Jason Estrada: 109,3 kg vs Alexander Povetkin: 104,2 kg
EU Heavyweight Title: Albert Sosnowski: 103,2 kg vs Francesco Pianeta: 110,1 kg
WIBA Flyweight Title: Maria Rosa Tabbuso: 49,1 kg vs Nadia Raoui: 49,9 kg
Cruiserweight: Ruben Groenewald: 86,4 kg vs Alexander Frenkel: 90,0 kg

Jason Estrada is convinced he can spring a surprise and upset Alexander Povetkin in Dusseldorf on Saturday night.. It will be a special fight as the two protagonists share a lot of things in common. Both boast an impressive amateur record, both fought in Olympic tournaments and both have set their sights on a victory on Saturday night.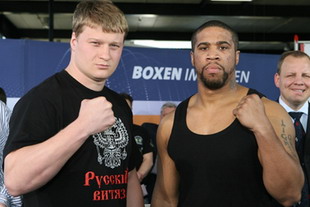 "We have come to Germany to take home the Olympic gold medal Povetkin won in 2004," Estrada´s promoter Jimmy Burchfield said. "Jason was one of the best amateur fighters in the country and he was one of the favourites to win Olympic gold at Athens."

While Povetkin, who is also a European and World amateur champion, went on to win the Olympic tournament, Estrada did not make it to the final due to an early loss. "It just was not my day," he said. "I did not perform well. But I feel much more comfortable as a pro. I never really liked the way of fighting and scoring in the amateur system."

Povetkin coach Valeri Belov was full of praise for the 29-year-old American. "I saw one of his fights in Athens and he certainly has a lot of talent," Belov said. "He is a tough guy. We have also analysed his pro bouts. We are taking him very seriously and I have no doubts that Alexander will take care of business and beat him."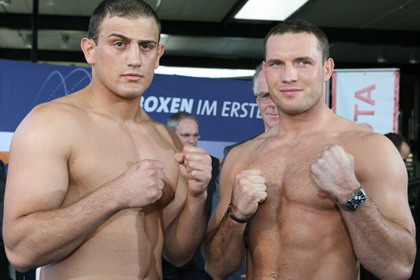 Just like at yesterday´s media work-out, Povetkin was again asked about the showdown with Wladimir Klitschko. "It only have Estrada on my mind," he said. "I have a lot of respect for him and it will be a tough fight. We will see what happens after I have defeated him."

Povetkin stated he has fully recovered from the ankle injury that forced him to postpone the Klitschko fight, which was originally scheduled for December. "I don´t have any problems any more, I am in great shape," he said. "I took my time to recover and then started from scratch. We did all the basic conditioning in the mountains and the sparring also went very well. I am in the shape of my life."




Things heated up when Povetkin´s co-mananger Vlad Hrunov took the stage and confronted Estrada with his derisive remarks about Povetkin, whom he had called a "sitting duck" in an interview. "I don´t know whether I said that or not," the American replied. "But if I said it, so be it – Povetkin is a sitting duck. I will give the answer to all further questions in the ring on Saturday night."

On the undercard, EU heavyweight champion Francesco Pianeta will defend his title against Albert Sosnowski. It will be a special match for the 24-year-old who will fight close to his home city of Gelsenkirchen. "Francesco has done really well in practice," coach Ulli Wegner said.

"He keeps improving every day. I am sure he will please his home fans." Article posted on 02.04.2009
previous article: News: Minto vs Greer April 17th; Philippine Boxing Update
next article: ESPN'S Friday Night Fights Returns: Jacobs, Wilder, Escalante-Stark