Luciano Perez Batters and Stops Deflated Miguel Hernandez in 5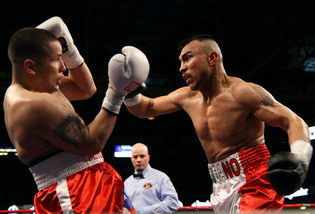 Photo: Luciano Perez (right) swarms Miguel Hernandez with a two-fisted attack

By Juan C. Ayllon - CHICAGO – Media appeal, a decent skill set and heart only take you so far in boxing. Sure, you need these things in some measure in order to make money in the sport – just ask Arturo Gatti or Oscar De La Hoya, for that matter. Don't be mistaken, though: It's a sport that rewards preparation, physical prowess and the ability to deliver come what may, while punishing shortfalls with the reptilian efficiency of a komodo dragon savaging a fawn.

And on Friday March 27th at the UIC Pavilion, hard-slugging brawler Luciano Perez came primed for battle while his opponent, the celebrated "Macho" Miguel Hernandez, did not..

The more skillful boxer of the two, Hernandez, 34, held down a union job as an inspector-mechanic with Beltway Railway and a second job as an auxiliary policeman in Cicero, he was a proud homeowner and he doted on his three boys who achieved high marks in school. He also fought on "The Contender" boxing reality show. Gone were the lean days where he'd scrounge up cash working odd jobs in construction or at his father's restaurant. Things were good, maybe too good.

Perez, 30, was known for showing up in shape every fight. Say what you will about him being a crude brawler with thudding power, he always came to fight, as witnessed by his wars versus Francisco Rincon in 2005 (win by split decision), near upset of former WBC Welterweight champion Carlos Baldomir in November 2007 (loss by unanimous decision) and his thrilling knockdown war with undefeated middleweight prospect Mike Jones in December (loss by 3rd round TKO).

Meanwhile, Hernandez had not looked so good since he won the World Boxing Council's United States Middleweight Title over Ryan Davis (majority decision over 10) at a lithe bodyweight of 155 in 2006, or in his gutsy losses versus former International Boxing Federation Light Middleweight champions Raul Marquez (loss by technical knockout in 9 rounds) and Yory Boy Campas (loss by retirement in 5) later on that year. He'd gained weight. Prior to his appearance on "The Contender," word around town was that Miguel was fat.

The extra poundage played a big part in his loss to Derrick Findley in May 2008, where he came in heavy and weight drained. For his bout versus Luciano, he said, he was well trained and in shape. However, according to trainer Rick Ramos, a week prior to the fight, he was some 12 to 14 pounds over the limit and needed a second weigh-in at 2:30 p.m. the day of the fight to come in at an acceptable 162.

Seconds into the first round, the difference between these two combatants showed.

The aggressor from the get-go, Perez's lefts and rights slammed into Hernandez's body with the impact of a baseball bat striking a garbage bag full of meat. Other looping, larruping rights to Hernandez's skull drew protests; Hernandez motioned to referee Celestino Ruiz that they were blows to the back of the head. Roused, he fired back, landing a few rights of his own. However, they failed to land with the same authority.

Flat footed for the most part, Hernandez was knocked back several steps by a thudding right to the head in the second. He waved Perez in. They traded briefly. However, Perez reasserted himself with vigor and relentless thumping blows while Hernandez, who already had a purple mouse under his left eye, covered up more.

There was little science nor dazzling speed or volume to Perez's attack, just brute force meted out like a lumberjack chopping away at a tree: Whack! Whack-whack. Whack! Whack-whack-whack!

Hernandez dropped hard from a left hook to the jaw in the third round. Surprised as anyone, he rose, slugged back, and then covered up. And the blows rained on.

In the fourth, Hernandez fought harder in spots. After Perez dug a hurtful left-right to the body at the bell concluding the round, Hernandez bounced a right off Perez's head moment later, drawing a fierce look from his antagonist. With Ruiz separating them, Hernandez extended a gloved fist in apology.

Backing his man to the ropes in the fifth, Perez dropped Hernandez with a thumping hook. Hernandez complained that their feet had gotten tangled. Nevertheless, the knockdown was official. Once up, he covered as Perez battered him in a corner with a fierce barrage of lefts and rights. A straight right rammed its way through Hernandez's guard, popping his head back. The beating escalated to a crescendo, and like a buoy on stormy seas, with gloves protecting his head, Hernandez coursed a choppy path along the ropes propelled by the bombardment. Trapped in a corner, he wasn't returning fire and, like that, referee Celestino Ruiz wisely halted the bout at 2:59 into the fifth round.

With the win, Michoacan, Mexico's-by-way-of Chicago's Perez saw his record rise to 17-9-1 with 15 knockouts, while Chicago native Hernandez slipped to 20-8-0 with 10 knockouts. Perez weighed in at 157 lbs. at the weigh-in.


The Aftermath

In the locker room afterwards, Hernandez said, "I'm disappointed of course, but this is the sport. I got a reality check. I work, I do too much, and then I try to go to the gym. I mean, you can talk to my trainer, Rick: I had a good training camp. I think trying to drop the weight at the end… took a lot out of me. I make no excuses – the guy came to fight, he came prepared. So, it makes you realize, hey, this is not a part-time job. You've got to dedicate yourself to boxing. That means keep your weight down and not blow up. I have no excuses. He was the better man. Luciano's a good guy and he came to fight, man. He showed it today. No one's ever stopped me like that!

He continued: "I felt like slow motion; I saw the punches coming, I couldn't move; I felt just like I was weak. I don't know. Does he hit hard? Everyone knows he hits hard. I mean, we've been in gym wars, everyone he spars, they know. I take my hat off to him; he's the better man tonight. I think this is it, unless something happens where…my weight stays down, I feel good and he wants to give me another opportunity, then that's the only way I could probably see myself coming back."

"He came with nothing special – I've seen it all – he was a better man tonight," Hernandez said. "I just couldn't get started. I couldn't get my punches off. I mean, you've seen most of my fights where I'm slick, I'm on my toes, I'm moving. I couldn't get nothing. Nothing. Rick Ramos and Sam Colonna were in the corner giving me correct instructions on what to do. We worked on this in the gym. In the gym, I looked like a superstar! I was countering and everything, but I left it all in the gym. These last three days were rough, a lot of stuff in the weigh-in, I had to weigh in today and, you know, it was crazy. This is part of the sport. But, once again, this is his night. God bless him and I wish him nothing but the best!"

Trainer Rick Ramos said, "I just want to say Luciano fought his fight. I definitely thought that I know how to beat Luciano. We went over the game plan over and over, and this week was tough for us because Miguel had to lose a lot of weight, and it definitely weakened him. So, all credit goes to Luciano.

"Miguel fought his heart out," Ramos continued. "I'm glad I'm part of his last fight if it is, and if he fights one more time, I'll do whatever I can to be a part of it – whatever he wants to do."

Hernandez added, "I accept responsibility for this. Like Rick said, it was a hell of a training camp. He's the real thing. I work in the mornings, so I really can't be with Sam, so Rick was the one in charge, and Rick stuck stepped up to the plate, and I've got nothing but respect for this man. He's the real thing. If anyone doubts him as a trainer, don't let it be because of my account because he did his job. My job is in the ring. He could only train me and tell me what to do."

On not being able to fulfill his promise to give each of his three boys a title belt, Hernandez said, "My baby boy here, I wanted to get him a title. It didn't happen, but he knows I tried hard for him, he sees what I go through. I love him to death, we've got two titles – two more than I ever expected to get in my life – and wait for [oldest son] Joshuah! He'll get four or five titles. Maybe he'll get me one!"


Rita 'La Guera' Figueroa in war vs. Tammie Johnson

It's been almost a year and a half since Chicago's Rita "La Guera" Figueroa, 39, last fought due to a neck injury. In her last fight, she had a rugged war against powerful Danielle Christiansen at Cicero Stadium in November 2007, prevailing by a close majority decision.

This evening wasn't much different, once again lighting up the crowd and stealing the show.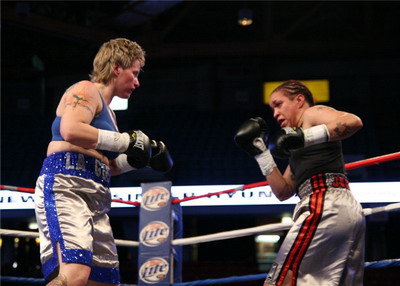 Lynnwood, Washington's Tammie Johnson, 37, swarmed Figueroa into the ropes with a flurry of punches as the first round kicked off. Figueroa had some success with some lefts and rights, but was out-landed by Johnson's superior work rate in this round of nonstop punching.

To the delight of the cheering crowd, punches continued to fly as, up on her toes in the second, Figueroa boxed and moved. Gaining room to throw punches, she experienced more success in getting off her shots. However, she was caught with a potent right as she pulled back and nailed on the ropes with another.

Figueroa had more success landing her lefts and rights in the third against the shorter, never-say-die Johnson, who created problems by not giving her punching room and getting leverage underneath and driving her backwards, much like a football lineman would do in driving his counterpart back; by doing so, Figueroa was often forced to punch going backwards. This and the fact that it was hard for her to get set or she was punching off her heals took away her punching power.

However, as Johnson slowed up a touch in the fourth, Figueroa began landing with more consistency and pop in the fourth, jarring Johnson with rights and lefts to the head. She asserted her ring generalship and skills. Johnson appeared to sense the fight was slipping away from her, and when the bell rang at the end of the round, Johnson breathed a huge sigh of relief.

Figueroa continued to batter Johnson with well-placed rights to the head in the fifth round. However, Johnson refused to fold, banging to Figueroa's sides and spearing to the head with lefts and rights.

The sixth round was punctuated with heavy back and forth punching. They seemed to sense that the fight was up for grabs and gave it their all. Taking turns rallying, the two traded momentum. As was often the case, Johnson backed Figueroa into a corner where they traded furious blows at the conclusion of the round.

Afterwards, the two embraced. Smiling, they traded words of mutual admiration.

Judges scored the bout 58-56 for Johnson, 59-55 for Figueroa and 57-57, resulting in a draw, resulting in some booing. After witnessing such a titanic struggle, the crowd wanted a definitive conclusion. However, it proved nonetheless accurate, as Figueroa concurred. With this decision, Tammie Johnson (137 lbs. at weigh-in) saw her ledger go to 3-2-1, while the record of Rita Figueroa (138 lbs.) went to 10-0-1 with three knockouts.

Afterwards, Figueroa said, "Tough fight! Tough girl! It could have gone either way. You know what? That's the kind of fight I needed. I'll tell you what: It was fight of the night!"


The undercard

Chicago's Irish Henry Coyle (9-1, 8 KO's) dominated and battered Cincinnati, Ohio's Dave Saunders over two rounds, with a final battering flourish capped by a right hand, resulting in a standing eight count for his beleaguered opponent from referee Genaro Rodriguez. Standing in the corner, Saunders wobbled and wavered a few moments, forcing Rodriguez to wave it off at 41 seconds into round two.

A magnanimous Coyle said afterwards, "He was a great fighter – he was really putting it to me."

A dejected Saunders said, "I didn't know why [Rodriguez] stopped it. [Coyle] caught me with a good shot, but [the ref] could have at least finished the count and let me have a chance."

Chicago's Andrzej Fonfara (167 lbs., 11-2-1, 3 KO's) systematically battered and overpowered Milwaukee, Wisconsin's slick Kendall Gould (167 lbs., 11-13-1, 6 KO's) in garnering a unanimous decision win with scores of 60-54 twice and 60-53. Genaro Rodriguez served as referee.

St. Louis, Missouri's Danny Williams (131 lbs., 7-0, 5 KO's) made short work of Ft. Wayne, Indiana's Jose Guzman (129.5 lbs., 5-1, 4 KO's), dropping him twice and halting him at 2:58 of the first round. Pete Podgorski served as referee.

Chicago's Sergio Montes De Oca (122 lbs., 1-0) showcased some power and skills in defeating Atlanta, Georgia's David Cano (122 lbs., 0-3) in a delightful scrap, winning the bout by scores of 39-37 twice and 40-36. Referee Pete Podgorski served as referee.

Chicago's Juan Bailon (127.5 lbs., 3-1, 1 KO) showed some moxie and boxing skills in defeating Grand Rapid, Michigan's Marsay Buggs (127 lbs., 1-6-0) by majority decision with scores of 38-38, 40-36 and 39-37. Commenting after the bout, he said, "I felt good. It was hard for me to cut him off. I was off for 10 years. This is my third fight since then."

Chicago's Secret Serviceman Mike Kurzeja (168 lbs.) had a successful pro debut, completely dominating Lafayette, Indiana's Tony Dewey (174, 0-1), battering and dropping his hapless foe three times before referee Genaro Rodriguez halted the bout at 2:09 into the first round.

* * *

To see more photos from the show, go to the link below:

http://www.facebook.com/album.php?aid=70698&id=600612725&l=f8282cdc79

* * *

Promoter: Dominic Pesoli/8 Count Productions. Article posted on 01.04.2009
previous article: News: Figueroa Ready For Bailey; Shumenov vs Berrio May 9 in Kazakhstan