Worcester's Edwin Rodriguez Eyes 10th Win
By Peter Mark Heintzelman and Trish Kilcullen, Photos by Peter Mark Heintzelman - It's been a long time (1967 actually) since the Mechanics Hall in Worcester, Massachusetts has heard the sounds of leather and boxing bells. But that will all end this Thursday, when the first bell strikes on a DiBella Entertainment and Manfredo's Gym, LLC card, featuring Worcester's middleweight hope, 23 year old, Edwin "La Bomba" Rodriguez..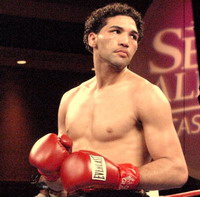 An opponent has been set for rising pro prospect Edwin Rodriguez's next fight. The unbeaten Rodriguez (9-0, 6 KO's) will meet Nebraska's Patrick Thompson (15-13, 5 KO's) in a 8 round bout with a contracted weight limit of 165 pounds. The fight will take place in the hometown of Rodriguez, Worcester, Massachusetts, at Mechanics Hall and is promoted by Dibella Entertainment as part of their "Broadway Boxing" TV series.

Rodriguez' team has steadily weaned him toward stiffer competition, as his undefeated record racks up the wins, and Thompson is no exception.

Patrick Thompson sports the record of a journeyman. Most of his losses have come to noteworthy fighters such as John Duddy, Joe Greene, Ishe Smith and Giovanni Lorenzo.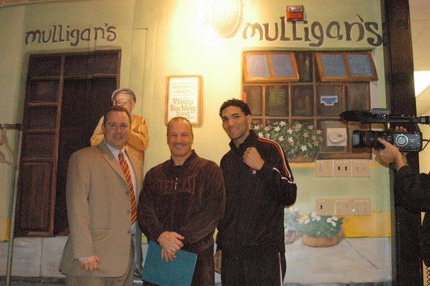 "Thompson usually goes the distance with guys. He's only been knocked out once, by Alfonso Gomez, and that was early on in his career before anyone knew how good Gomez was", said Army.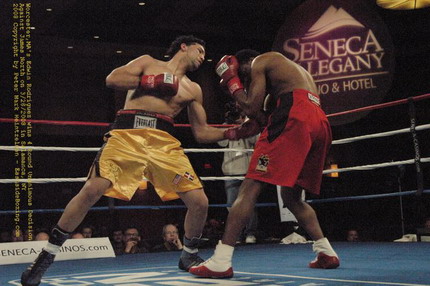 EastSideBoxing caught up with the Worcester middleweight Monday night, to get his final comments and thoughts about this fight, his tenth professional bout:

ESB: Edwin, you're in the final days before your fight on Thursday against a tough opponent, Patrick Thompson. How are you feeling, and how are you keeping yourself mentally prepared for this fight?

Rodriguez: I feel Great. My training camp was very difficult with a lot of top tiered sparring. Peter Manfredo doesn't make life easy in his gym, and while I pay for the price during camp, my opponent usually pays the price the night of the show.

ESB: A look at your opponent's professional record, shows he's not shy of fighting in his opponents' back yards, nor does he back down from classy and successful opponents - just take a look at the pedigree of his opposition to date, which includes tough fighters like Irish John Duddy (now 26-0-0, 17 KO's) Joe Green (now 20-0-0, 14 KO's), Ray Sanchez (no 21-3-0, 15 KO's), Sechew Powell (now 25-2-0, 15 KO's), and a former "Contender" Alfonso Gomez (now 18-4-2, 8 KO's). Its no wonder your opponent's record is 15-13-1, 5 KO's coming into your fight, with his history of stiff competition. He looks like a gate keeper to the middleweight division. Have you seen any tapes of his fights, and what respect do you have for Patrick Thompson?

Rodriguez: I want the people of Worcester, my hometown, to see what a real fight looks like. When they see I am victorious they will know that I have accomplished something for my hometown debut. Patrick is that fighter, he has won 3 out of his last 4 fights and his 13 losses have come against some of the biggest up and coming names in the business. Beating him means I am in a very small elite group. I look forward to the challenge and cant wait to see the outcome. I have viewed several of Thompson's fights, and along with my trainer, have studied the habits of Thompson. I believe we have a solid game plan that will lead to the outcome that everyone there will want to see. My tenth win.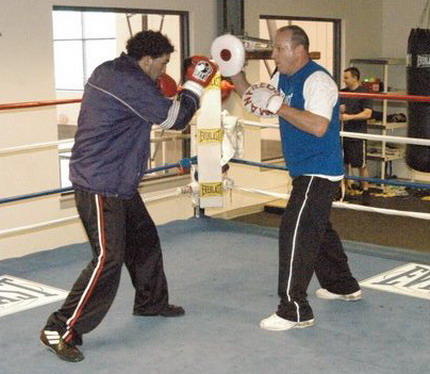 ESB: Edwin, what kind of game do you expect Thompson to bring against you on Thursday night, and what have you been doing in Manfredo's Gym to train specifically for this fight?

Rodriguez: Thompson is a boxer puncher, so I expect a solid opponent who will make me work for my win. Training has remained the same, we haven't added anything new to the regiment. We work on fundamentals and conditioning on a daily basis. These are the things that get you by any opponent.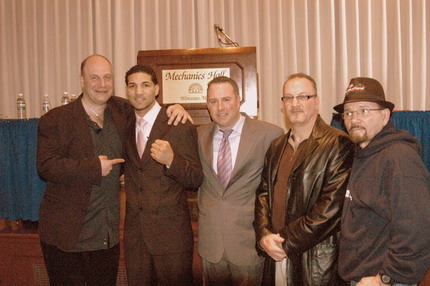 ESB: With this being your first professional fight in front of your hometown fans, and this also being your first fight under the DiBella Entertainment promotion banner, and with an opponent who has only been knocked out once in his professional career, do you feel the pressure, and are you able to focus on your fight?

Rodriguez: No, I have fought on television before and I have fought on some of the biggest stages boxing has to offer, including spots on Andre Berto's undercard as well as John Duddy, Kassim Ouma, K-9 Bundrage and Peter Manfredo, Jr. Being home feels natural. No more pressure, actually less. My fans are the best and they know I won't let them down.

ESB: What is your prediction as to the outcome of your Worcester fight on Thursday night?




Rodriguez: I will execute my game plan and leave the ring as I entered it…undefeated.

ESB: Edwin, are there any final comments you want to make to your fans, your manager, your trainer, and your promoter before your fight?

Rodriguez: Come to the show Thursday night and you will not be disappointed. This is a night of bringing back a piece of a great Cities History. I am honored to walk in the shadows of many many boxers who have come to that room before me and proud to be restoring Worcester with a piece of its heritage. Thank you Peter, you are one of the classiest guys in the game!


Also on the undercard for the evening's fights are:

8 rounds at super bantamweight between Dat "Be Dat" Nguyen 14-1, 6 KO's and Alex "Ali" Baba, 25-15-1, 19 KO's.
4 rounds at lightweight between Ryan Kielczewski, 3-0-0 vs. Aaron Chavez, 2-1.
4 rounds Phillip Jackson Benson, 2-0-0, 2 Ko's vs. Dameon Marshall 0-1.
4 rounds at light heavyweight Valere Boise, pro debut vs. Huston Crayton, 0-3.
4 rounds Dustin Rhinehold vs. Valdarin Muriqi, pro debut
4 rounds light welterweight 3-time Irish national amateur champion, Steve Ormond 2-0-0 vs. Jonathan Ocasio 0-3.

Tickets are priced at $25 and $50.00 (balcony), $75.00 (first row balcony), $60.00 (floor), $100.00 (floor), and $150.00 (ringside – first 2 rows inside security barriers), and are on sale at the Mechanics Hall box office, www.mechanicshall.org, Manfredo's Gym in Pawtucket (RI), and the Boys & Girls Club of Worcester. The Mechanics Hall is located at 321 Main Street, Worcester, MA. Sportsnet (www.SNY.tv), in association with DiBella Entertainment, will tape Edwin Rodriguez' fight and Dat Nguyen's bout for delayed broadcast , on their Broadway Boxing series, a premiere monthly boxing series which features top up-and-coming fighters from the New York area, and now, apparently from Worcester, MA as well. The broadcast reaches out to more than 30 million home viewers. All fights and fighter subject to change. Doors open at 6:30 PM/ET, first bout at 7:00 PM/ET. Article posted on 17.03.2009
previous article: Vitali Klitschko Says He Will Teach Juan Carlos Gomez A Lesson On Saturday
next article: News: Miguel Espino; Akaash Bhatia; Rashad Holloway