Abraham beats Simon, Braekhus wins WBA/WBC female welterweight titles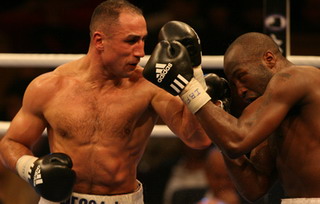 Photos by Sauerland Event - Undefeated IBF middleweight champion King Arthur Abraham outclassed Lajuan Simon in Kiel on Saturday night to clinch the 29th victory in as many fights (23 KOs). Abraham connected with his trademark power punches throughout the entire 12 rounds and also knocked the brave challenger down in the third following a hard series. But Simon proved his great heart and chin as he refused to give up. "I was surprised that he could take so many punches," King Arthur said. "He really is a tough guy. I would have preferred to win by KO, but every victory is nice. It was a pleasure to fight in front of the great fans here in Kiel."

The sell-out crowd of 7,000 spectators roared every time King Arthur launched one his trademark assaults. He gave a first taste in the second round before putting Simon in serious trouble in the third. After a calm fourth, King Arthur again turned it on in the fifth, landing strong punches to body and head.. Simon, however, refused to go down for a second time and started to strike back. With the exception of two big lefts in the eighth round, most of his shots were absorbed by Abraham´s strong defence. "This was a great experience for Arthur," coach Ulli Wegner said. All those early knock-out victories do not really help his development. This fight was a great test, though. He once again proved his class, like when cleverly getting out of a difficult situation in the eighth. And he bounced back in style, trying to knock Simon out in the final two rounds. I am very pleased with Arthur´s performance."

One year ago at the same venue, King Arthur had dusted Elvin Ayala in the final round, but brave Simon would not meet a similar fate despite being on the receiving end of several huge combinations down the stretch. He remained on his feet to make his name known in Germany. "Arthur is a good champion," Simon said. "But I am very pleased with my performance even if I did not win. I stuck to our game plan well. I will be back." The judges scored the fight 118-109, 117-110 and 117-110 in favour of the champion. Afterwards, manager Wilfried Sauerland revealed that King Arthur´s next defence is likely to take place in the US in June. "We are trying best we can to give him big fights in America to boost his popularity on both sides of the ocean," Sauerland said.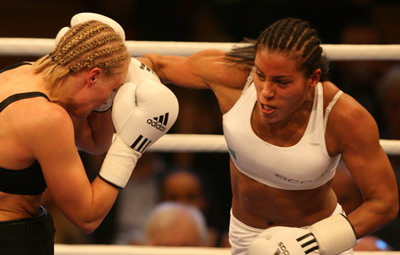 In the co-featured main event, Norway´s Cecilia Braekhus became Team Sauerland´s first ever female champion as she edged Denmark´s Vinni Skovgaard in their battle for the WBA/WBC female welterweight titles. The First Lady was in full control throughout the entire twelve rounds, using great movement and speed to land quick punches. She was ahead 98-92, 96-94 and 96-94 after ten rounds. "I am so happy," she said afterwards. "I really thank Team Sauerland for this great chance. I wanted to pay back all their confidence with a victory. I could not let them down. And I could not let all my fans in Norway down, who have also been a great support." Added Sauerland Event General Manager Chris Meyer: "We are thrilled to finally have a female champion on our team. Cecilia did very well and she will go a long way from here." Ulli Wegner was also pleased. "I am proud of her," he lauded. "She has worked very hard in practice and today once again proved her class. She has a golden future ahead."

On the undercard, gifted youngster Dominik Britsch clinched the IBF Youth Middleweight Title with a unanimous points victory over Daniel Urbanski. After ten strong rounds, he was ahead 99-91, 100-89 and 98-91 on the scorecards. Also, former WBO heavyweight Lamon Brewster made a winning debut for Team Sauerland, knocking down Michael Sprott twice on his way to a clear points victory. "It was an interesting fight," Brewster said. "It was good to get the ring rust off me. It is great to be here in Germany as part of Team Sauerland. Together, we will return to the top. Today was a good first step." Article posted on 15.03.2009
previous article: Statement from Frank Warren, CEO of Sports Network
next article: Bobby Gunn: Climbing trees, falling off ladders and fighting for a World Title