Photos: Abraham-Simon, Brewster-Sprott Weigh-In
13.03.09 - All photos by Sauerland Event -- Weights from Kiel:
IBF Middleweight Title: Lajuan Simon: 71,3 kg vs King Arthur Abraham: 72,4 kg
WBA/WBC Female Welterweight Titles: Vinni Skovgaard: 66,6 kg vs Cecilia Braekhus: 64,9 kg
IBF Youth Middleweight Title: Daniel Urbanski: 72,5 kg vs Dominik Britsch: 72,5 kg
Heavyweight: Michael Sprott: 106,3 kg vs Lamon Brewster: 106,3 kg ..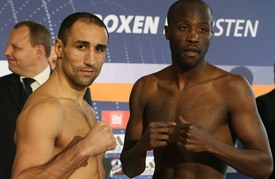 The city of Kiel is preparing for a spectacular Sauerland Event fight night which will feature three world title fights plus the return of former WBO heavyweight champion Lamon Brewster. In the main event, undefeated IBF middleweight champion King Arthur Abraham is looking to make a successful ninth defence of his title. "Even though it is my ninth defence, I am still hungry and highly-motivated," the 29-year-old (28-0, 23 KOs) said at today´s press conference.


"Lajuan Simon has no chance to win." Naturally, the American challenger (21-0, 12 KOs) holds a different view. "I have worked and trained very hard for this fight," Simon said. "I will beat Abraham to win the title." He lost the first duel, though, leaving the face-to-face photo shoot after just a few seconds. Nevertheless, Abraham coach Ulli Wegner has warned his star fighter not to underestimate his opponent.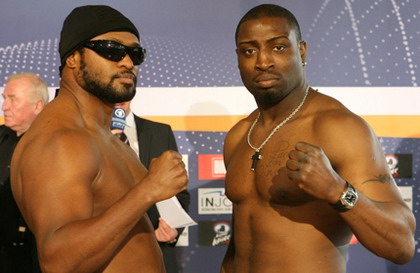 "Everybody considers Arthur the favourite, but it will not be easy. Everything can be over really quick," the coaching legend stated. "I will make sure Arthur will be mentally and physically prepared." And manager Wilfried Sauerland added: "It was not easy to find an opponent for Arthur. A lot of people are avoiding him. We were left with four opponents and we picked the strongest one." Asked about a potential unification against Kelly Pavlik, Sauerland stated: "First Arthur needs to get past Simon. Everybody wants to see him fighting Pavlik – the fans, the TV stations and of course everybody at Sauerland Event. Now it´s time for Pavlik´s promoter Top Rank to move."

In the co-featured main event, First Lady Cecilia Braekhus (Norway) will fight Vinni Skovgaard (Denmark) for the WBA/WBC female welterweight titles. It will be the first-ever female world title fight on a Sauerland card. Fittingly, today spelled the first time the immensely popular First Lady (10-0, 2 KOs) spoke German at the press conference.

"I really look forward to the fight," she said. "I cannot wait for Saturday. I would like to thank my management for giving me a title shot so quickly. I know Vinni from the amateurs where I have beaten her three times in five meetings. I look forward to beating her again on Saturday." Skovgaard (7-0, 3 KOs) was also confident of success. "This is the fight of the year in Scandinavia and many fans from Denmark will support me in Kiel. I look forward to Saturday."




On the undercard, Lamon Brewster (34-4, 30 KOs) will make his first fight for Team Sauerland after striking a deal with the Berlin-based promoters earlier this month. The former WBO heavyweight champion comes face-to-face with Britain´s Michael Sprott (31-12, 16 KOs). "This is a new start for me," he said. "It is an honour to fight for a renowned team such as Sauerland Event. Together we have big plans and look forward to returning to the top."

Also, Dominik Britsch (12-0, 5 KOs) will make his first-ever title fight as he clashes with Daniel Urbanski (10-4, 3 KOs) for IBF Youth Middleweight Title. "I am in great shape," Britsch said. "I am even more focused than I am prior to normal fights. Many friends and my family will support me. I am confident of success." Article posted on 13.03.2009
previous article: UK News: Macklin looking to relegate Elcock; Castle-Johanneson On March 20
next article: Chicago's 8 Count Productions Moves Into New Home