Mohegan Undercard Results and Photo Gallery!
08.03.09 - By Trish Kilcullen and Pete Heintzelman - Photos by Pete Heintzelman

Andrade Punishes Joseph!
Local man, Demetrius Andrade, or Providence, Rhode Island, stayed true to his fight name, "The Punisher," as he sent Youngstown, Ohio's, Tom Joseph packing for home, in the first round of a scheduled four at super welterweight..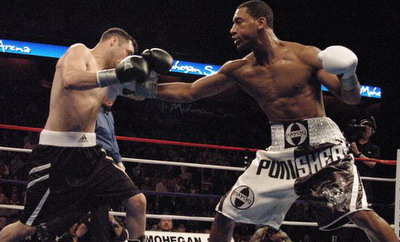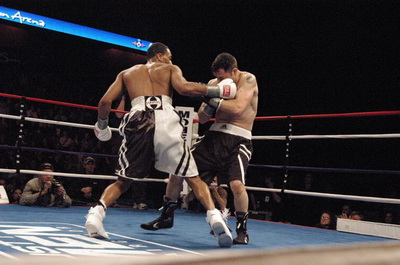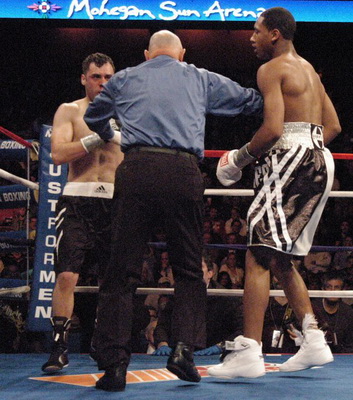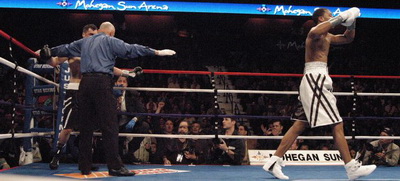 Referee Dick Flaherty, had seen enough at one minute fifty three seconds of the first stanza, when Joseph was seen defenseless, pinned between the ropes and Andrade's relentless attack.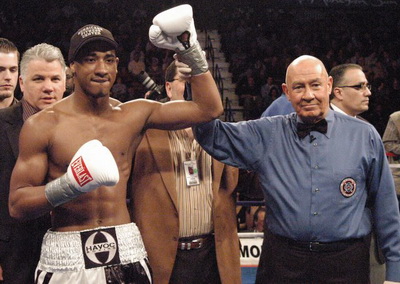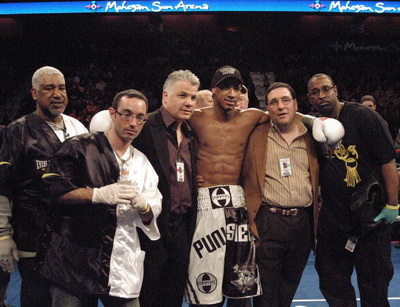 Co- Promoter's Artie Pellulo, of Banner Promotions and Joe DeGuardia, of Star Boxing shared the ring with their fighter, when Flaherty raised the Olympian's undefeated hand in the air, improving his young and promising professional career to 3 wins and 3 knock outs. Joseph's record suffered his second loss, now at 4-2-1, 0 KO's. Keep your eye on Andrade, trained by his father, Paul Andrade.


Dunwell Sheds Dreads and Shakes Moore!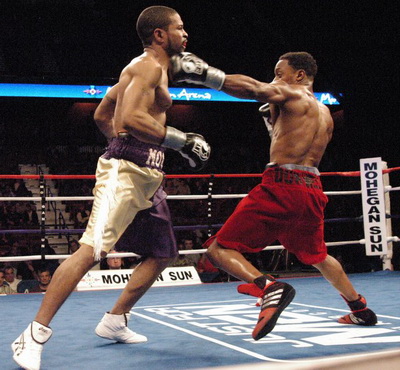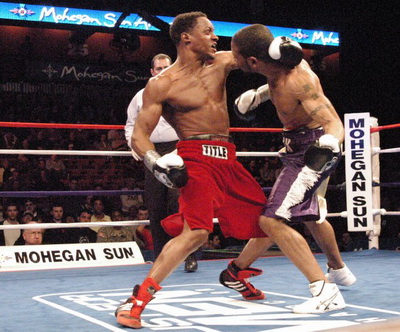 How can you not like a kid like Simeon Dunwell, of Lynn, Massachusetts, who cut his dreads after previous fight objections by referees and commissioners, and came back in style this evening with a convincing win over veteran, Shakha Moore. The scores were 38-35 thrice, all for the dreadless Simeon. Dunwell, aged 27, has been fighting under the banner of Cappiello Promotions. Richie Cappiello was present, not only as the local promoter he is, but the BIG boxing fan he is as well, and watched, with pride, as Dunwell showed his new and confident style in besting the veteran, Moore, including a first round knock down, and elevated his record to an undefeated 9-0-0, 3 Ko's, while Shakha Moore, of Norwalk, Connecticut, levels at 10-14-3, 2 KO's.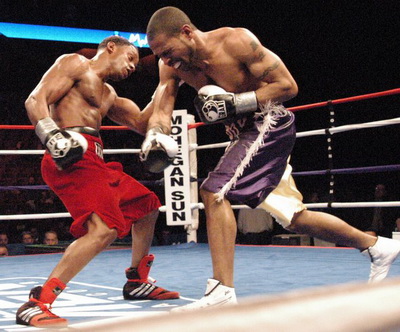 Welcome back Richie. Dunwell looked in the best shape of any fighters this evening.


Trader Shows No Brotherly Love to Rosado!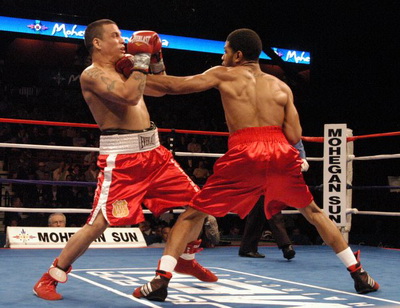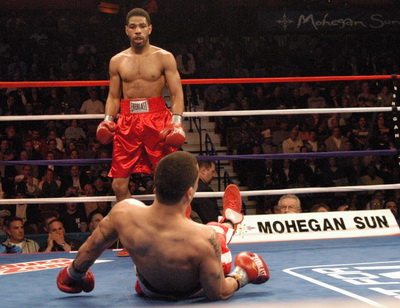 Brotherly love, Frank Trader showed none of, to Worcester, Massachusetts' Edwin Rosado, in a lightweight bout scheduled for four bells, but ending in less, as Trader made short work of Rosado, landing the down and out punch, at 1 minute and forty-nine seconds of the second round, leaving Rosado on the canvas back down and face up.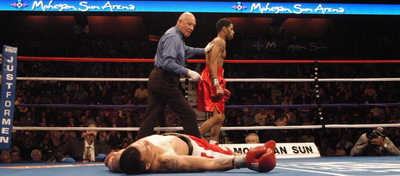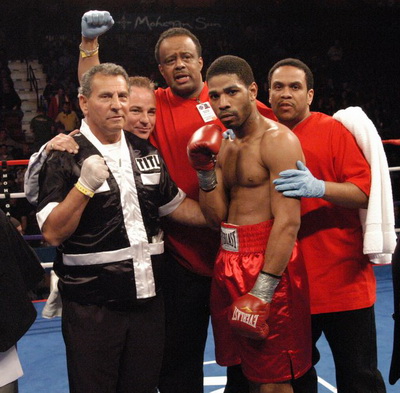 Philly's Frank Trader remains undefeated at 3 wins and obtains his first professional knock out. Rosado returns home at 1-5-0, 1 KO.


Harris Levels Williams in 21 Seconds!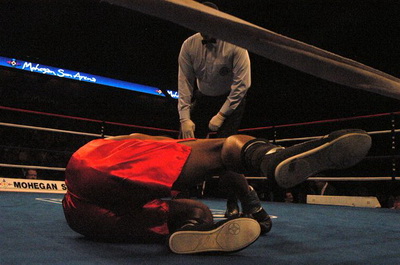 Before you could blink an eye in the first round, cruiserweights, Josh Harris's right hook met David Williams' left temple, causing Williams to be one with the blue canvas center stage at Mohegan Sun.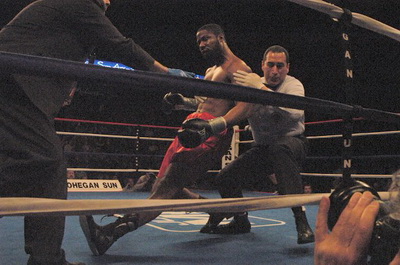 Referee Michael Ortega, did double duty, acting as anchor, trying to keep Williams at ground level, while the dizzied fighter staggered to get up on his feet. Enough was enough, and at twenty one seconds of the first round, the audience saw the bout come to its screeching halt.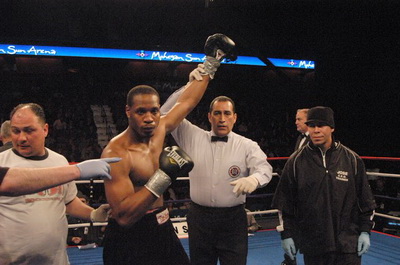 Williams returns to Philadelphia, PA at 6-3-1, 2KO's, while Youngstown, Ohio's Josh Harris improves to 3-2-1, 2 KO's.


Miles Wins Pro Debut!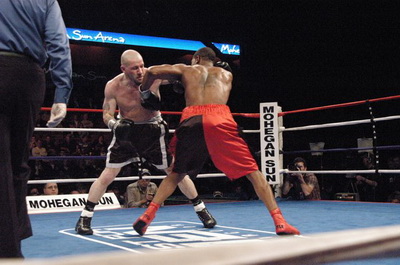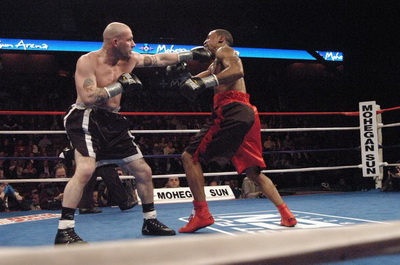 Philadelphian Tyrone Miles, wins his pro debut against Ontario, Canada's Chris Aucoin, by majority decision, 38-38, and 39-37 twice, in a four round super welterweight bout that went the distance.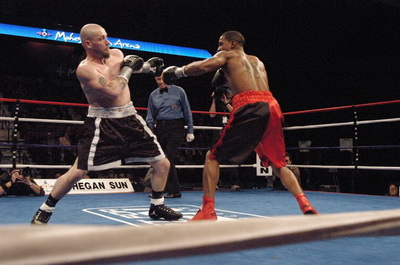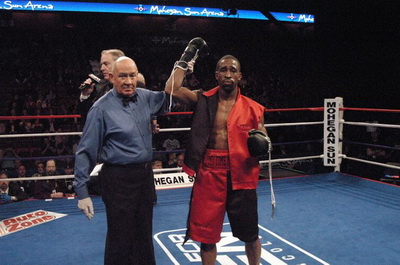 With the loss, Aucoin levels at 1-2-1, O KO's. Article posted on 08.03.2009
previous article: Shane Cameron Stops A Game Robert Davis In 11 Rounds - Takes On Tua Next!