Rodriguez' Controversial Win at Mohegan!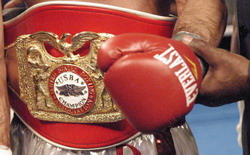 By Trish Kilcullen and Pete Heintzelman. Photos by Pete Heintzelman -- Twelve rounds at welterweight, is a long road to hoe, with the national spotlight on, and your fighting a local fighter. And when the USBA welterweight title is at stake, emotions run high.

And high they were, in Uncasville, Connecticut, where Star Boxing and ESPN2 Friday Night Fights turned into "Friday Night Frights," for Shamone Alvarez, the visitor, who heard, after the twelfth and final bell, a most controversial, albeit unanimous decision, all in favor of the local guy, Delvin Rodriguez..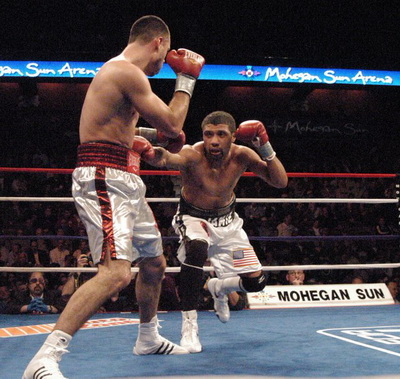 Delvin Rodriguez, of Danbury, Connecticut, the USBA's welterweight champion, now 24-2-2, 14 KO's, bested Atlantic City, New Jersey's Shamone "The Truth" Alvarez, at least according to three ring side judges, this past Saturday night, before a large and partisan crowd that ringed the ring at the packed Mohegan Sun Arena. But the truth be known, you could read it in the eyes of those ringside, and hear it in the buzz of the press corp, the decision was controversial indeed.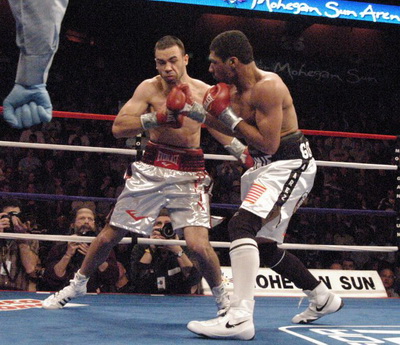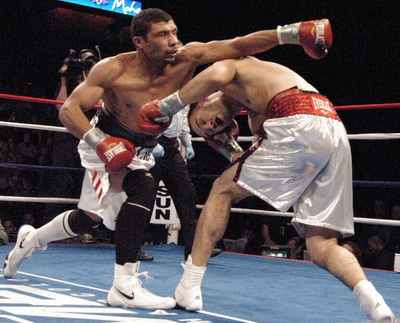 For most of the twelve exciting rounds, the southpaw from Jersey, with a five inch height disadvantage, and a shorter reach, used his experience and heart, to get inside, and take away the younger, taller fighter's physical advantages, for much of the fight. Yet Rodriguez did show his quickness and counterpunching skills, mostly in the later rounds, to sway the ringside powers that be, and entice the local crowd to crow for their local favorite.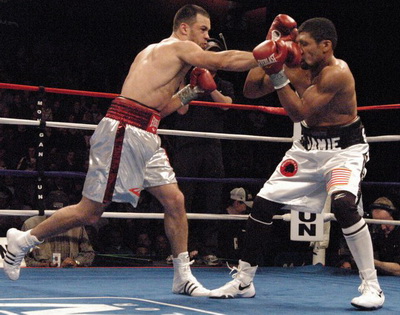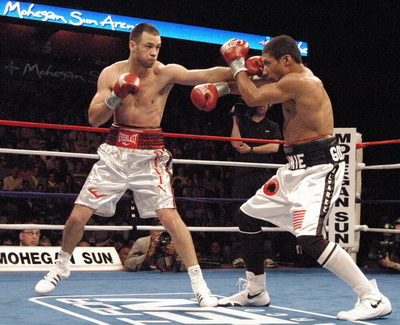 An eleventh round knockdown of Alvarez may have done the trick.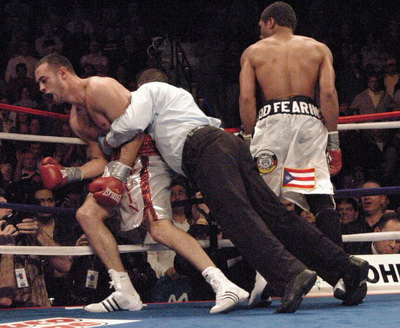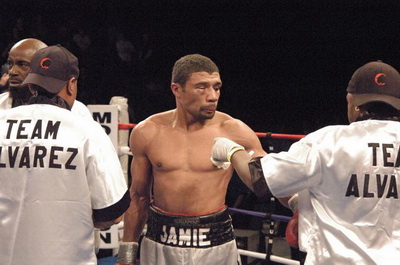 With promoter, Joe DeGuardia, of Star Boxing, side by side with USBA's representative, no other than Larry Hazzard, Sr., present, all heard the judges' unanimous scoring in favor of Rodriguez, 115 -112 and 114-133 twice.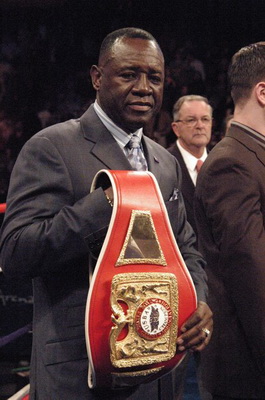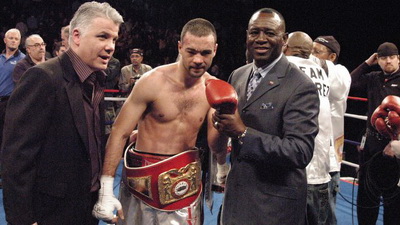 With the Hazzard tied the belt around Rodriguez' waist, and a humble, yet disappointed Shamone Alvarez saw his record suffer his second professional loss to twenty wins, with eleven previous knockouts. Alvarez can be proud of his effort, and made a lot of fans this evening, for his persistence and tenacity, giving Delvin Rodriguez probably his toughest bouts to date.


Serrano Smokes Krupp!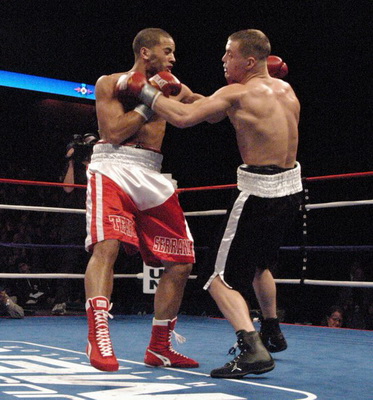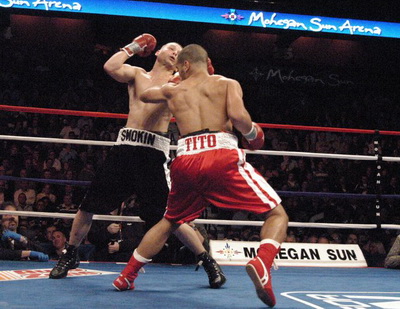 The six round clash between welterweights Raymond "Tito" Serrano and Jay "Smokin" Krupp, was just fantastic. With twenty one collective professional bouts between the two fighters, and only one collective loss, not to mention, the Cus' D'Amato Boxing Club black colors in the blue corner of Krupp and the Philly-fighter pedigree of Serrano in the red corner, you knew this had the potential of being fight of the night, and so it was, in our book.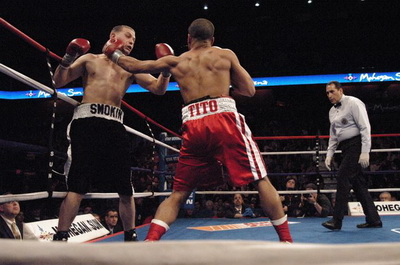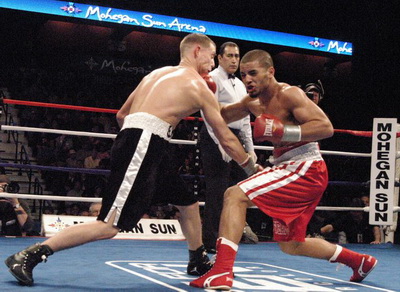 These guys mixed it up for six rounds at welterweight, that had ebbs and flows, where each fighter had, at times, domination over the other, that kept referee, Michael Ortega busy, and judges Clark Sammartino, Don Trella, and Glen Feldman, busier with their score cards. A first round knockdown of Krupp, however, set the stage, but Krupp seemed unfazed and remained persistent throughout the bout.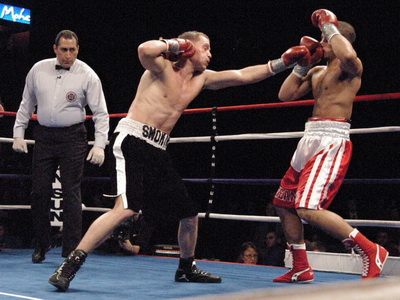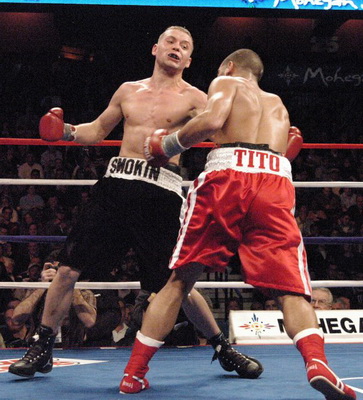 The crowd was most appreciative of the fighters, and after six, despite the great competition, the judges came to a unanimous decision for Tito, scoring the bout 55-58, and 60-53 twice, all for the still undefeated son of Philly, Raymond Serrano, whose record rises to 9-0-0, 5 KO's, while Jay Krup returns to Catskill, NY with only his second professional defeat, with a record now of 12-2-0, 5 KO's.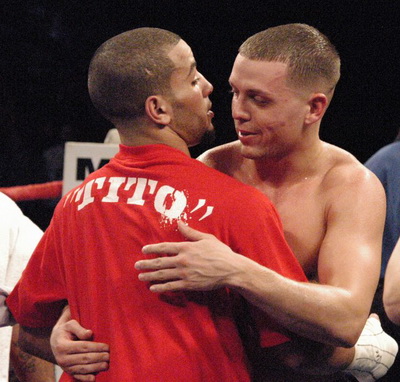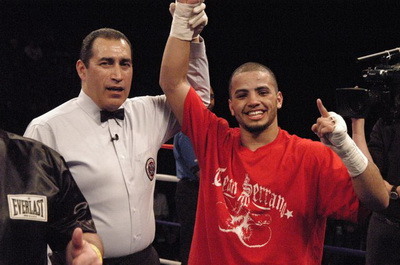 We would love to see this fight rematch, preferably right back here. Article posted on 08.03.2009
previous article: Mohegan Undercard Results and Photo Gallery!