Murat stops Sanavia, Sylvester knocks out Nespro
Karo Murat (19-0, 12 KOs) retained his European super-middleweight title with a tenth-round TKO victory over Cristian Sanavia (40-5, 12 KOs) in Neubrandenburg on Saturday night. The 25-year-old German cleverly picked his experienced opponent apart with strong punches to body and head throughout the entire fight. After a strong barrage at the end of the ninth, brave Sanavia would not come out of his corner for the next round. "That was a superb performance by Karo," coach Ulli Wegner said. "Athletes grow with their tasks, and Karo is making steady and strong progress.."

Ten months ago at the same venue, Murat clinched a close points victory to deprive Sanavia of his European belt. The rematch was a one-sided encounter, with Murat working well to body and head to impress Sanavia.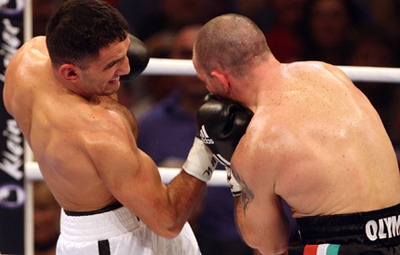 "He fought very well," the 34-year-old lauded. "He is a good champion. I had problems with my ear and my balance so there was no sense in continuing after the ninth round." Murat was pleased with his performance. "Sanavia really punches hard," he said. "He is very compact and tough to fight. He is a superb boxer and very experienced, but I did what my coach taught me and that is the reason why I won."

Murat landed several big shots to body and head at the end of the ninth when he pinned Sanavia into the ropes. Only the bell would save the Italian. "It is a pleasure to watch the progress Ulli Wegner and Karo Murat make," Sauerland Event General Manager Chris Meyer lauded. "They are a great duo and there are great things ahead for Karo."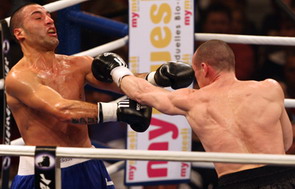 In the co-featured main event, Sebastian Sylvester (30-3, 15 KOs) pleased his home sell-out crowd with a spectacular seventh-round KO victory over Gaetano Nespro (14-5, 2 KOs). The 4.600 fans raised the roof when the Hurricane dusted his opponent with a right to the head. He had already knocked the Italian down in the first round. It was his first fight under newly-appointed head coach Karsten Rower. "It was a great night," Sylvester said. "The preparation was great, the crowd was great and the fight was great. I am very pleased. It took me five rounds to catch Nespro. He was very fast and had a good anticipation. But he tired in the sixth, and then ran into my right in the seventh."

Rower was happy to get his cooperation with Sylvester off to a winning start. "We just had six weeks of preparation so we are very pleased with the result," he said. "It was an important fight and Sebastian did very well."

On the undercard, undefeated middleweight Dominik Britsch (12-0, 5 KOs) knocked out Rachid Ouafi with a powerful left in the first round, while the "Nordic Nightmare" Robert Helenius (6-0, 2 KOs) also destroyed Enrico Garmendia inside the first three minutes. Yoan Pablo Hernandez also stopped Micky Steeds in the fifth round. Article posted on 01.03.2009
previous article: News: Arnaoutis vs Ortiz; Cunningham Praises Adamek; Tommy Rainone
next article: Marquez-Diaz: Good vs Great - Dinamita KO's the Baby Bull!