Will Juan Carlos Gomez Be The Man To Spoil The Klitschko Party?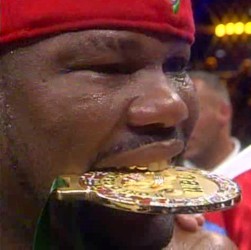 by James Slater - Currently, and proudly, co-reigning as the first boxing brothers to simultaneously hold versions of the heavyweight title, Vitali and Wladimir Klitschko are the undisputed kings of their weight class. Seen by practically everyone as the two best big men in the sport, the dominance is something the brothers are looking forward to continuing throughout the rest of 2009 and beyond.

Originally, it seemed as though WBC champion and elder brother Vitali would meet the fast-talking Londoner that is former cruiserweight boss David Haye. This was seen by most as a fight in which "Dr. Iron Fist" would collect a huge payday in a largely winnable fight. With IBF and WBO champ Wladimir also being made a pre-fight favourite over his probable next challenger in Chris Arreola, the Klitschko brother's party looked set to go on unspoilt. But now, with Cuban southpaw and WBC mandatory contender Juan Carlos Gomez looking like the next challenger for Vitali, the situation changes somewhat..

In many eyes, this former cruiserweight champion has a legitimate chance of upsetting the 37-year-old Ukrainian - even if he's made far less noise about doing so than Haye has. With his slick, southpaw style, his excellent amateur pedigree AND his greater experience up at heavyweight (Gomez moved up, after never having lost a fight at cruiser, way back in 2001. Haye, comparatively, has boxed at heavyweight only twice in the past two years), the 35-year-old "Black Panther" just might give Vitali fits in the ring.

You can forget about Gomez' sole loss, the shock (fluke) 1st round KO to Yanqui Diaz in August of 2004; there is no doubting the Cuban defector's skill and talent. A wake up call that served to re-ignite serious training from "The Panther," the Diaz loss is now ancient history. Could it be that the man who has had no way near as much publicity as David Haye, but has wanted the fight all the same, and for a longer period of time, will prove to be the fighter who spoils things regarding the dominant reign of the Klitschko giants?

Sure, at approx 230 pounds and 6'3" Gomez will face the size disadvantages "The Hayemaker" would have/will in facing the massive "Dr Iron Fist." But with his southpaw stance, his speed and his craftiness, will Gomez be able to out-box and befuddle the slower Klitschko? Vitali hasn't faced a southpaw since his win over Corrie Sanders back in 2004 - will the WBC champ struggle with the lefty stance of his challenger? Though his punching power is no way near as dangerous as Haye's, Gomez might prove to be a far more dangerous challenge to Vitali's treasured belt.

This is not to in any way suggest Gomez, 44-1(35) should be made anywhere near a favourite to out-point Klitschko (the fight is tentatively set for March 21st, in Germany - Germany being Gomez' base), but in some minds he poses a bigger threat than the London man who so badly wants to face either brother.

It looks like Haye will have to wait and see how Gomez fairs before he gets his own shot at Vitali. But if the 35-year-old Hamburg resident beats Vitali, he will not only have spoilt things for the two brothers; he will also have put a big wrench in "The Hayemaker's" lofty plans!

Article posted on 06.01.2009
previous article: Who Next For Carl Froch - Kessler? Bute? Taylor?
next article: Antonio Margarito vs Shane Mosley: More Tickets