Valuev-Holyfield: Does Evander Have Any Chance?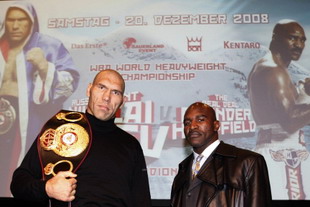 15.12.08 - by Paul McCreath, photo by Photo Wende -- This coming Saturday in Zurich, Switzerland 46 year old Evander Holyfield will make one last attempt to regain a part of the world heavyweight boxing title when he challenges the WBA champ Nicolay Valuev in scheduled 12 round bout. The latest odds I have seen on this fight have Valuev listed as a -1000 favorite. Is it any wonder? Evander is not only 11 years older than the Russian giant but he is also almost a foot shorter and 100 pounds lighter. Have the odds ever been so stacked against one fighter?

If we were looking at a prime Holyfield one could see where Evander would be given an excellent chance of victory. At his peak few would argue that Holyfield was far more skilled than Valuev. Unfortunately Evander's peak was probably at least 8 years ago. The first signs of deterioration were apparent as far back as the first Ruiz fight in August of 2000. Holyfield won that bout but it was a disputed decision and he did not look good.. Since then he has continued to show his age. Two more fights with Ruiz,neither one a win were later followed by losses to Chris Byrd, James Toney and Larry Donald. His lone important win was the famous "two heads" match with Hasim Rahman in June of 2002. His last bout a little over a year ago was a 12 round loss to Sultan Ibragimov. He lost nearly every round. There has been very little to suggest in recent years that Holyfield is anything near the fighter he used to be.

Valuev on the other hand is not a highly skilled fighter but he makes few mistakes. He uses his immense size to good advantage while working behind a good jab. It is not pretty to watch and he is not a huge puncher but like Evander he can wear you down. You would not want to get clipped by either of these two men. Valuev has had 50 pro fights now,many against good opposition like John Ruiz (twice) Sergei Liakhovich, Jameel McCline, Larry Donald, Ruslan Chagaev and Paolo Vidoz so experience will not be a factor.

Both men are very durable and always fit. They both have good chins so a KO is unlikely. You can be sure that Evander will come to fight and give it his best shot but does he really have any hope?Usually in a heavyweight fight you can say that the underdog has a puncher's chance but I don't think that applies in this case. Evander has never been a one punch KO artist and it is hard to see him reaching Valuev's jaw often enough to do any real damage. If all the top fighters that Valuev has gone 12 rounds with could not do it a smaller and older Holyfield sure won't.

I see Nicolay working behind his jab to keep Evander out of punching range and simply coasting to a dull 12 round decision. He probably will win nearly every round and a late stoppage is possible if Evander takes too much punishment. If this happens I am sure Holyfield will still be on his feet and still insisting that he will win back the undisputed titles. I just hope he does not get hurt.

Article posted on 16.12.2008
previous article: Bob Arum Says Manny Pacquiao's Days At 147 Are Over, Also Announces May Fight For "Pac-Man"
next article: An Open Letter to the Boxing Writers Association of America