Pac Attack on the Golden Boy
By Vanessa McConnell, Photos by Naoki Fukuda - MGM Grand hosted, hands down, one of the most exciting fights of the year featuring Golden Boy Oscar De La Hoya (39-6, 30 KOs) and Manny Pacquiao (48-3-2, 36KOs) to a sell out crowd of 15,001 boxing fans. Manny Pacquiao gave one of his most impressive fights of his career against the Golden Boy; leaving most fans saying De La Hoya just fought his last fight. Pacquiao fought a near perfect boxer puncher's fight, actually revealing the true capabilities of where being a boxer puncher can take you. Execution, staying on top of the fighter and proving how dangerous a boxer puncher could be was just the lesson that De La Hoya learned Dec 6..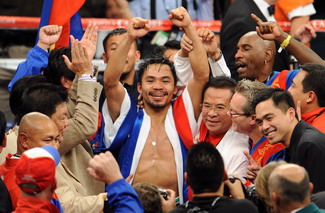 Going into the fight De La Hoya said that he would "take his heart" but boasting only made the loss even more humiliating for De La Hoya. Pacquaio weighed in to the fight at 142 against De La Hoya weighing in at 145. Despite past issues with Pacquaio's weight, at 29 he fought at his peak showing confidence before the fight, trust in his execution to perfection minus the gain in weight during his professional career. Pacquaio dominated the entire fight up to coming into the ninth round where De La Hoya threw in the towel. Pacquaio out boxed De La Hoya by far with 224 total punches and 195 power punches versus De La Hoya's 83 punch count and 51 power punches.

There was not a moment going into this fight that Pacquaio showed any fear or hesitation. He charged and danced around De La Hoya like his opponent had invaded his territory. You could see the doubt in De La Hoya's eyes early into the fight as Pacquaio worked the straight left nearly turning De La Hoya's face into ground beef. Fans were amazed to see the Golden Boy so bruised, reflecting on moments that does not come close to this "Dream Fight." Leaving fans wondering what's next for the Golden Boy.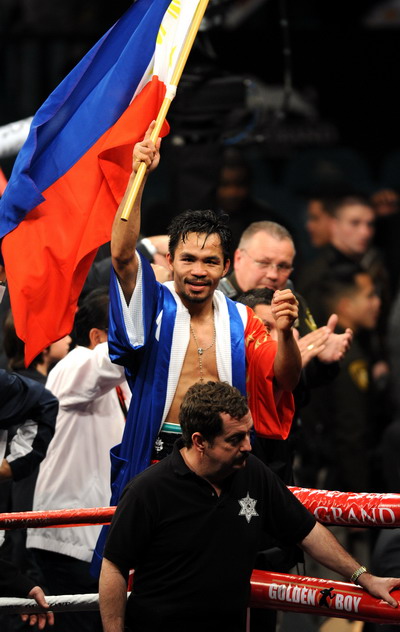 There's talk of De La Hoya retiring or never seeing a fight between Money Mayweather. Fans just can't call this one just yet. It was said to be the Dream Fight but according to most fans in the arena Dec. 6 they feel that a better match up for the money man "Mayweather" may just be Filipino sensation Manny Pacquiao. Most fans went into this fight thinking there was no competition and that this was a mismatch, but tell that to the Golden Boy. No body knows until it actually goes down in the ring.

Pacquiao proved to the world that it's not malnutrition or introduction to new foods, as stated throughout the media, which won him the "Dream Match" and helped him move up in weight class; but the hard work and dedication to his team and the sport. Coming into this fight as the underdog, all odds were against Pacquiao, but this "Dream Match" itself proved to be the sufficient nutrients that he needed to gain the respect deserved as another great fighter.

What good is a great fight without an after party to wrap things up? Keisha Cole sang the national anthem at the fight, leaving most fans with their mouths dragging on the floor. Confused as to exactly whose voice was coming out of the figure singing in the ring, booing her until she belted out the "Land of The Free." I don't think it was her performance they were mocking and laughing at, it was her bouffant hair doe and mismatch outfit complete with floating devices on her arms.

Keisha Cole appeared later that night at Club Asia inside the Planet Hollywood where they were hosting a birthday party for her sister Neffe. When fights broke out in front of the club you could only image how the rest of the night was going. There were said to be more fights at Keisha Cole's party than in the preliminary rounds of the fight. But the disappointment of all the high rollers that paid thousands of dollars for a table and a few bottles inside the club to see it being shoved out the door with the shuffle was nothing to the idea of what could be the end of the Golden Boys boxing career. Article posted on 08.12.2008
previous article: News: Margarito vs Mosley; James DeGale; Rodriguez vs Daniels
next article: Can Floyd Mayweather Junior Resist The Irresistible Fight - Vs. Pacquiao?