News: Odlanier Solis to give his US debut; Gamboa Returns; Oral and Hide Victorious
ARENA-CEO Ahmet Öner will present his next US show on January 9th in Primm, Nevada. The show will be featured live on ESPN Friday Night Fights. For the first time Cuban Olympic 2004 gold medallists Yuriorkis Gamboa and Odlanier Solis will be on the same card in the United States as Solis will give his US debut..

Fast rising featherweight star Yuriorkis Gamboa (12-0, 10 kos) returns to Primm after two successful appearances at "Terrible's Casino & Resort" against Darling Jimenez and Al Seeger.




"This will be Gamboa's final test before fighting for his first world title", states promoter Ahmet Öner. At the 46th annual WBC Convention in Chengdu, China, Gamboa was nominated to face Elio Rojas for the interim world championship.

As additional highlight the German based promoter finally presents his Cubaen heavyweight sensation Odlanier Solis to the American public. Like Gamboa Solis is a 2004 Olympic gold medallist and won his first 12 pro-fights, including 8 kos. The WBC international and latino champion is already rated on #14 by the WBC and is ready to shine in the US.

"I am very happy and proud that these two future champions will be fighting on the same card", says Öner. "I have been asked several times when Solis will finally come over. Now he is already training in Miami. I am sure that he will make big noise in the heavyweight scene. Maybe he can even help the division back to old glance. With Solis and Gamboa ARENA is ready to finally conquer the US and the entire world."

ESPN Friday Night Fights on January 9th


Gamboa's opponent not confirmed yet

Everything is set for ARENA's ESPN "Friday Night Fights" date on January 9th at Terrible's Primm Valley Casino & Resort in Primm, Nevada, featuring 2004 Olympic gold medallists Yuriorkis Gamboa and Odlanier Solis. But other than reported earlier Andrey Isaev is not confirmed as Gamboa's opponent yet.

"The show is definitely on", states ARENA-CEO Ahmet Öner. "But we don't know yet who our Cuban stars will be fighting. We will name the opponents later. But we will definitely present good fights and a great show."

While Gamboa (12-0) will be fighting in Primm for the third time Solis will give his US debut on January 9th.


Results from Germany - Oral and Hide Victorious In Cuxhaven

Photos by MA Sayer - Rising middleweight star Mahir Oral added another victory and title to his record. The 28-year-old "Lion" scored an 8th round tko over Alexander Sipos to win the vacant WBC Mediterranean championship. Sipos started strong but Oral (WBC #7, WBA #9, WBO #12, IBF #14) took control in the later rounds forcing his opponent to give up after the 7th.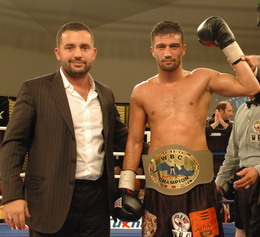 "Mahir showed a great performance", stated three-times WBC super middleweight champion Markus Beyer who attended the show as special ringside guest. "He is very talented, was extremely focused and did an excellent job against a very tough opponent."

Former two-times WBO heavyweight champion Herbie Hide had a hard time against Polish journeyman Lukasz Rusiewicz taking lots of very hard blows and forcing the "Dancing Destroyer" to a six-round unanimous decision win.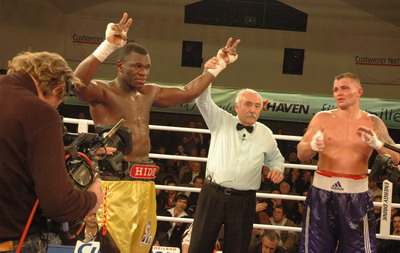 "I took this fight on very short notice because the main event had been cancelled due to an injury", explained Herbie after the fight. "Ahmet (Öner) asked me whether I could jump in to fill the gap and I did it because I am very grateful for what he did to bring me back to the top. Two years ago before I signed with ARENA I was down and out. Now I am at a top position again. I will fight in a Final Eliminator for the World cruiserweight championship. The "Dancing Destroyer" is back on track. I will be world champion again!"




Hot German heavyweight prospect Steffen Kretschmann (13-0, 12 kos) showed the best performance of his pro career so far stopping Marcel Zeller (21-3, 20 kos) in two rounds. After two knockdowns in the first and some very hard blows in the second referee Ernst Salzgeber stopped the fight at 44 seconds into the round.

"That was a great and important win", said Kretschmann. "Now I want to go on to become European champion. I hope that I will get a chance to fight for that title soon."

In another all German heavyweight clash Konstantin Airich took a close unanimous decision win after eight exciting rounds against veteran Alexander Jakob. Airich knocked down Jakob eventually breaking his opponent's leg (!) in the second. But Jakob fought back anyways and gave the "Sandman" a very hard time in the later rounds.

"This was a great night of boxing", stated ARENA-CEO Ahmet Öner. "We saw exciting fights and great action in the ring. We want to thank the great fans in Cuxhaven for supporting our fighters. We will definitely come back for more shows next year."

Other results:

Middleweight – Mustafa Karagol decision win over Ivan Maslov after 4 rounds
Cruiserweight – Ivica Bacurin draw against Remigijus Ziausys after 6 rounds Article posted on 20.11.2008
previous article: Kendall Holt - "I'm Excited To See What Torres Brings To The Table For Fight Three"
next article: Pacquiao - De La Hoya: Roach: Oscar Will Be Carrying a Suitcase Full of Blues on Dec. 6