Boxing News: Israel Vazquez; Danny Perez; Jason Estrada; D.Andrade
Photo of Israel Vazquez/Courtesy Espinoza Boxing Club -- Los Angeles, CA (November 18, 2008) World Boxing Council Junior Featherweight Champion and "Pound for Pound" candidate Israel "EL MAGNIFICO" Vazquez was honored this past Saturday night at the LAX Marriott by the World Boxing Hall of Fame..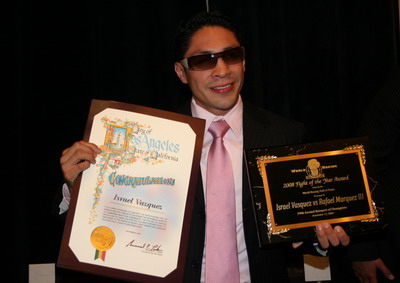 Vazquez's epic third fight with Rafael Marquez on March 1, 2008 was named "2008 Fight of the Year" by the WBHOF at the awards dinner.. As he accepted the award Vazquez thanked the boxing fans who have been very supportive of him throughout his illustrious career. Vazquez was also honored at the event by the City of Los Angeles which presented him with a plaque acknowledging his fight with Marquez.

Said Vazquez after receiving the award, "The fans meant so much to me in that third fight. The passion that they had for both of us throughout the fight contributed to a terrific battle. It means so much to me to put on great performances for them in all my fights."

Joining Vazquez at the awards dinner were manager Frank Espinoza and three undefeated members of his young stable, Luis Ramos, Ronny Rios and Abraham Lopez.

"It was a terrific evening for Israel . The fans mean so much to him and he was truly honored by this award. The third fight, just like the previous two were just outstanding battles" said Espinoza.

Vazquez cemented his place in the annals of boxing history over the last two years with his three epic battles against former world champion Rafael Marquez, culminating in his outstanding rubber match win on March 1st at the Home Depot Center in Carson , California .

The Vazquez/Marquez trilogy, thought by many to be amongst the greatest in boxing history, has won numerous accolades by the boxing media with the most recent bout sure to land atop many "2008 Fight of the Year" lists as well as the final round being given consideration for "2008 Round of the Year" as Vazquez scored a knockdown in the terrific final round to win the fight.

Vazquez, 43-4 (31KO's) is currently ranked on numerous Pound for Pound lists including # 4 by Yahoo Sports, # 5 by Ring Magazine and # 7 by both ESPN and Sports Illustrated. More information can be viewed at his website, www.israel-vazquez.com

The ESPINOZA BOXING CLUB was started in 1991 by Los Angeles area businessman Frank Espinoza. Espinoza has earned numerous accolades for his management skills from many boxing newspaper and internet writers. In the September 2008 issue of Ring Magazine, Espinoza is praised for his outstanding handling of the career of junior featherweight world champion and "Pound for Pound" superstar Israel "EL MAGNIFICO" Vazquez.

In 2006, Espinoza was awarded the Manager of the Year award from the World Boxing Hall of Fame and inducted into the California Boxing Hall of Fame.

Espinoza also has managed retired former world champion Martin "EL GALLITO" Castillo and currently manages world ranked Alex Valdez and Miguel "EL ANESTESISTA" Huerta in addition to undefeated prospects Manuel "SUAVECITO" Roman, Jesus "POLLO" Hernandez, Luis Ramos, Carlos Molina, Abraham Lopez and Ronny Rios.


Danny Perez Turned Down 100k vs. Kirkland to Fight for USBA & NABO Titles This Fri.

Weigh In Thursday at 3 pm at Horseshoe Casino, Hammond

Nov. 19 (Chicago, IL)-On September 13th, Danny Perez, a tough-slugging Mexican-American from San Diego, won a unanimous decision over Julio Cesar Garcia on the Casamayor vs. Marquez pay-per-view telecast from Las Vegas. In what was surely expected to be a showcase for Garcia, pundits expected Perez to put up a good fight, but did not expect him to win.

With only one fight under his belt since returning from a three year lay off, Perez took the fight on just one week's notice. Scores were 97-93 | 99-91 | 100-90.

Shortly after upsetting Garcia, Perez was offered $100,000 to face James Kirkland in the co-main event on this Saturday's HBO/Golden Boy card featuring Ricky Hatton vs. Paul Maglinaggi in the main event.

"We turned down the money with Kirkland because we believe winning the NABO and USBA titles is more beneficial in the long run," said Danny's manager Mark Diaz. "Winning these titles catapults Danny into the top 10 and puts us in a much better position to fight for a world championship."

This Friday, Perez (33-5, 17 KOs) faces Eric Mitchell (22-4-1, 11) for both junior middleweight titles at Horseshoe Casino, Hammond, located just 20 minutes from Chicago.

"I'm always in shape, but I wasn't in fighting shape for Garcia because of the short notice," Perez said. "This time, I've had a full training camp and I'm fully prepared for Mitchell. Camp went perfectly. I had great sparring. I'm already at weight and looking very sharp."

"Mitchell is from Philly, so I know he'll come out strong," Perez continued. "My plan is to take him into the late rounds and see what he has left. Plus, I know there's a tremendous number of Mexicans in Chicago and Hammond, so I hope to have the crowd on my side."

In June of 1999, Perez dropped Antonio Margarito in round one of an eight round bout, but lost a split decision by scores of 76-75 | 74-77 | 75-76. Three years later, Perez came up short in the rematch, losing a unanimous decision to Margarito for the WBO welterweight championship. Perez holds wins over Marcos Primera and Jose Luis Zertuche.

In the evening's co-main event, Eric Mitchell's identical twin brother, Aaron (26-1-1, 21 KOs), faces Delray Raines (14-4, 9 KOs) for the NABO middleweight title.

Other featured fighters include Don King promoted heavyweight prospect Carl Davis (12-2, 9 KOs) of Chicago; former Junior Olympic World Champion and undefeated light heavyweight prospect Cedric Agnew (9-0, 4 KOs) of Chicago Heights; Joey "Twinkle Fingers" Hernandez (13-0, 6 KOs) from Miami; Don King promoted lightweight Ivan Fiorletta (22-4-2, 7) and featherweight Gianapiero Contestable (11-0, 6), both from Italy and middleweight Elie Augustam (1-0,1), a 2008 Olympian from Haiti who most recently served as a sparring partner for living legend Bernard Hopkins.

Rounding out the card, welterweight Chris Rudd (5-0, 3 KOs) lightweight Ira Terry (20-1, 11 KOs), and junior middleweight Johnny Suarez (2-1-2, 1 KO).

The official weigh ins will be held at Horseshoe Casino, just outside of the entrance to The Venue, beginning at 3 pm. Horseshoe Casino Hammond is conveniently located just 20 minutes from Chicago. From the Skyway, simply exit at Indianapolis Blvd.

Tickets are available for $200 VIP Ringside, $150 Ringside, $80 Main Floor and $40 Mezzanine from any Ticket Master location or from The Venue's box office (219/473-6060).


U.S. Olympians J. Estrada & D. Andrade featured on "Holiday Havoc" ov. 29 at Twin River Event Center, RI

Photo by Emily Harney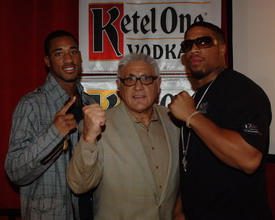 PROVIDENCE (November 18, 2008) – Rhode Island's only representatives ever on the U.S. Olympic Boxing Team, Jason "Big Six" Estrada (2004) and Demetrius "Boo Boo" Andrade (2008), will be showcased November 29 on "Holiday Havoc" at Twin River Event Center in Lincoln, Rhode Island.

"Holiday Havoc" is promoted by Jimmy Burchfield's Classic Entertainment and Sports, Inc. (CES), in association with Twin River and CN8, The Comcast Network as well as (for Andrade's fight) Banner Promotions and Star Boxing.

The show will be taped live and air Saturday, December 13 at 7:00 PM/ET on CN8, The Comcast Network in New England and the Baltimore/Washington D.C. market, as well as on Cox Sports Television at a date and time to be determined.

"I'm inviting all of our fans, friends and family to celebrate our big pre-holiday show, the last CES card of 2008, at Twin River on November 29th," CES president Jimmy Burchfield said. "What better way of ending the year than by watching our two Olympians in action? Rhode Island didn't have an U.S. Olympic boxer until Jason in 2004 and now he and this year's Olympian, 'Boo Boo,' are fighting on this great card. We have a lot of other talented fighters in five entertaining bouts on the undercard. In the spirit of the upcoming holidays, we're working with the U.S. Marines 'Toys For Tots' program, and are encouraging everyone to bring a toy to the show for less fortunate children."

Estrada and Andrade are two of the most decorated U.S. amateur boxers of all-time. Estrada was 261-14 in U.S. competition and the first boxer to win both the U.S. Nationals and U.S. Challenge three years (2001-2003) in a row, in addition to a gold medal in the 2003 Pan-Am Games.

Andrade, who was a 2-time U.S. Nationals and National Golden Gloves champion, captured a gold medal in the 2008 AIBA World Championships.

Ever-improving heavyweight prospect Estrada (14-1, 3 KOs), now rated No. 7 in the NABF, takes on Cuban warrior Elieser Castillo (30-6-2, 17 KOs) in the 8-round main event. Castillo has already beaten one U.S. Olympian, 1996 captain Lawrence Clay Bey (KO9), for the NABF Interim title that Elieser was later awarded outright.

Andrade (1-0, 1 KO) made his pro debut this past October, stopping Patrick Cape (4-2) in the second round of their fight in the state of Washington. "Boo Boo" will make his hometown pro debut Nov. 29 in a Special Super Welterweight Attraction on "Holiday Havoc."

Former USBA champion Jason Pires, now a police officer in his hometown of New Bedford (MA), makes a comeback after being out of the ring for more than five years in a 6-round welterweight bout versus Joshua Onyango (14-16-1, 11 KOs), former Commonwealth title holder.

Providence super middleweight Bobo "The Bull" Starnino and "Irish" Joey McCreedy (8-2-1, 5 KOs), of Lowell (MA), square-off in a 6-round rematch of a draw the two fought last August.

Also on the undercard in 4-round bouts is unbeaten Pawtucket (RI) lightweight Eddie "The Puerto Rican Sensation" Soto (9-0, 4 KOs) against 37-fight veteran Jose Angel "Lucky" Roman; Warwick (RI) super middleweight Keith Kozlin (1-0) fights Eric Clinton (0-4-1), Providence junior lightweight Omar Pena (0-0-1) meets Lindberg Freeman (0-1); Lowell junior welterweight Sean Eklund (6-2, 1 KO) makes his CES debut with his uncle in his corner as head trainer, "Irish" Micky Ward.

Tickets for "Holiday Havoc" are priced at $19.00, $40.00, $55.00 (Bronze), $75.00 (Silver), $100.00 (Gold) and limited $150.00 (Jimmy's Platinum Club) and are available to purchase by calling CES (401.724.2253/2254), going on line at www.cesboxing.com or www.twinriver.com, at the Twin River Event Center (100 Twin River Road, Lincoln, RI), at the Players Club booth at Twin River, or any TicketMaster location.

Tickets are also on sale at Big Six Academy in Providence (401.241.3490), 401 Gym in Cranston, RI (401.261.9800), Ultimate Fitness in Bristol, RI (401.253.3539), Rivera Brother's Gym in Lynn, MA (617.594.1166) and GQ Barbersalon in N. Providence (401.228.3380), Warwick, RI (401.823.0060) and Coventry, RI (401.615.5455).

Contact CES (401.724.2253/2254/www.cesboxing.com) or Twin River Events Center (877.82.RIVER/ www.twinriver.com) for more information. Doors open at 6 PM/ET, first bout at 7 PM/ET Article posted on 19.11.2008
previous article: Is David Haye The Next Great Heavyweight Champion?
next article: Oscar De La Hoya Hell-Bent On Scoring KO Over Manny Pacquiao - But Will He Get What He Wants?