Evander Holyfield Doesn't Just Want To beat Valuev, He Still Thinks He Can Become Undisputed Champion Again!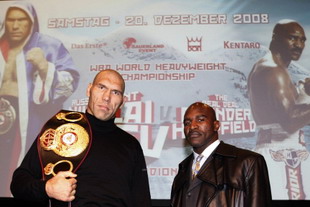 18.11.08 - by James Slater , photos by Photo Wende - According to the thinking of the average fight fan and/or boxing expert, Evander Holyfield will have pulled off a minor miracle if he is able to defeat the huge, 7'2" Nikolai Valuev in December. In fact, most people would agree "The Real Deal" will have done incredibly well if he's capable of even making the title fight he has done nothing to deserve at all competitive. After all he's achieved in a genuinely great boxing career, Holyfield shouldn't even think about boxing on, but he is.

More disturbing than the fact that the 46-year-old, who has not won a fight since June of 2007, is going to be swapping punches with a man somewhere approaching 100 pounds heavier than he is, are the things the former four-time heavyweight champ has been saying about what he plans to do after December 20th.. Of course Evander thinks he is going to win in Switzerland on the 20th, but he also thinks, quite astonishingly, that he can become the UNDISPUTED heavyweight champion again. His age and wear and tear aside, does Holyfield have any idea how long it would take him to even get the necessary fights? Try at least 18 months or more, by which time Evander would be almost 48!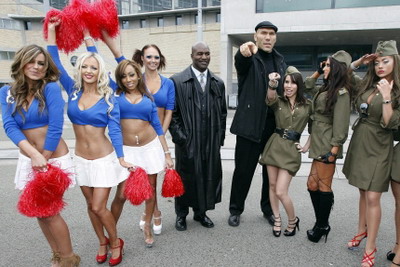 Just supposing, as we take a trip into the twilight zone, that Holyfield does cause a huge upset and somehow beats Valuev; surely that achievement would be more than enough to satisfy even the most ambitious of 46-year-old former champions. But it will not be enough for Evander. Instead of opting to head off into the sunset on the back of a truly amazing victory, "The Real Deal" has declared his intentions of fighting on and going for even more unlikely glory. Just how out of touch with reality is this guy?

Here are some of the things he had to say earlier today in Switzerland, as reported by CBS Sports.

"My goal is to be undisputed champion not just win one title," Holyfield said. "I think people make too much about age. I haven't fought in a year but I will be ready."

Speaking also about how he has done all he can to prove his fitness and well-being before going into a fight the very thought of which is making fans cringe as we speak, Holyfield told how he has undergone a five hour medical in Germany this past Monday.

"They (his critics) will have to see the fight and know for themselves," Evander said. "I have taken care of myself and if I couldn't fight then I wouldn't. The only way you can reach your goal is if you do the things you know you can do - and I do box real well."

Holyfield USED to box real well. But not in a very long time has he done so. No way is the former cruiserweight king capable of getting as far as the unrealistic goal he has set himself. Holyfield beat either of the Klitschkos? No way. Let's just hope that after Valuev beats what's left of this once great fighter a few days before Christmas day, Evander will come to his senses and retire once and for all.

Let's also hope that Holyfield does not get too badly hurt in the WBA title fight that everyone knows should not be taking place. Article posted on 18.11.2008
previous article: Why history will look kindly upon Joe Calzaghe
next article: Is David Haye The Next Great Heavyweight Champion?