Tony DeMarco: A Boston Legend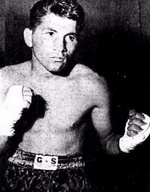 By Ted Sares, Photos courtesy of IBRO -- "I was a champion a million times in my dreams - and finally it came to be." -Tony DeMarco

The following is taken from the website summaries of the World Boxing Hall of Fame enshrinees http://www.wbhf.org/:

Tony DeMarco (Leonardo Liotta)
World Welterweight Champion, 1955
Born: January 14, 1932 Boston, Massachusetts
Living in: Weymouth, Massachusetts
Height:5'5 1/2"; Weight: 147
Nationality: Italian-American
Ring record: 58-12-1
Managed by: Coogie McFarland, Angelo Pucci, Bobby Agrippino..

"It is Tony DeMarco's destiny that while he was one of the great welterweights of all time, a legendary puncher and now, a Hall of Famer- he is best remembered by the boxing public for two great fights in which he was the loser.

"Nobody who witnessed, in person or on TV, Tony's title defense against Carmen Basilio on June 10, 1955, will ever forget the savagery of that fight. For almost 12 full rounds, the two battlers fought with unequaled fury. Basilio came back from the brink of destruction to prevail in the Fight of the Decade.

"DeMarco rebounded with a one-round demolition of Chico Vejar, but failed-again in 12 rounds, in another ring classic - in a bid to win back the title from Basilio.

Fighting mostly in and around his hometown of Boston, Tony outslugged most of the stellar 147 pounders of his day: Kid Gavilan, Vince Martinez, Arthur Persely, Pat Manzi, and Gaspar Ortega, to name a few.

"He won the title by knocking out Johnny Saxton on April 1, 1955"

The Road to Fame

DeMarco grew up in Boston's North End (which is the Little Italy of that city) and he remains a true legend among all Bostonians. He even has a street named after him--"Tony DeMarco Way."

When he fought, he was not unlike later West Coast greats like Bobby Chacon and Danny Lopez in that he consistently sold out the Boston Garden breaking attendance records in the process.

DeMarco, a first generation American, started boxing when he was about eleven and was a product of the Boy's Clubs in Boston and of the Parks Department where he was a very active combatant, but when he graduated to full amateur status, he participated in only a few fights. In his first pro fight, he knocked out one Mestor Jones in the first round. He was just sixteen years old at the time and had "borrowed" the name of an 18 year old named Tony DeMarco.

This hardscrabble battler would win 29 of his next 32 fights before dropping two decisions in a row in Quebec, Canada. Regrouping, he then went undefeated in his next seventeen, and on April 1, 1955, won the World WelterweightTitle by stopping the great Johnny Saxon in the fourteenth round before a full house at the Boston Garden. On the road to that championship, DeMarco fought and beat many top notch opponents such as George Araujo (52-5-1), Johnny Cesario (86-12-4), Carlos Chavez (61-24-9), Teddy "Red Top" Davis (56-49-5), Christian "Gentleman Chris" Christensen (26-4-2), Paddy DeMarco (65-10-2), Terry Young (70-27-5), and Jackie O'Brien (47-4-5). He also fought to a draw with the Jimmy Carter (72-17-8) in 1955.

The Basilio-DeMarco Wars

Two months later, he lost the title to future Hall of Famer Carmen Basilio by twelve round TKO in a fight where Tony ran out of gas after taking the fight to Carmen. It would be the first of two great toe to toe, ebb and flow thrillers with the Canastota Onion Farmer. But in between (and in a Welterweight Title Eliminator), he iced the very capable Chico Vejar in one round. Vejar was 63-4-1 at the time. Then, in November of that same year, he met Basilio again in one of the greatest fights ever held in Boston. In fact, it was The Ring Magazine 1955 Fight of the Year.

Tony, a puncher and instinctive counter puncher, also had enough boxing skills to hold his own with such stylists as Kid Gavilan. But his incoming pressure style was more akin to that of Jake LaMotta or Rocky Marciano. Each was a ruthless stalker who walked down his foes like a hunter quickly closing in on his prey. Pure '50s through and through, Tony toiled amidst the hazy smoke generated by cheap cigars and the odiferous arena alchemy of perfume, beer and sweat through the entire decade.

Against Basilio in the rematch and before 13, 373 fans crowded into Boston Garden, DeMarco started fast, but suffered a bad cut in the eft eye in the second round courtesy of well placed head shots from the rugged upstate New Yorker. To be fair, however, Basilio broke his left hand in that same round. Tony then took control and pressed the action rocking and staggering Basilio on many occasions, but the granite-chinned Basilio countered with his one shots.

Then, in an incredible seventh stanza, Basilio launched a hook, but was met with an equally well-timed left hook which landed first and badly staggered the man who had been down only once in his previous 65 fights . He was on Queer Street; hell, he was out on his feet and DeMarco was all over him like a wet suit. Basilio was on the verge of going, but DeMarco couldn't finish him, as he threw more than fifteen malefic shots with twenty seconds to go in the round. Fortunately, for Basilio, most in not all missed.

At the end eight rounds, the three scorecards read: 79-74, 78-67, and 79-73, all in favor of DeMarco. The Onion Farmer, knowing that he needed a KO to win, proceeded to launch a brutal body attack in the ninth round. In so doing, he turned the tide of the fight in his favor. Then, in the twelfth round, he caught a totally exhausted DeMarco with a right and left that sent him crashing down. Somehow, someway, the gritty warrior got up, but at the 1:54 of the same round, was caught with a vicious four-punch volley that rendered him unconscious. The end had come in a great ebb and flow classic. Tony was unable recapture his welterweight crown, but he gave it a tremendous effort.

DeMarco then won his next four which included bouts against such greats as Kid Gavilan (104-21-5 coming in), Vince Martinez (50-3 at the time), Wallace Bud Smith, and Arthur Persley (48-9 -2 coming in). .Some say his TKO over Smith sent the Cincinnati fighter's career in a downward spiral as he subseuqntly lost nine fights in a row. DeMarco lost two heartbreaking split decisions to the Gaspar Ortega in 1956 (both at Madison Square Garden). However, as a testament to his fortitude, he bounced back to win a dominant UD from Ortega in Boston in 1957. He followed up with a win over tough Larry Boardman who was 34-3 at the time. After losing two action-packed and brutal fights to the great Virgil Atkins in unmitigated savagery that featured multiple knockdowns, he bounced back with wins over George Monroe (48-17), Don Jordan (51-20-1) and closed out his great career with a UD over Stefan Redl. Appropriately, this last fight was at the Boston Garden in front of his beloved following.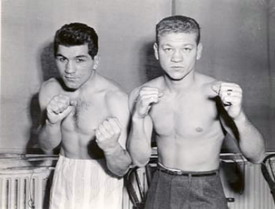 Tony and Larry Boardman (Photo courtesy of IBRO)

Tony DeMarco finished with a deceptive 58 (KO 32)-12 (KO 7)-1 slate; deceptive because many of his stoppage losses were due to cuts.

DeMarco moved nicely into retirement, though he did not make a lot of money. But if being humble is worth something, Tony was (and is) a multi-millionaire who has remained faithful to the sport he loves so much. Unlike his friend Jake LaMotta (whose style DeMarco emulated), Tony is one of the sweetest persons you could ever hope to meet outside of the ring. A Hall of Fame member of RING FOUR Boston-Veteran Boxers Association International, he has received many honors, including induction into the Official National Italian American Hall of Fame in Chicago. In the end, the affable DeMarco (Scally Cap and all) is fit, ready and sharp at 76. And he is pure Boston -the city in which he treated fans to thirty-one great fights with twenty-one of them being main events.

However, there is still one honor that inexplicitly and shamefully has not been bestowed upon this Boston great; namely, induction into The International Boxing Hall of Fame in Canastota, New York. This should have been done long ago; let's correct this wrong and get Tony in there.

Watch for the author's new book entitled, Reelin' in the Years: Boxing and More due out in December.

Article posted on 17.11.2008
previous article: Yeah I said it!
next article: News: Moore Spars Karmazin; Golota Injury Photos; Cintron-Adorno