Fischer Spars Riddick Bowe, Fights On Klitschko-Rahman Undercard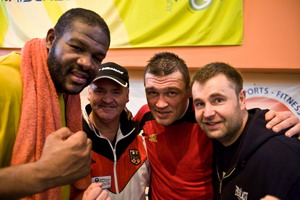 All photos by fight-production.com - Manager Olaf Schroeder today officially confirmed reports by HR television that Fight Production's only current German boxer, comebacking heavyweight Willi 'De Ox' Fischer, will finally take the next step with an appearance on the Klitschko vs Rahman 'world' heavyweight title undercard on December 13. Fischer, 35-6-1 (22 KO's) and from Frankfurt, will bring many of his fans to near-by Mannheim, where K2 (the Klitschko brothers promotional company) stage the show at the SAP-Arena. While the opponent, whom Fight Production expects to announce later this week, should be a test ("We can only keep Willi interested when he feels the opponent poses some threat," says trainer Tom Leidenheimer), he certainly won't be as prolific as the 36-year-old Fischer's training partner, who is none other than former undisputed world heavyweight champion Riddick 'Big Daddy' Bowe!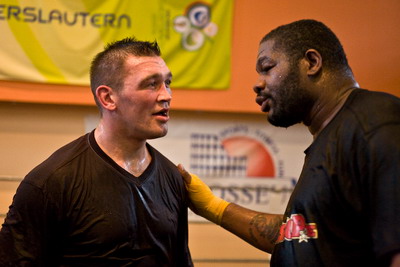 Bowe is currently training in Germany with the goal of himself getting back in the ring on the same show as Fischer – and according to Fischer's trainer in decent shape! The American has already passed all medicals of the German Federation and his sparring sessions with Fischer are "a treat to watch," said Leidenheimer, "and Willi is really profiting from it, what with all those moves and experience that Bowe brings. These are the best sparrings ever since I started training with Willi and the comeback with Fight Production.".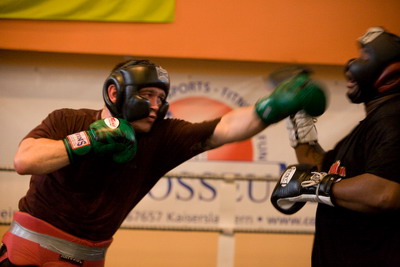 Fischer's fight will be scheduled for eight rounds – and should be the final step before some title opportunity, or at least a very meaningful outing. Manager Schroeder explains: "Willi needs and wants challenges, make-or-break fights. There's no point in re-building for another year or so, we need to go for our goals now quickly and if we lose, we lose, but the whole purpose of Willi's comeback was to try for the top and that's what we intend." Article posted on 13.11.2008
previous article: Sam Peter Should Not Be Written Off, Says Nigerian Coach Jerry Okorodudu