Grady Brewer: Iīm Ready To Come At K9 Hard
Interview by Peter Mark Heintzelman, Photos by Peter Mark Heintzleman: On a card labelled "Tough & Tested", Providence, Rhode Islandís Dunkin Donuts Center hosts some major Contender graduates this Thursday, November 13, 2008, including the Season 2 champion, Grady "Bad Boy" Brewer (23-11-9, 13 KOís) from Lawton, Oklahoma, who faces Cornelius "K9" Bundrage (28-3,16 KOís), in a ten rounds at light middleweight..

Grady flew in to Providence with his wife, taking time off from his full time job at a Goodyear tire plant in Oklahoma, to seek glory once again, and to also support his wife and four children. He showed up at Manfredoís Gym, in Pawtucket, Rhode Island, to do a bit of a work out, and to face the press. He met a buddy, Jessie Brinkley, another Contender graduate who works with Peter Manfredo, Sr., and caught up on "old times." Then, after a work out, took time to speak to EastSideBoxing about his Thursday fight:

EastSideBoxing: Grady, its been six years since you fought Peter Manfredo, Jr. at Foxwoods Resort & Casino, in Mashantucket, Connecticut, and here you are back in the Northeast again. Its been a long time coming. What can your fans expect from you on Thursday night against Cornelius Bundrage?

Brewer: They will see a new improved Grady Brewer. I fought Peter Manfredo, six years ago, it was exciting. I felt I should have come into the fight more in shape and more prepared. But, you know, still, Iím back, and Iím looking forward to fighting K9 on Thursday night, and I look to do great. So, I hope my fans there will watch me and see how Iíve improved.

EastSideBoxing: Did you happen to see Corneiliusí last fight agaist Kassim Ouma?

Brewer: Yes I did, he did good, and he utilized his aspects and kind of eliminated Kassimís aspects. He did great.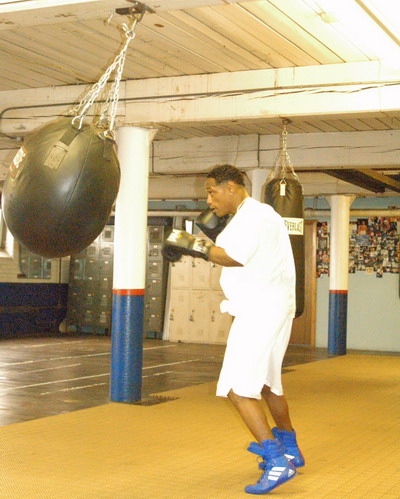 EastSideBoxing: What do you expect K9 will try to do to you, and how will you counter?

Brewer: You know, I have no idea what heís going to do. Iím just based off of what Iíve seen of him, and from what Iíve seen him do before. The way he fights, I think he will come with a different arsenal. But whattever he comes in with, Iím prepared for everything. Iíve studied him. Iíve trained hard. So, what ever he comes with, I should be ready.

EastSideBoxing: If Bundrage were in front of you now, what would you tell him about what he can expect from you, come fight night?

Brewer: Well, I would say just expect me to be in good shape and ready to go, and ready to fight, and Iím ready to come at him hard.

EastSideBoxing: You and Bundrage both fought Sechew Powell. K9 lost in one round, and although you lost to Powell too, you took him the full distance of eight rounds. What does that tell you about the differences between you and K9?

Brewer: It donít say much. Sechew Powell fights different than K9, and K9 fights different than me. I fight different than them. All those fights, styles make fights. So just because Powell was able to knock out K9, and I was, actually, able to beat Sechew Powell in 8 rounds, but they took that win from me! But, that donít mean anything. All I know is Iím great fighter, and I am coming to fight hard, and Iíve come to put everything on the table!

EastSideBoxing: So, Grady, who do you have working your corner on fight night?

Brewer: I got an older guy from my hometown, Elwood Halligan, and Andy Pierce. Those guys are old school guys who have lots of experience in what I do, and Iím looking forward to those guys being there and helping to guide me through what I gotta do.

EastSideBoxing: Anything else you want to say to your fans at EastSideBoxing.com?

Brewer: Just look forward for me coming out and being explosive, and doing what I like to do, and thatís box. Thank you. Article posted on 11.11.2008
previous article: QnA with Ahmet ÷ner on Klitschko vs. Gomez: ďThe best possible heavyweight fight today!Ē
next article: "The Boxing Juniors" - Following In Dad's Footsteps Can Be Tough!