Sakio Bika: Manfredo May Need To Get A New Chin!
By Peter Mark Heintzelman, Photos by Peter Mark Heintzelman: It's a long way from Cameroon, a land of deserts, rainforests, poverty, beaches, and the birthplace of a boxing Contender champion, Sakio Bika, 29 years young. Sakio, started boxing at the vulnerable age of 13, when, in Cameroon, he found that boxing tournaments allowed him to collect prizes of household goods that would help his parents' family, where he was one of nine children. He was stung by a scorpion, at a young age, in Cameron, and adopted the fight name, "Scorpion", after that bite.. Mr. Bika, now hails from Sydney, New South Wales, Australia, where he and his family put down their roots, and now call home. Yet, his friendly mild manner out of the ring, and his love and devotion to his family, have endeared him to a massive fandom across the world. How can you not like this guy?

Sporting a 26-3-2, 16 KO professional record, "The Scorpion" has fought his way to the top ten in the tough super middleweight division, having grabbed the Contender championship, the IBF Pan Pacific super middleweight title, the IBF Australasian super middleweight title, and the Australian middleweight titles along the way.

His fisticuffs profession has allowed him to travel outside of his Australian home and into the world's arena, having fought in the United States, Canada, the United Kingdom, Germany and Japan, making a living for himself and his family, and gathering a worldwide faithful fandom with his likeable demeanor. Yes, it's a long way from Cameroon, and now he lands in Providence, Rhode Island, for a shot at the IBO Super Middleweight Title against "The Pride of Providence" Peter Manfredo, Jr. After sharing friendly conversation with Rhode Island boxing legend, Vinny Paz, a former IBO super middleweight champion ,Mr. Bika took time out at his latest training session in Providence, to speak with EastSideBoxing about his Thursday night bout against Manfredo. Now, excuse me for filling in some blanks in my dictaphone recording of the interview, as Bika's Cameroon-Australian heavy accent and drawl, had this pugilist scribe stumped with some words, but I'll give it an honest try:

EastSideBoxing: Sakio, so how does it feel to be back in New England and the United States of America, to fight Peter Manfredo for the vacant IBO Super Middleweight Title?

Bika: Oh, I feel very happy. I was trying to think back when Joe Calzaghe (beat me), and if I get another chance to win, I want this chance to fight for this world belt. So, when I got this chance, I was so very happy, and I want to do the best I can in this division.

EastSideBoxing: Your last visit to New England proved a turning point in your life, I bet, as you captured The Contender Championship Belt against Jaidon Codrington in November of 2007 at the TD Bank North Garden in Boston, Massachusetts. How did that fight change your life?

Bika: Oh, that fight has changed a lot for my life, because . . . unbelievable . . . . Because people never knew who I was. And now, wherever I go, Europe, Africa, America, people come up to me and take my picture. I have fans everywhere in the world. Now they know my name. Everywhere I go, people know me, Sakio Bika. That fight was so god for my life. My love for the fans. I have fans everywhere in the world. I feel very happy . My family and all, my wife and children, they now have everything I need, because of my time in The Contender. It was good for Cameroon. The people for the continent are just as happy, and I have great support back home . And that was . . . I never felt that, . . . and I always think about that all my life It changed me a lot, because I got a lot of opportunity, and I'll never forget what ESPN and boxing has done for me in my life.




EastSideBoxing: Since your fantastic fight against Jaidon Codrington in 2007, you have only fought one more professional fight, and that was a one round knock out over Gustavo Kapusi - - are you ready for a world title fight this coming Thursday at the Providence Dunkin Donut Center?

Bika: Yea, we are ready for it! It was very long time because, I don't want to give too much information away. I wanted to stay focused , because too much was going on. I wanted to stay at home, my wife was having our second baby, it was due in June, and I couldn't fight in June, because I didn't want to be away from my wife. Then I wasn't active, it wasn't good for my fans. I didn't want an 8 round or a 10 round fight. And its November now, and I'm looking forward to trying to win this belt, and I want to see how many times I can defend that belt! I don't want to fight just any old fight, I wanted to fight for a world title. And now we are here at this moment, and I hope I can win this championship belt and defend this belt, and I hope to challenge the best fighter in the world!

EastSideBoxing: When fighting in The Contender series, you did fight other contenders, including Codrington, Sam Soliman and Donny McCrary. But you haven't fought Peter Manfredo in a professional bout yet, have you? What do you expect Peter's game plan against you will be, and what have you done to specifically prepare for your fight on Thursday night with Manfredo?

Bika: No, I never fight him yet, and this will be the very first time. And I'm looking forward to meeting him in the ring this fight. And try and show what I've got, and see what he's got, and see if best can win!

EastSideBoxing: Both you and Peter Manfredo fought and lost to Joe Calzaghe in Manchester, United Kingdom. Manfredo's bout with Calzaghe lasted only three rounds, while you took Joe for the full twelve rounds. Does that say anything about your respective styles?

Bika: Yea. You know, sometimes its different, and different fights. I know Peter. I say he's not at my level. I'm inside the ring, I'm going to fight and put in every I've got. I'm not going in to fight my opponent, I'm going in to crush my opponent! And my heart is in the fight. And compare Peter Manfredo fight with Calzaghe. For me, it was just the way my body could not get a response. When I fought Joe Calzaghe in England , I only had four weeks notice, and I had an operation on my elbow and had to fly back home. I wanted him (Calzaghe), and want to see what can happen. For two weeks before the fight, my hand was not good. I did the best I could. Joe Calzaghe and I give a tough fight, and people after that, maybe they are scared , and now, just for me, I'm very confident now, and I wish him all the best. And if I win this belt, I would like to challenge him again! Lets do it a second time! And maybe next year, I can challenge him again! Everyone has their own strategy when they have an opponent. Manfredo wasn't very tough that night, and Joe Calzaghe was. But I don't want to take advantage, what I saw of Calzaghe was he was very slow. He is a father, he is a man, he has a head, he has a chin. I want to take charge and fight my own fight.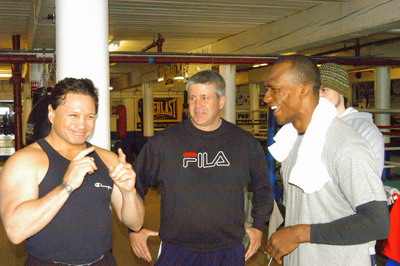 EastSideBoxing: Of Manfredo's 36 professional bouts, he lost only five times, and that was to world champs (Jeff Lacy, Joe Calzaghe, Sergio Mora twice, and Alfonso Gomez.) Manfredo is two years younger than you, and he has an undefeated 16-0 record fighting in Rhode Island, with ten knockouts. Some would say your nuts to be fighting him on his home turf for a the IBO belt! All three of his fights in the Dunkin Donuts Arena have ended with him winning each fight by knockout! Why is Thursday night's outcome going to be different?

Bika: Well, because maybe he can get knocked out! Don't worry. If he has no loss, maybe this will be his first loss for a long time! Now, I don't want to have you say that, and this might be a first loss for his hometown and make him look bad! But this can be his first loss in his hometown, and he can try and look for another chin!

EastSideBoxing: Sakio, how long do you intend to continue to lace up the gloves?

Bika: If I can win this belt and try and defend a couple times. I'm not just for this sport, I want to get what I need . Its not an easy sport, getting hit every day. After fighting, you want to enjoy your life with your family I don't want to stay in boxing for too long, whether its five years or three years that I can go on. Then make my family happy, and I can just get what I need, and want to sit down with my family and enjoy life, because that's what life is all about. If my family is happy, I'm happy. Some people stay in the fights too long.

EastSideBoxing.com: And in conclusion, what final words to you have for your fans at EastSideBoxing.com?

Bika: I want to say thank you again to the fans, and support me all the way I'm looking for a fight with Joe Calzaghe again. I appreciate your support and try to support me, and write the best about me. Since 2004, people always put me a little bit down, and if I win this world title, then put my level at the best level in the world. I want to make my own fans happy. And it keeps me positive and makes me have the best belt. I want people to look good .Write the best about me and I will try and win every fight! Article posted on 11.11.2008
previous article: Photos: Maddalone in Germany to take on Denis Boytsov on Krasniqi-Dimitrenko undercard
next article: QnA with Ahmet Öner on Klitschko vs. Gomez: "The best possible heavyweight fight today!"