Photos: Maddalone in Germany to take on Denis Boytsov on Krasniqi-Dimitrenko undercard
All photos by TEAM MADDALONE - NEW YORK- Just 2 weeks removed from his 2nd round KO victory over Terrell 'Baby Bull' Nelson, NY Heavyweight Vinny Maddalone will return to the ring this Saturday vs. 22 year old Denis Boytsov, 22-0 18 KO's on the Krasnaqi-Dimitrenko undercard in Germany. Vinny promises to bring it to the young prospect like never before and says that they can "replace the ring with a phone booth for this one"..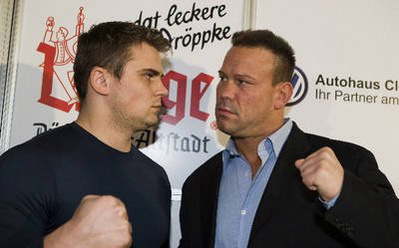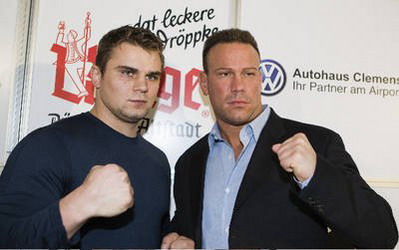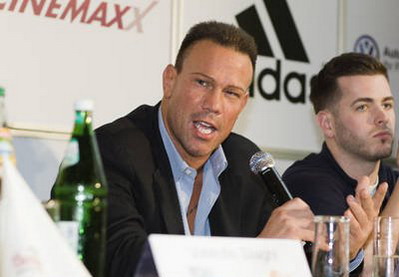 Firat Arslan supports Luan Krasniqi:

Former world title challenger Luan "The Lion" Krasniqi is wrapping up preparations in his hometown of Rottweil for his November 15th "Universum Champions Night" showdown with WBO #1 rated Alexander Dimitrenko at the Burg-Wächter Castello in Dusseldorf. Krasniqi is training alongside friend and former cruiserweight world champion Firat Arslan.

Former world champ Firat Arslan: "I was and am totally there for Luan. My whole energy is with him now. If Luan implements what he has shown here in training and sparring in recent weeks, then I don't have any worries. But at heavyweight we know anything can happen."

Firat Arslan, who lost his world title against Guillermo Jones on September 27, has recovered from a oparation ten days after the fight to repair a broken nose. "I'm back in full training. I didn't even think about quitting. I hope that I'll be boxing again in the spring. My motto is: Full force in the future. No matter who it is, I'm ready to box anyone....some people think that I had psychological scars after the defeat, but that's not true. Sure, I was disappointed, but I've analyzed the fight and understand why I lost. He had a very good tactic and in the back of my mind I thought that Jones would get tired. His good fitness surprised me."

Meanwhile Krasniqi is currently bursting with self-confidence. "This has been my best sparring so far. It's surprised even me." He has a total of 80 rounds of sparring behind him. Luan Krasniqi: "This fight is a terrific opportunity for me. I'm very grateful to Universum."

This interesting heavyweight battle will headline the Universum Champions Night on November 15 at the Burg-Wächter Castello. TV coverage live on ZDF from 11:00pm. Article posted on 11.11.2008
previous article: Lennox Lewis And Ricky Hatton Say Joe Calzaghe Should Retire On Top, But Dawson, Hopkins and Kessler Issue Challenges!
next article: Sakio Bika: Manfredo May Need To Get A New Chin!