Jones/Calzaghe Countdown - Joe Calzaghe: The Man, The Myth, The Truth About Joe....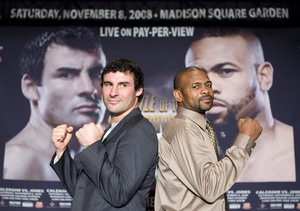 03.10.08 - by Vivek Wallace - As we prepare to see two of the sports most prestigious performers in what should fall nothing short of a classic chess match, today, we begin a journey that will literally walk us to the very doorstep of that event. Critics have been very open in their down talk of the fight, stating that it isn't what it could have been because it's happening nearly a decade after the point in which it should have. Well, speaking on behalf of the not-so-silent majority, I think there's never a bad time for a good fight. Roy Jones Jr. is arguably one of the most talented fighters in the history of the sport, and despite the three losses, a recent string of 3 victories has given him a shot in the arm, leaving him oozing with that same old confidence. Calzaghe on the other hand has been a ruler in it's highest form, never coming up short on any night of his well tenured career. Tomorrow, we'll get a chance to dig into the truth behind Roy Jones Jr., but today, we open the Calzaghe 'envelope' to shine light on who he really is. Many fight fans outside of the U.K. view him as a protected jewel, polished but never worn out. Those closer to the situation beg to differ, and today we'll examine why..

THE TRUTH ABOUT JOE CALZAGHE - Although many outside of the U.K. find Calzaghe to be a very protected legend, built up on a career full of home cooking and a fear factor that equals zero, the truth about Joe is that when analyzed, it's crystal clear and purely transparent that he's anything but a fraud. Roy Jones Jr. has been put on a pedestal for years due to his blinding speed and unparalleled work ethic, but cut from a similar cloth, Calzaghe has been a near identical version, simply a transcontinental flight apart. Calzaghe's speed and relentless output has supported him in a way that has allowed few to ever actually beat him in a single round. And as much as those who are aware of his talents speak of his speed, there are two underlying factors about Joe that few ever speak about, but in many ways, they're his biggest claims to fame. Those two attributes are his heart and his mind. Over his 15 year career, his never-say-die heartbeat and his ability to make in-fight adjustments and adapt have single handily propelled him to his current place in history. The only fighter in the recent history of the sport who has proven to adapt mid-round at an equal or greater level would be Floyd Mayweather Jr. Aside from him, Calzaghe wins this honor hands down, bar none. Evidence of this skill came most recently in his two last fights, which were against Kessler and Hopkins.

When analyzing the Kessler fight, it can be duly noted that Calzaghe started out very aggressive, attempting to get the younger, less experienced fighter out of his rhythm. As the first three rounds carried on, Calzaghe quickly realized that not only was the plan not working, but his propensity to employ the frequent ambush often ended in him tasting a nasty uppercut that he had no answer for. Or at least many thought. By the third round, through trial and error, Calzaghe's in-fight adjustments began to pay dividends, and by the halfway point of the fight, he was in total control, barely losing a round from that point on. Against Hopkins, he used the first half of the fight as well to make adjustments, and despite the split decision on the final score cards, after suffering a first round knock down, had he not made those adjustments that fight would have gone down as his first professional loss.

Both of those examples came on arguably the highest stage of his illustrious career, and rather than folding at the hands of the pressure, he stood tall. That resilience had shown itself earlier in his career against veteran Chris Eubanks, but many overlooked it, instead figuring that Joe's youth and stamina was too much for the older lion. Many out there had barely seen Calzaghe square off in live competition prior to the Hopkins fight, but those that walked away impressed only saw for the first time what those in England have seen for a well over a decade. Sheer greatness, paired with sheer determination. That sheer greatness and determination - according to the legend - was born nearly 20 years ago, in a locker room where a stunned Joe Calzaghe sat in a vacant corner with tears flowing, and emotions high. On this particular night Calzaghe had fallen just shy on the score cards of the judges who scored his bout against Romanian Adrian Opreda in the 1990 European Jr. Championships in Prague. In the midst of a silent and very fractured dressing room, Joe Calzaghe broke the silence and uttered aloud "I WILL NEVER LOSE AGAIN". 18 years, 45 professional fights, and a million accolades later, no man has been able to falsify that truth. To some he's a myth, to others he's just a man, but to those who have witnessed his dominance, just like the words he uttered, he's nothing short of the truth! That is until someone with equal or greater will proves him wrong. Roy Jones Jr. is currently up to bat, and with two outs in the bottom of the ninth, no other men on base means his only option is to slap one out of the park. Not an easy task against a born closer.....But we shall soon see.

(Day 5 of the countdown is now in the books. Tomorrow for Day 4 we'll shift the spotlight to Roy Jones Jr. - The Man, The Myth, The Truth About Roy..... Which is an in-depth look at the career of Roy Jones Jr.)

Remaining countdown schedule as follows:

Tuesday: Roy Jones Jr. - The Man, The Myth (An in-depth look at the career and life of Roy Jones Jr.)
Wednesday: 'Left-Hook Lounge' Mailbag (All mailbag questions dedicated to the fighters and the fight only)
Thursday: Calzaghe/Jones: Great Ring Moments of Adversity: (A look at ring moments of adversity in the careers of the two legends)
Friday: 'Call Em Out Fridays': Jones/Calzaghe - Two Countries, Two Men, One Legacy Standing In The End
Saturday: Calzaghe/Jones: Fight Strategy, Predictions
Sunday: Calzaghe/Jones: The Aftermath (Fight recap, and a look at where the two men go from here?)

(Got Questions or Feedback?: Contact ESB's Vivek Wallace at vivexemail@yahoo.com and 954-292-7346, or show some love at www.myspace.com/anonymouslyinvolved)

Article posted on 04.11.2008
previous article: Nikolai Valuev's WBA Title The Only Thing Left For The Klitschko's To Win, And They Want It!
next article: News: David Haye, Johnson-Geer Undercard; USA Boxing News