Gomez to Vitali Klitschko: Congratulations for beating the living sandbag! Don't run away! I will give you a real fight!
13.10.08 - When Vitali Klitschko beat Samuel Peter for the WBC world heavyweight champion title in Berlin on Saturday Juan Carlos Gomez was sitting in his house in L.A. watching the fight on TV. Now the "Black Panther" is looking forward to face the winner next. "Congratulations, Vitali!" says Gomez. "You did a good job against the living sandbag. I am happy for you but for myself even more. I will enjoy taking the title from you and finally becoming heavyweight champion of the world. Although I already heard that you are trying to sneak out of the fight. Don't run away, Vitali. Come and fight me like a man!.."

Word is that Vitali considers a unification fight against WBA champion Nikolai Valuev instead of defending his title against no. 1 contender Gomez next..."Are you afraid, Vitali?" asks Gomez. "Do you need money or another tune-up bout before facing me? I understand that you prefer to step in the ring with guys who cannot fight. But I am your official challenger. You can't run away forever. You know that I am the man who will beat you. You know how good I am!.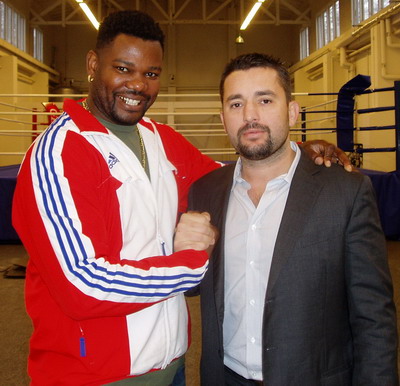 Gomez and Klitschko know each other from the times when both fought for Universum Box-Promotion in Hamburg.

"I have always been the best fighter in the Universum gym", states Gomez. "And both Klitschkos knew that. I have been WBC International Champion before Vitali made his pro-debut. When I won the world cruiserweight championship he was still beating up guys that my grandma could have knocked out. And, Vitali, in case you forgot how good I actually am, just ask your younger brother – he should remember!"

As a junior Gomez had beaten Wladimir Klitschko at a fight in Denmark. "Now I will go for both brothers at the pros", adds Gomez. "After I won the first title from Vitali I will take the other ones from Wlad. I am ready to finally become heavyweight champion of the world. It's showtime!" Article posted on 13.10.2008
previous article: David Haye Says He'd Be Too Fast For Both Klitschko Brothers, Wladimir Says Get Past Barrett First!
next article: The Ghost vs. The Executioner………Halloween approaching