David Haye Says He'd Be Too Fast For Both Klitschko Brothers, Wladimir Says Get Past Barrett First!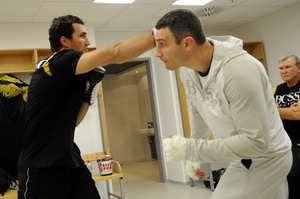 13.10.08 - by James Slater, photo by Y.Nesterenko / klitschko.com - Although the successful ring return by 37-year-old Vitali Klitschko on Saturday night in Berlin, Germany impressed many, David Haye was not one of these people. For seemingly as long as anyone can remember, "The Hayemaker" has been calling out Vitali's younger brother, Wladimir; now Haye says he wants to take on both boxing brothers.

The exciting Londoner watched the Klitschko-Sam Peter fight from his Cyprus training camp and apparently saw nothing that made him think he has anything to worry about with the now two-time WBC heavyweight king. "Give me Wladimir first, then I'll take on the older brother," the former cruiserweight world champion said to The Daily Telegraph today. "Neither of them has the speed I can show them and they are both vulnerable.."

But while Haye, who is ranked at number four in the WBC heavyweight rankings, really means it when he says he'd like to fight the formidable Klitschkos, he must first take care of dangerous veteran Monte "Two Gunz" Barrett this coming November 15th. 32-year-old Wladimir Klitschko, the reigning IBF and WBO champion, spoke to Setanta Sports about the Haye-Barrett match.

"I keep my fingers crossed that David Haye is going to win the fight," Wladimir said. "Because this guy [Haye] was talking so much **** about me. Listen, he's got to make it."

True enough is the fact that Haye has to make it past the 37-year-old Barrett if he's to have any chance at all of facing either of the big Ukrainians. Lose, or even look bad against "Two Gunz" and Haye can kiss his dream fight(s) goodbye. It does seem, though, that Wladimir is very interested in facing Haye one day. An intelligent person, Wladimir surely knows how much money there is to be earned in such a fight. The hype machine would go into overdrive should the two big hitters get it on, especially if Haye takes care of Barrett in sensational style.

And if Haye got as far as actually defeating Wladimir, a Vitali "revenge" fight against the Brit would be even bigger! It looks as though "Dr. Iron Fist" will attempt to get a unification bout with WBA champion Nikolay Valuev first, however, and this fight would have no trouble selling plenty of tickets either.

The heavyweight division has got a whole lot more interesting in a short period of time. And for this we can give thanks to Vitali Klitschko especially.

Article posted on 13.10.2008
previous article: Boxing News: Thomas Costello, Julio Diaz vs Fernando Trejo, Solo Boxeo Tecate
next article: Gomez to Vitali Klitschko: Congratulations for beating the living sandbag! Donít run away! I will give you a real fight!