Video - Weigh-In: Klitschko 247 - Peter 253,5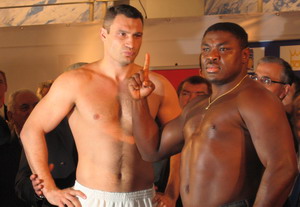 10.10.08 -- click here to view open workout and press conference photo gallery -- Weigh-In photos © eastsideboxing.com - There is no doubt It will be a colorful and spectacular show full of dynamite, at the 02 World Arena of Berlin, when the Nigerian "Nightmare", Samuel Peter, and his Ukrainian rival, Vitali Klitschko, face each other, with the WBC Heavyweight world championship on the line; such title has been held by Peter since he conquered it on March 8th, 2008, in Cancun, Mexico, when he defeated Oleg Maskaev by technical knockout in 6 rounds.

Those who are thrill seekers will have a magnificent opportunity of finding it, witnessing everything that these two giants do. Some will watch them live, whereas others, the vast majority, will do it through the TV broadcast in different parts of the planet, Mexico and the U.S.A. among them..




Peter is young and hungry for money as much as for glory, and that is something that can be added in favor of the African boxer, who got started in professional boxing in 2001, and so far, has shaped a record of 30 wins; 23 of them by knockout, and just one loss, which curiously happened against Vitali´s younger brother, Vladimir Klitschko, who defeated him by decision.

Klitschko was the last universally recognized Heavyweight. Nobody has forgotten his battles against Lennox Lewis, Corrie Sanders, and others; bouts in which he showed why he is, in numbers, the greatest puncher of all times in the Heavyweight division, having 97% of his wins by the always convincing and spectacular KO.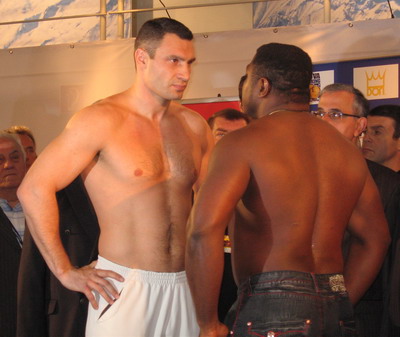 Even though he has not fought for almost four years, there is no way Klitschko will be an easy opponent for the world champion.

The fight is one of the most appealing and interesting shows that can be currently presented in any ring of the world, in any division, and it can nearly be assured that the outcome the fight will come through the way in which these two colossuses are used to winning, a knockout.

Let´s get ready to witness a show that will surely leave a deep mark among the millions of boxing fans there are in the world.



Undercard Weigh-In Video:






Photos below by Sumio Yamada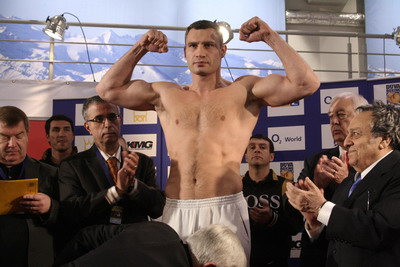 Open Workout Video:





VITALI KLITSCHKO: "I have already fought for a title twice and both times I won. This is the third time and I will be the winner again.

"On October 11, we will know who will be the true WBC Heavyweight-Champion. I'm in great condition and have had a perfect preparation phase."

SAMUEL PETER: "Vitali Klitschko is trying to take my title belt from me. He tried to take it out of my hands at the press conference, but I snatched it from him. It is mine!

"He is a phony who is messing with my career and my life. On Saturday, he will be out of everyone's life for good. I'm very well prepared. It will be a great fight"

FRITZ SDUNEK - Vitali Klitschko's Trainer - Vitali is very prepared. The camp was perfect. He needed four sparring partners during the camp in Austria. Vitali is a veteran fighter. He knows what to expect from his training camp since this is his third time preparing for a world title fight. Sam Peter should be called the rabbit, not because he is quick and fast, but because he throws so many rabbit punches."



Press Conference Videos:









Article posted on 11.10.2008
previous article: News: Welliver-Solis Weigh-In, Manfredo-Bika, Edouard on Jones/Calzaghe Undercard