News: Cunningham-Adamek, Lewis-Tyson Book, Valencia Ballroom Boxing
International Boxing Federation cruiserweight world champion, Steve 'USS' Cunningham, took some time off from training and visited The Prudential Center in Newark, New Jersey which will be hosting his world title defense bout against Tomasz 'Polish Warrior' Adamek on the 11th December. After spending a few hours being shown around the venue a clearly impressed Cunningham said "I just had to come down and see it for myself.. I can't actually believe I'm not flying to Europe to fight. You know, fighting in their backyard again. I had to come here to make sure I wasn't dreaming it. You realise that this will be my fourth title fight. Finally my home fans will be able to come and support me on one, 'cos I'm finally fighting at home. Well almost home, it's just over an hour from Philly.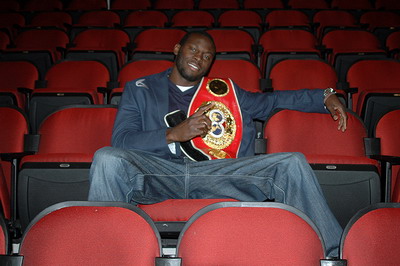 The Prudential Center's really modern, it's the perfect size for a title fight like this. I'm particularly proud that ours will be the first championship fight held there. The venue's great we'll be able to really stink the place out.

Every seat in the place is pretty good. No blind spots or pillars and the way it's stacked everyone gets a great view. It's got huge overhead screens, so even those farthest from the action can see the close up stuff.

It's really easy to get to, just two blocks from the station. I'm really pleased with the place. I'm really happy with Newark. It's nice, it's easy to get to from Philly and New York, well, all the East Coast really. I know I'll have friends coming down from Connecticut, Massachusetts and other places and know it will be easy for them. It's a really good spot"

The world title fight at The Prudential Center will be Steve's first on American soil since he won the world crown by defeating Krzystztof 'Diablo' Wlodarczyk in Poland on May 26, 2007.

'USS' Cunningham and 'Diablo' fought two epic title battles in Wlodarczyk home country. The first, in November 2006, saw Wlodarczyk lift the vacant IBF Championship Belt with a controversial split-points decision in Warsaw. Due to certain discrepancies the International Boxing Federation immediately ordered a rematch. 'USS' Cunningham and 'Diablo' locked horns again just six months later, this time Cunningham was victorious.

For his first title defense 'USS' Cunningham crossed the Atlantic again, this time to Bielefeld, Germany, where he defeated Marco 'Kapt'n' Huck, with a twelfth round technical knockout.

The International Boxing Federation World Cruiserweight Championship Title Fight between Champion, Steve 'USS' Cunningham and challenger, Tomasz 'Polish Warrior' Adamek is co-promoted by Main Events and Don King Productions, will take place at The Prudential Center in Newark, New
Jersey on Thursday December 11th 2008.

Tickets priced at $303, $153, $78, $53, $38 are on sale now and can be purchased at The Prudential Center box office or by calling TicketMaster on 201-507-8900.


Announcing the book "Heavyweight Armaggedon: The Tyson-Lewis Championship Battle" by boxing journalist Mark "Scoop" Malinowski is available and can be ordered at www.amazon.com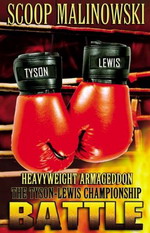 Wearing the black trunks, Iron Mike Tyson is one of the world's most recognizable men. In white, Lennox Lewis is the emperor of the throne of the world heavyweight title. These two magnificent gladiators waged historic war to see who was superior - the good or the bad guy? A comprehensive collection of eyewitness accounts, research and interviews, "Heavyweight Armageddon" tells the fascinating tale of one of boxing's most socially important super-fights. Two troubled but extraordinary boys from underprivileged backgrounds gravitated to the boxing ring for different reasons - both taking separate and spectacular journeys to the highest, most prestigious pinnacle in all of sport - the world heavyweight title. They meet once and for all in Memphis on June 8, 2002 with much more at stake than just multi-millions of dollars. People from all over the globe wanted to see who would prevail, the force of good or the spirit of evil? If you have an appetite for the drama and pageantry of boxing at it's best, Heavyweight Armageddon! is an insightful read which will take you on an exciting journey with a cast of colorful characters - and of course two of boxing's most renowned warriors.

Lucia Rijker: "The other great fight in history - Louis-Schmeling - was political. The fight of Lewis and Mike was almost light against darkness. Good against evil. And, to me, Mike needed the lesson to be humbled, he needed the lesson to realize his causes and how he lived his life were wrong. And Lennox was the one to show him. And, to me, the fight represented that good wins always over evil, eventually. Light wins over darkness. That gave me hope...that there is justice in life. Because I thought $50 million in the hands of a man that doesn't show responsible causes, would be dangerous. If Mike Tyson would have won against Lennox, he could have been a very dangerous influence. And if the world is like that, like Mike Tyson, where would the world go? It would be the world's destruction."


WORLD CLASS PROFESSIONAL BOXING RETURNS TO YORK, PA ON SATURDAY, NOVEMBER 8TH

YORK, PENNSYLVANIA (October 4, 2008) World class professional boxing, featuring some of the finest young prospects in the world, returns to the Valencia Ballroom in York, Pennsylvania on Saturday, November 8th presented by TKO Boxing Promotions.

"We were thrilled with the event in July, the fans were terrific and we're very happy to return next month with another great card at the Valencia Ballroom" said Chet Koerner, President of TKO Boxing Promotions.

The Valencia Ballroom is located at 142 N.. George St in the downtown area of York , PA.. Tickets, with a five dollar discount prior to fight night, are on sale in advance at www.tix.com or by calling 800-595-4849. Doors will open on the night of the event at 6:30pm with the first bell at 7:30pm.

Headlining the seven bout action packed card is York , Pennsylvania 's own Carney "BEEPER" Bowman in the main event. The 25 year old Bowman, 11-0 with four knockouts, is coming off a unanimous decision win over Alex Perez in their lightweight bout on July 26th at the Valencia Ballroom.

Also returning to the Valencia Ballroom ring is local favorite Steve Weimer. The undefeated 19 year old welterweight will look to continue the fast start of his professional career which has seen him win his first two bouts, both by knockout.

Making his professional debut will be 2008 Ghanan Olympic Team captain, middleweight Bastie "THE BEAST" Samir. The much talked about 22 year old has moved to Las Vegas to start his professional career, following an amateur stint which saw him build a record of 96-7.

Junior welterweight prospect Terrance Crawford will also see action on Saturday, November 8th. The 21 year old Omaha , Nebraska native, 4-0 (2KO's) is coming off a unanimous decision win over Aaron Anderson on August 22nd in Iowa City , Iowa .

Nineteen year old welterweight Raul Tovar, 5-0 (2KO's) will look to stay unbeaten in a six round bout. The Mission , Texas , native is coming off a six round unanimous decision win over Marcus Brashears in San Antonio , Texas on July 16th.

Master of ceremonies for the evening will be nationally known ring announcer, Thomas Treiber.

Much more information on this card will be announced shortly.

Formed earlier this year, the Las Vegas based TKO Boxing Promotions stable also includes; junior middleweight Anthony Thompson, middleweight James Countryman, lightweight Rolando Reyes, the sister team of Katie and Emily Klinefelter, super bantamweight Rafael Valenzuela and junior flyweight Austreberto Juarez.

Further information on TKO Boxing Promotions can be viewed at www.tkoboxingpromotions.com Article posted on 07.10.2008
previous article: Vivian Harris, Can He Make It Back As A Welterweight?
next article: Mijares vs. Darchinyan: The Puncher and the Boxer