Tarver-Dawson Final Press Conference Quotes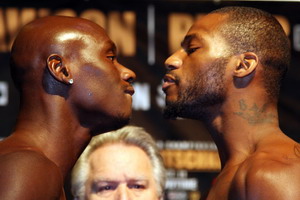 Photos by Tom Casino/Showtime - Tarver and Dawson held their final press conference before the 175-pound kingpins battle for light heavyweight supremacy on Saturday, Oct. 11, live on SHOWTIME CHAMPIONSHIP BOXING (9 p.m. ET delayed on the West Coast). In the weeks leading to the fight there has been a war of words between Tarver and Dawson. Wednesdayís press conference was the final verbal battle before the two warriors clash in the ring Saturday night at The Pearl Theatre at Palms Casino.

Immediately prior to the light heavyweight world championship, on a night that has electrified the boxing world, SHOWTIME will present the World Boxing Council (WBC) heavyweight showdown between Samuel Peter and Vitali Klitschko on a tape-delayed basis from Berlin, Germany..

Tarver-Dawson will be promoted by AT Entertainment and Gary Shaw Productions in association with Palms Casino Resort Las Vegas from The Pearl Theatre at Palms Casino.

Here is what Tarver and Dawson had to say.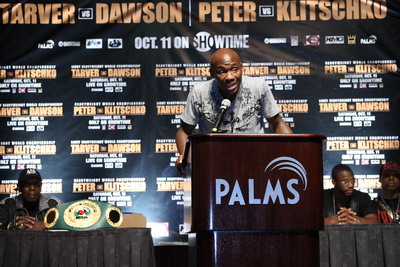 ANTONIO TARVER

ďIíve been a fixture in this sport for eleven years. Iíve been here before. Dawson hasnít done anything. Heíll have a game plan but all that crap is going to be thrown out the window once he gets hit in the mouth.

ďIím an intelligent fighter. I make the right moves at the right time. All Chad has to do is slip up once and heís going to pay for it. He makes one mistake and the fight will be over.

ďEveryone knows Dawson doesnít have much of a chin. Heís going to regret agreeing to this fight once he gets hit in the face a few times. He wonít know about the power until he feels it. You can watch all the film in the world, but until you meet me in the ring, you have no idea what youíre getting yourself into.Ē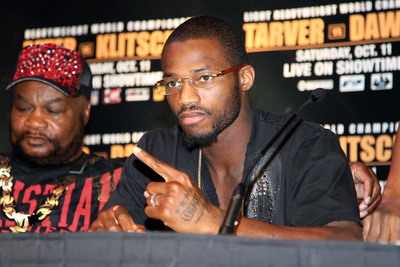 CHAD DAWSON

ďItís time to put up or shut up. Your mouth (pointing at Tarver) canít fight for you once you get in that ring. On Saturday night, youíre going to get it.

ďThis fight has gotten personal. I donít like that dude. I wonít like him after the fight and I wonít like him two years from now. He irritates everyone. All people keep telling me is to shut his mouth up. Thatís what I intend to do.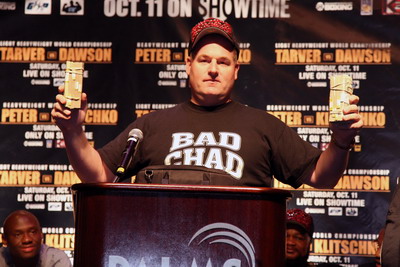 ďWho told him to take his shirt off for the face off? Look at my body and look at his. Heís not cut like me. All I saw was old man flab.

ďI can box. I can bang. I can stand in the middle and brawl. I can use the finesse game. Tarver is old news. What happens to old news? People forget about it. Tarver will be old news on Saturday night.

ďTarver said he hasnít been ducking me. Thatís flat out ĎBSí. Heís afraid of the beating Iím going to give him. Heís been afraid all along. Iím going to shut his big mouth up.

ďEveryone knows Iím a better all around fighter. On Saturday night Iím going to prove Iím the best light heavyweight in the world. Iím going out to win every round. Iím all in.Ē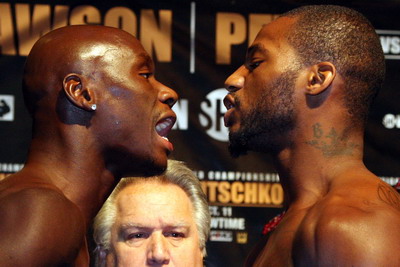 Article posted on 09.10.2008
previous article: Valuev-Holyfield: Statement from Wilfried Sauerland
next article: News: Mijares-Darchinyan Tickets, Arnaoutis-Ankrah, Nathan Cleverly