John Duddy headlines Nov. 21 in NYC
NEW YORK (October 8, 2008) -- Cedric Kushner's Gotham Boxing has reached an agreement with Bob Duffy's Ring Promotions and Irish Ropes to promote "The Grande Event" – featuring "Ireland's" John Duddy, Peter "Kid Chocolate" Quillin, Pawel "Raging Bull" Wolak and Jorge Luis "The Truth" Teron – Friday night, November 21 at the famed Roseland Ballroom in Manhattan..

"I'm really excited about having put together this show," promoter Cedric Kushner said, "which features four main events on the same show. I've had a lot of co-operation from the managers and promoters involved with the principals on this show.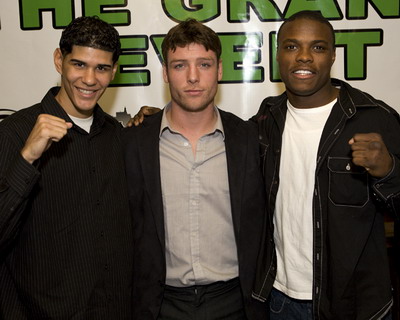 "In addition to the four principal bouts, I plan to put some of the most talented young boxers on this show as well. It's truly going to be a Grande Event."

The four principal fighters, or the Big Apple's "Fab Four," have a combined pro record of 89-1-1 with 62 knockouts. All four principal fighters are scheduled to be in 10-round bouts against opponents to be determined.

Duddy (25-0, 17 KOs), fighting out Queens by way of Derry, Northern Ireland, is on the verge of a world title fight in 2009 as a middleweight of light middleweight. He is rated No. 2 by the World Boxing Association, as well as No. 5 by the World Boxing Council and No. 7 by the International Boxing Federation. The exciting Irishman will fight in the 10-round main event.

Brooklyn middleweight "Kid Chocolate" Quillin (20-0, 15 KOs), now rated No. 26 by the WBC, is coming off of a sweet 10th-round stoppage of veteran Sam Hill last month in New Hampshire.

Poland-native Wolak (22-1, 15 KOs), now living in Brooklyn, is the New York State middleweight and Polish National junior middleweight champion. He bounced right

back from his only career loss, by 10-round decision to Ishe Smith, with a third round TKO of Chad Greenhill two weeks ago.

NABO lightweight champion Teron (22-0-1, 15 KOs), representing the Bronx, also appears to be in line for a world title shot in 2009, based on his lofty ratings in the WBO (#4, WBA (#12) and WBC (#16).

Scheduled to fight in separate four-round bouts are two New Yorkers, light middleweight Lambrose Karaolides (1-0) and pro debuting light welterweight Jonathan Gonzalez.

Tickets, priced at $50.00, $80.00, $100.00, $150.00 and $200.00, are on sale and available to purchase by calling Gotham Boxing (212.755.1944), Irish Ropes (212.868.9544), any TicketMaster outlet, or at the Roseland Ballroom box office. Doors will open at 6:30 PM/ET, first bout at 7:00 PM/ET.

For more information call Gotham Boxing or go on line to www.gothamboxing.com.


Press Conference Quotes

John Duddy: "This is going to be a very, very exciting card with the best of New York City's fighters and their fans. There are four main event fighters on the same card. I'm hopefully going to put on a great show for the fans of New York."

Peter Quillin: "How many of you like chocolate? Well, on November 21st come get your chocolate. I'm going to be the best I can be. I'm looking to showcase my talents. I want to be a world champion and the richest fighter ever."

Jorge Teron: "I'm really excited to be fighting on this card. I've been lucky enough to fight on separate cards with John, Paul and Peter. I'm excited that all four are on this card. We're all young, up-and-comers who will be trying to out-do each other. I'm right on the cusp of a world title fight and on November 21st you'll see me at my best." Article posted on 09.10.2008
previous article: If Vitali Klitschko Beats Samuel Peter, Will "Dr. Iron Fist" Hang Around To Defend His WBC Crown?
next article: Vitali Klitschko: Peter Can Hardly Look Me In The Eye Anymore