Photos: Face to Face for the first time - Cunningham, Adamek In New York
Photos by Gianluca (Rio) Di Caro - With the mandatory defense of his International Boxing Federation Cruiserweight Crown being announced last week, Philadelphia's own Steve 'USS' Cunningham came face to face with his Polish born opponent, Tomasz 'Polish Warrior' Adamek, for the first time at the annual Pulaski Day parade in New York City.

Steve 'USS' Cunningham (21-1, 11 KOs), an all-American boy, started boxing in the mid-1990's whilst serving in the US Navy aboard the USS America and USS Enterprise as an aircraft refueler, will sail into battle with the former WBO light heavyweight world champion, Tomasz 'Polish Warrior' Adamek (35-1, 24 KOs), at the Prudential Center in Newark, New Jersey on Thursday, December, 11th, 2008. Cunningham, who was warmly welcomed by the New York Polish community was clearly enjoying his day in the Big Apple said of being on the parade..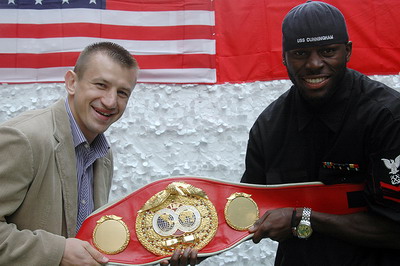 "It 's a unique experience, not something you get to do that often, you know, being an American fighter on the Pulaski Day parade. It's pretty awesome. It's only right that I be here as I'm a recognised face to the Polish community, even have a few Polish fans, not as many as i'd like to have, but then again I do keep fighting their guys."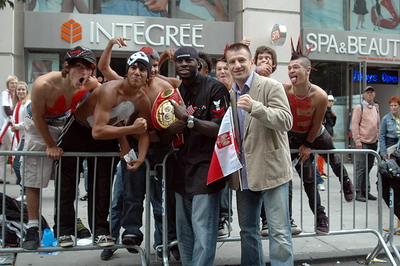 "From fighting over in Poland a couple of times, I've grown to really respect the Polish fans, they're so passionate. Regardless whether they're cheering for me or against me, I can't help but like them. It was fun and a real honour be here today"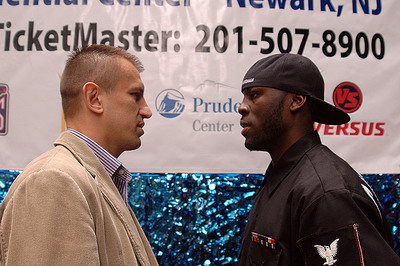 'USS' Cunningham will be making the second defense of the IBF 200-pound limit title, which he won by defeating Krzystztof Wlodarczyk in Poland on May 26, 2007.

For the first defense of his crown 'USS' Cunningham steamed into Germany where he defeated the bookies favourite, Marco Huck, with a twelfth round technical knockout following the slickest display of boxing seen anywhere last year.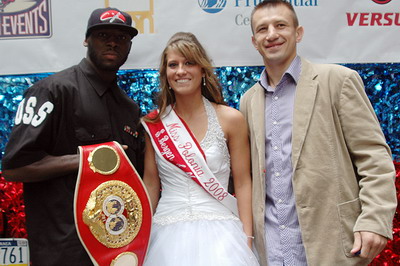 His opponent, Tomasz 'Polish Warrior' Adamek won the World Boxing Organisation light heavyweight title in 2005 by beating Australian, Paul 'Hurricane' Briggs, in a bruising twelve round battle. Adamek held the title until February 2007 when New Haven, Connecticut's 'Bad' Chad Dawson beat him by a narrow points decision.

The International Boxing Federation World Cruiserweight Championship Title Fight between Champion, Steve 'USS' Cunningham and challenger, Tomasz 'Polish Warrior' Adamek is co-promoted by Main Events and Don King Productions, will take place at The Prudential Center in Newark, New Jersey on Thursday December 11th 2008.




Tickets priced at $303, $153, $78, $53, $38 are on sale now and can be purchased at The Prudential Center box office or by calling TicketMaster on 201-507-8900. Article posted on 07.10.2008
previous article: Dangerous Middleweight Contender: 'Idi' Amin Asikainen
next article: Boxing News: Gilbert vs Brinkley, Solo Boxeo Tecate, Sampson Lewkowicz