Abraham vs. Marquez postponed
Undefeated IBF middleweight champion King Arthur Abraham was forced to postpone today´s mandatory title defence against Raul Marquez after waking up with a temperature and flu-like symptoms on Saturday morning. He was taken to the Uniklinik Erlangen, a nearby hospital, for further examination. Ring doctor Prof. Dr. Walter Wagner and other specialists then diagnosed influenza, forcing Team Sauerland to call off and postpone tonight´s show. The new date is November 8, also in Bamberg..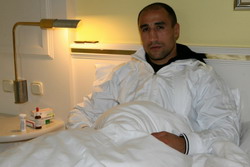 "I am very sorry for my fans," King Arthur said. "I really wanted to fight but the doctors would not let me. In my current physical condition it is impossible to step into the ring."

And coach Ulli Wegner added: "There is no way he can make a mandatory title defence in his current state. It is a pity but there is nothing we can do. I am very sorry for the fans. We´ll try to get Arthur healthy again as soon as possible and will prepare him for the fight on November 8."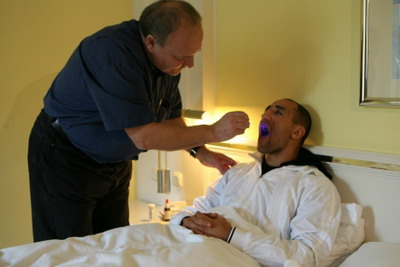 Article posted on 04.10.2008
previous article: ShoBox: De La Rosa, Guerrero triumph
next article: De La Hoya vs Pacquiao: The RANTING of a MAD MAN!