ShoBox: De La Rosa, Guerrero triumph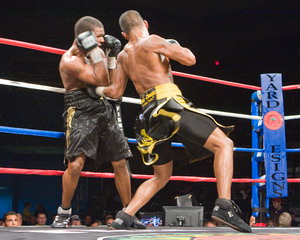 Photos by Cheryl Nemazie - NEW YORK (Oct. 3, 2008) – Four undefeated prospects stepped into the ring Friday's but only two boxers walked out with their perfect records intact as James De la Rosa earned a unanimous decision over Tim Coleman and Fernando Guerrero outpointed Tyrone Watson on ShoBox: The New Generation. In front of a packed crowd of at the Wicomico Youth and Civic Center in Salisbury, Maryland., De la Rosa (18-0, 12 KOs) was gunning for a knockout over Coleman (14-1-1, three KOs) but had to dig deeper for the victory. All three judges scored the bout 96-94, which was only the second time the highly touted welterweight needed 10 rounds for a victory in his career.

By the judges' scorecards, 80-71, 80-72 twice, the hometown favorite Guerrero's (10-0, nine KOs) victory over Watson (7-1, three KOs) may seem as one-sided as the highly supportive crowd. But the bout was filled with two-way, non-stop action from start to finish as Guerrero earned his first victory on the scorecards and not via knockout..

The evening was promoted by Duva Boxing, in association with Cavazos Boxing, Prize Fight Boxing and Baltimore Boxing Club.

De la Rosa and Coleman exchanged punches in close range from the onset, but the Salisbury native's solid body work proved to be the deciding factor over a weakened Coleman.

"I was more effective with my body shots,"' said De la Rosa, of Harlingen, Texas. "That's what we were working on in training camp.

"It was a lot tougher than I expected. I never underestimate anybody and I can't take anything away from him. I'm just ready for what's next."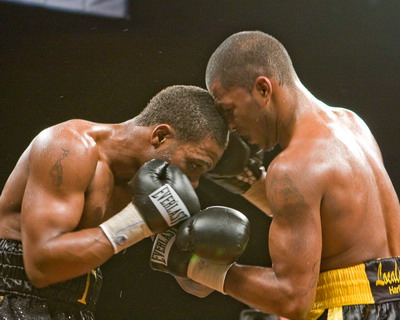 ShoBox's expert analyst Steve Farhood agreed.

"I thought it would be a close fight and it ended that way," Farhood said. "It was a great experience for a 20-year-old in that he got a chance to go the full 10 rounds. The difference was the middle round body attempts. They weakened Coleman, and that really surfaced later in the fight."

Coleman, of nearby Baltimore, was fighting for the first time since moving up to 147 pounds and realized after the fight that his future may lie in the 140-pound division.

"I'm going to move back to 140 pounds and start all over," the 24-year-old Coleman said. "I feel more comfortable there. I learned a lot tonight, but don't think you've seen the last of me. I'll be back on ShoBox.

The co-feature, with the help of the highly partisan crowd, may have stole the show on Friday night. Both middleweights came out aggressive from start to finish, fishing for the knockout at every opportunity.

At many points in the bout, it seemed that Guerrero was moments away from earning his 10th KO in as many attempts with Watson backed up against the ropes. But Watson repeatedly found a way to counterpunch and escape Guerrero's sweeping left hooks, and the KO.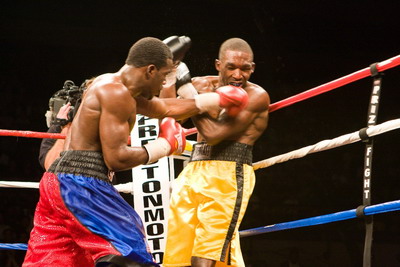 "The more they cheered, the more I wanted to knock him out," the 21-year-old Guerrero said. "I finally got someone who went eight rounds with me."

"I'm on 'SHO,' and I'm 10 and 0. I'm on top of the world right now."

Considering the atmosphere, Nick Charles, ShoBox's play-by-play announcer, understood why Guerrero felt like he was on top of the world.

"It felt like a world title fight in there," Charles said. "The matchups personified ShoBox. The fact that a guy with nine KOs had to go the distance was great. Seeing De la Rosa have to bite down and win the last two rounds was great. It was a great gut-check for him.

Watson presented a bigger challenge than Guerrero, and the crowd, was anticipating. The Pittsburgh native never backed down, surviving ruthless combinations and withstanding a cut over his left eye that he suffered in the opening stanza.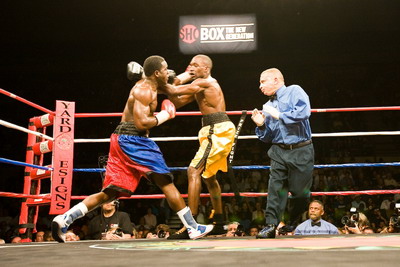 "I had some ring rust," said Watson, who hadn't fought in over a year. "I gave it my best considering the circumstances against me. I'd love to fight him again."

Nick Charles called the action from ringside with boxing historian Steve Farhood serving as expert analyst. The executive producer of "ShoBox" is Gordon Hall with Richard Gaughan producing and Rick Phillips directing.

Friday's bouts will re-air this week as follows:

DAY CHANNEL
Saturday, Oct. 4 at 1:05 a.m. ET/PT SHOWTIME TOO
Wednesday, Oct. 8 at 11 p.m. ET/PT SHOWTIME TOO
AVAILABLE ON DEMAND STARTING 10/6 AND ENDING 11/2 Article posted on 04.10.2008
previous article: Boxing News: Chambers KOs Castillo, Tsurkan Ready For Angulo