Gomez Beats Virchis, But Is He Good Enough To Beat Either Peter Or Klitschko?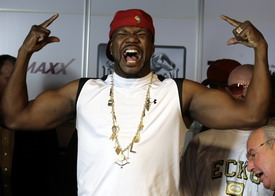 27.09.08 - By James Slater: Tonight, In Germany, former WBC cruiserweight world champion Juan Carlos Gomez, the Cuban southpaw who now lives in Hamburg, Germany, earned himself a shot at the WBC heavyweight crown. Comprehensively out-pointing Ukrainian heavyweight Vladimir Virchis in a final eliminator for the WBC crown, the 35-year-old "Black Panther" scored a 5th round knockdown on the way to his unanimous decision victory.

Gomez improved his record to 44-1(35) and will now await the winner of October 11th's title clash between defending belt holder Samuel Peter and the returning "Champion Emeritus" Vitali Klitschko. Can the Cuban lefty beat either guy?

A dominant WBC cruiserweight champion from 1998 to 2001, Gomez gave up his belt to campaign as a heavyweight. Since his heavyweight debut, back in March of 2002, Gomez has only lost one time - a shock/fluke one-round loss to journeyman Yanqui Diaz in August of 2004. There was also a controversial no-contest bout with former WBC champ Oliver McCall in October 2005 - ruled as such due to Gomez's failed post-fight drugs test - but otherwise the Cuban has looked good as a heavyweight. He "avenged" the McCall result by winning a clear-cut UD over "The Atomic Bull" in October of last year and has been patiently waiting for his shot at the WBC belt since.

Indeed, it must be said, WBC "final" eliminators don't always mean all that much. Gomez has now won his second and is still awaiting his big chance, while the aforementioned McCall won a "final" eliminator with the WBC in his fight prior to the return bout with Gomez. It is to be hoped that on this occasion "The Black Panther" is a fighter who gets what he has earned with the governing body. But if he does, and he winds up facing either "The Nigerian Nightmare" or "Dr. Iron Fist" some time next year, will he have a good chance of winning?

The Diaz debacle aside, Gomez has done nothing that has given an indication that he has a weak or suspect chin. Yet at the same time, it must be said, the ageing McCall aside, Gomez has not been in with any notable heavyweight punchers. He will certainly be going in with a big puncher no matter who wins on October 11th. As such, there is always a chance he could be KO'd in short order when he meets whoever the WBC ruler is in 2009. Gomez has gone on record as saying he hopes Klitschko wins, but that he is happy to face Peter also.

Picking a winner from October's fight is a hard thing to do, as we simply do not know how much Vitali has left. He's been out for a long four years and may well be nothing more than a rusty and ineffective fighter when he climbs back into the ring. If, however, he is half the fighter he was before his retirement (I think he will have retained enough to beat Peter) it will be he who Gomez winds up facing next year (presuming Vitali doesn't re-retire again straight away). The bout would probably take place in Germany, most of Gomez's fights have been staged there, and a good number of Klitschko's have too, and a good fight it would likely be.

Gomez the boxer Vs. Klitschko the massive puncher. We'll know a lot more after October 11th, but it looks to this writer as though Juan Carlos Gomez, a pro for a long thirteen-plus years, will finally be getting his chance to become the first ever Cuban heavyweight champion of the world in a bout with Vitali Klitschko!

Article posted on 27.09.2008
previous article: Juan Carlos Gomez: Itís Showtime!
next article: 'Slick' Willy Wise, The Man Who Defeated Julio Cesar Chavez