There's Nothing Like Some Great Ballroom Boxing
9.26.08 – by Amir Peay, photos by Menja Ranjalahy - Last night I attended an evening of fights at Michael's Eight Avenue Ballroom in Glen Burnie, MD (close to Baltimore). It was the season opener in what has been an ongoing tradition for years of great boxing in the Washington, DC and Baltimore areas. I was going to write a recap of the fights, but after reading the recap of DC's premiere fight reporter, Gary 'Digital' Williams, I realized I couldn't do a better job, so why try. For a full recap of the fights, visit Gary at http:// boxingalongthebeltway. blogspot.com..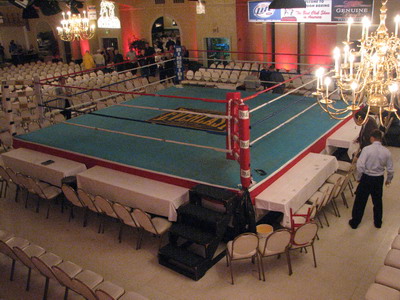 The subject of this piece is the quality and value of entertainment that this boxing fan received. The ballroom is an intimate setting without a bad seat in the house, and ticket prices generally range from $35-100. Ornate chandeliers hang throughout the venue and the seating arrangements are very well organized. A DJ plays good music, breaking only for the fights, and resuming in between rounds. Attractive cocktail waitresses, adorned in classic 1920's style attire, constantly make rounds taking orders. If you couldn't wait for your drink there were no less than 4 bars within the ballroom, and at least 2 more in the hallway. The drinks were strong and the prices were right. The ring card girls fit the job description, and the announcer was a consummate professional. On top of the seating on the floor, there is a balcony area for VIP viewing, that includes another bar and a buffet spread. The food options down below are pretty good as well; especially the fresh cut pit beef sandwiches.

There were 7 fights on the card, ranging from 4-6 rounds, from junior lightweights on up to heavyweights. All of the fights were competitive, and two ended via stoppage, which is always exciting. Michael's Eight Avenue consistently puts on entertaining cards and the reason behind this is largely due to the excellent match making of Chris Middendorf. Middendorf, one of the premiere match makers in the US, has put on shows on virtually all of the major TV networks involved in boxing, and knows how to make entertaining fights for the fans. Great fights are not necessarily about the best fighters, but about the matching of styles. Arturo Gatti and Mickey Ward never reached the pinnacle of the sport on their own merit, however when they met each other in the ring the fans were given some of the greatest fights of all time. Styles make fights, and it is a matchmaker who picks the styles. It is also important that a promoter is more concerned with providing entertainment to his guests, rather than putting on mismatches in order to build up a fighters record. Promoter Scott Wagner operates by this credo, and the results are clear to see.




There is a sense of tradition and regional pride found here, not only for the fighters but also for the event itself. Fans are local and not here because a casino comped them some tickets along with a buffet. Put that energy in the intimate setting in a ballroom and you get an experience you will never get at a big show. Of course the fans of fighters come out to support their guy, and a great aspect of smaller shows is that you actually get to hear those fans supporting their guy. When a guy's mom is standing ringside, yelling at her son, you just can't get any more real than that. Fighters in smaller shows actually seem to fight with more heart than guys at the bigger shows. Perhaps when a guy is at the top levels, there is so much money at stake that they are willing to risk much less in the ring. These guys lay it on the line, and the fans get their money's worth. You can tell that Wagner truly wants to provide a great experience for his guests, even standing at the door of the event after the fights, shaking hands with patrons, and thanking them for coming out.

Perhaps one of the greatest things about local shows is watching an area prospect develop into what could one day be a champion. Seth "Mayhem" Mitchell, a heavyweight fighting out of Brandywine, MD, is one such prospect. A former division one football player, Mitchell started late in boxing, but was quickly noticed for his natural movement in the ring and his fast hands. Standing 6'2", weighing in at 243 lbs, Mitchell not only has heavy hands, but also is surprisingly light on his feet. Golden Boy promotions recently signed Mitchell and he has been putting in steady work in the area. On this night he had his first 6 round fight and was put in against crafty Mike Miller, who made Mitchell work to get a unanimous decision win (putting his record at 6-0, 4 KO's).

I love the vibe at a quality ballroom show because I have been to some bad ballroom shows. I've watched promoters screw the fans in order to please the TV cameras, and I've sat through long waits in-between fights. I have been to all types of shows, and sat in every type of seat. I've sat ringside and nosebleeds for the biggest fights on HBO. I go to amateur shows and club fights, casino shows and out door venues, but in my honest opinion the best fights are regional ballroom shows, with good match making, that are part of an ongoing tradition. When the crowd cheers the ref by his first name, and the fights keep rolling out in a smooth fashion, you know you are at a good event. If this article sounds like an ad for Michael's Eight Avenue Ballroom in Glen Burnie, MD, it is, because boxing fans should be thankful when we find venues for our sport that do such a great job of entertaining us and give us great value for our money.

Amir Peay is the purveyor of www.UndisputedBrand.com / www.MySpace.com/UndisputedGear Article posted on 27.09.2008
previous article: 'Slick' Willy Wise, The Man Who Defeated Julio Cesar Chavez