News: Manny Pacquiao Appearance at Sycuan Casino, Demetrius Andrade To Make Pro-Debut Oct 23rd
Manny Pacquiao's next big test inside the ring will be against Oscar De La Hoya, but before he takes on boxing's most popular figure, the four-division champion faces the challenge of co-promoting his first boxing show with Sycuan Ringside Promotions on Thursday, Sept. 25, 2008 at Sycuan Resort and Casino in San Diego, Calif..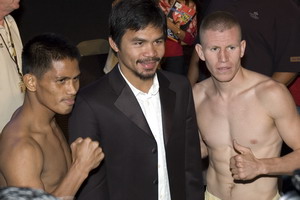 Tickets for the outdoor venue are on sale. Tickets are priced at $250, $150, $75 and $50. You can purchase online at www.sycuan.com, via phone at (619) 659-3380 or in person at the Sycuan box office. The memorable night of boxing features Mexican boxers against Filipinos with the main event pitting Bernabe Concepcion against Giovanni Caro in a ten-round super bantamweight bout that begins at 7:30 p.m. PT, televised by Azteca America.

Concepcion, who is promoted by Pacquiao, is 26-1 with 15 knockouts while Caro is the Mexican 122-pound champion with a record of 11-4-4 with 9 knockouts.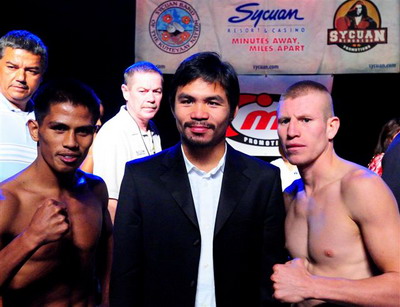 Boxers in the Pacquiao stable and fighting on Thursday's card include, junior welterweight Dennis Laurente (29-3, 15 KOs) fighting against Arturo Urena (20-15, 12 KOs) and lightweight Aaron Melgarejo (11-6-1, 3 KOs) competing against Alain Hernandez (12-5-2, 7 KOs).


RHODE ISLAND SHOWS SUPPORT FOR FAVORITE SON: DEMETRIUS ANDRADE AT STANDING ROOM ONLY PRESS CONFERENCE ANNOUNCING PRO-DEBUT

Today at the Dunkin Donuts Center in Providence, RI, Demetrius Andrade held a press conference officially announcing the launch of his professional career in front of a standing room only audience. On hand were many of Demetrius's family and friends, along with a strong contingent of Providence's high-end officials and politicians, including Mayor Cicilline and Lt. Governor Roberts and numerous representatives of the State Senate.

First to take the podium was co-promoter of Demetrius Joe DeGuardia CEO of Star Boxing. "I want to thank everyone for coming out on this very special day and showing your support for Demetrius," began DeGuardia. "I speak on behalf of Demetrius's other co-promoter Art Pelullo of Banner Promotions when I say we are very excited at the launch of what we expect to be an absolutely tremendous career. Seeing all of these people here today, especially all of these politicians and big names, it is definitely a testament to what Demetrius has accomplished thus far and what people expect from him in his professional career. I have known Paul (Demetrius's father) for a long time now and he always used to tell me that a day would come when I would be calling him every single day trying to get his son to sign with me, and let me tell you, he couldn't have been more accurate. Demetrius is the number one prospect in the entire world coming out of the amateurs and I can not express enough how excited we are to see him get his career underway. We expect Demetrius to not only be a champion, or even a multi-champion for that matter. We honestly feel that Demetrius is going to be an absolute Superstar in the boxing world," stated DeGuardia.

The next few rounds at the podium heard many of the cities and state's politicians and officials give their support and praise to Demetrius, with the highlight of the conference coming from Mayor Cicilline. "We are very proud of you Demetrius and what you have accomplished thus far in your career and how you have represented this city of Providence and the entire United States of America. We know you have a very bright future ahead of you and every fight that you have you know you will have the entire city behind you. In honor of you Demetrius we are officially declaring this day, Demetrius Andrade day in Providence," stated Cicilline to an overjoyed Demetrius.

Art Pelullo president of Banner Promotions and co-promoter of Andrade was the next person to speak as he too thanked everyone for coming out and showing their support for Demetrius. "The first time I saw Demetrius fight was at the Amateur World Championships. It is rare for me to follow an amateur's career but I had heard a lot about this kid so I thought I would go check him out. The minute I saw him I knew he was something special. He was fighting as a professional even though he was still in the amateurs. He was just so much more gifted than the rest of the fighters I saw that day, and to be honest I truly believe that he has more natural ability than most professional boxers fighting today. Demetrius is one of the great young talents in boxing and I can not tell you enough how thrilled I am to be working with not only a great boxer but also a great human being," said Pelullo.

Next up was Paul Andrade, Demetrius's father and also head trainer. "I am very excited and feel very comfortable with my and my son's decision to sign with both Joe and Artie. Why have just one promoter when you can have two? I look at Joe and Artie as Demetrius's boxing parents who will lead him in his professional career. The only concern I have left is who is going to be the mother and father in the relationship? I will let them figure that one out on their own; I just know that I do not want to be In the same room when they finally decide," joked Paul.

Finally the man of the hour, Demetrius Andrade came to the stand to address the audience. "First and foremost I want to thank God," began Demetrius. "I want to thank my family and friends who have been there from day one supporting me every step of the way. I also want to thank my new Italian family over here Joe and Artie," stated Demetrius with a big smile on his face. "I am very excited to get my professional career underway and I am looking forward to making all of you here very proud. I look forward to fighting right here in Providence soon and I plan on one day packing this Dunkin Donuts center out like never before. Thank you all for coming out and don't forget to tune in on Thursday October 23rd on the Versus network."

Demetrius will make his pro-debut on Thursday October 23rd at the Pend O'reille Pavilion at the Northern Quest Casino in Airway Heights, Washington. The fight will be aired live on Versus on the undercard of the Cristobal Cruz (36-11-1, 23KO) vs. Orlando Salido (31-9-2, 20KO) battle for the vacant IBF featherweight world championship. Article posted on 24.09.2008
previous article: Joe Calzaghe, Roy Jones Jr Quotes And Videos
next article: An Interesting Twist In The Mayweather – De La Hoya Family Affair