Palacios' 2nd Round KO over Pineda crowns the new WBA Fedelatin Cruiserweight Champion!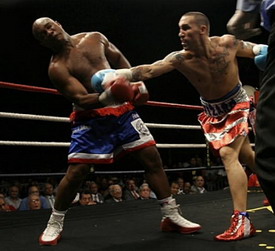 By Christopher Rivera , photos by DELANTE.COM: -18-08: Panama City, Panama: On a late summer night, there was a festival of fights in Panama City, Panama at the Centro de Convenciones Figaly. With the buzz in the crowd for the two heavy hitters, the stage was set for one of the most memorable bouts of the night for the WBA Fedelatin cruiserweight title- fight between hometown hero Luis "El Lenador" Pineda and Francisco "The Wizard" Palacios.

Both fighters came in confident ready for a title showdown. Pineda was ready to keep the belt in Panama while Palacios was dead set on bringing it back to Puerto Rico. From the sound of the opening bell, the action was instant. The Wizard set the tone, jabbing early with the intent to destroy.

After shooting a right jab jab hook combination, a moment that clearly stunned Pineda, the magic was displayed with a 1-2 long right hand combo that floored Pineda. El Lenador looked dazed but beat out the long count.. The referee questionably gave Pineda more than enough time to regain composure. With no hesitation Palacios attacked again with another 1-2 combo, putting his opponent to the ropes. Somewhat anxious, Palacios tried to gain position wherein holding held out for the final seconds of the round giving Pineda breathing room to make it to the second round.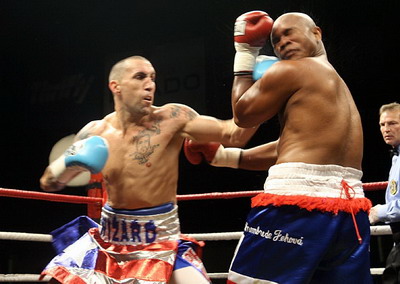 Round 2 was unforgettable to all there. The Wizard approached El Lenador switching to south paw. With a bevy of jabs and overhand left, Pineda once again was desperately trying to defend himself. Seeing the opportunity, The Wizard seamlessly switched back to orthodox and landed a jab followed by a crushing left hook that put Pineda down for good. There was a small scare in the air as El Lenador laid still on the mat. He eventually came to with the crowd applauding for both Pineda's health and Palacios' victory.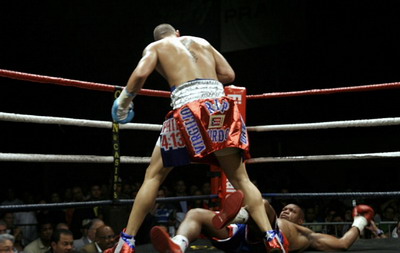 In a true statement of sportsmanship, the two embraced once Pineda was cleared by medical staff after regaining consciousness. Palacios fell to his knees and raised his hands in praise to the almighty above as he once again was victorious proving the critics wrong. With his last four out of five fights coming via knockout, eyes around the sport will be opened once again. Pineda's record fell to 21- 8 while Palacios improved his undefeated record to 16 (9 K.O.)- 0 .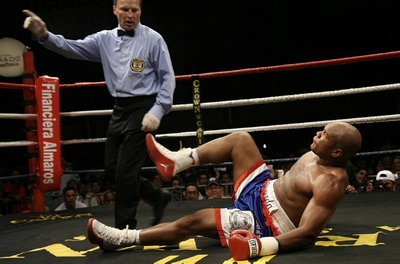 When asked who he will cast his next spell on, Palacios replied, " Whomever wants to step up, I will be prepared as usual. They already know who they are." This night was clearly Palacios', walking away with a title he has waited patiently to take. The Wizard's stated in closing "I would like to thank God almighty for giving me the strength to win. My brother R.I.P. Zurdo, My mother, My family, My team, My promoter, My true friends and all the fans that stand by me and show love. Y'all make this so worth it! God bless and keep an eye out for The Wizard's next showing of pure magic!"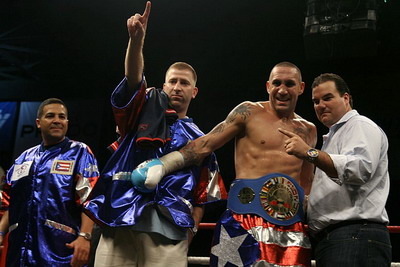 Article posted on 24.09.2008
previous article: News: Israel Vazquez Denies Report of Fourth Marquez Bout, Euro Boxing Roundup
next article: Williams-Kolle, Arreola-Garcia Weigh-In Photos