The 'Madison' Avenue: Darrel Madison - New York City's Heavyweight Prospect On Road To Fame
By Vivek Wallace: New York City has been long known as a haven for some of the best pure talent on the face of the planet. Part of the reason for this abundance of talent is a street culture that literally makes no exception for the weak, and no excuses for the lame. For some, making it beyond the rugged streets of New York City has proven too tough, turning journeys into dead ends. Others mapped out their destination carefully, yet still failed to reach it in the end.. Similar to the avenue in New York City that bares his name, Mr. Madison has created a path to supremacy which he knew would take him in only one direction. That direction would be north, because at the end of the day his ultimate goal is to head straight to the top!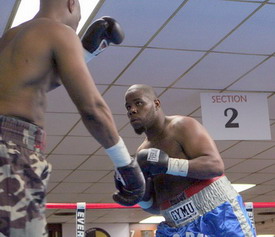 In today's interview we put the spotlight on one of New York City's hottest new heavyweight prospects. Few in the fight world currently know about Darrel Madison (10-1), but after this piece, I have a strong feeling that's all gonna change.

Is he flamboyant?.....A little....Outspoken?.....Maybe.....But when you have the skills to pay the bills, since when has that ever really mattered?

Today, the veil is officially lifted, as the fight world is introduced to another one of New York City's finest:


VW: Hey Darrel, what's good? How's life treating you?

DM: Everything's cool just preparing for this upcoming fight on September 26th.

VW: Many fight fans out there feel that todays heavyweight division is short on talent, do you look at this as a good time to emerge from the pack and solidify yourself as a top contender eventually?

DM: Most definitely. I think todays heavyweight fighters are pretty lazy, and most of them rely on physical attributes - in example: 6-5, 260 lbs - more so than talent and athleticism to get them through fights.

VW: Who do you see in the heavyweight division that you find to be threatening?

DM: Honestly, not since a young "Iron" Mike Tyson have I seen any heavyweight that honestly left me scratching my head. I think Lennox Lewis was fundamentally sound but few have left me blown away.

VW: So as a fighter, considering that you haven't viewed many of the heavyweights as idol material, who are some of the influences in the sport that you do admire from a skills standpoint?

DM: If I had to narrow it down, it would be three guys. James Toney, Joe Louis, and Pernell Whitaker.

VW: What of each of those fighters have you implemented in your personal fight game?

DM: I think when you watch me fight, you'll see the slickness of James Toney, the patience of Joe Louis, and for the most part, the beauty and solid execution of a Pernell Whitaker. I put less emphasis on the knockout, and more emphasis on getting in rounds and good work to deepen my knowledge so that's where each of those skills really help.

VW: In your last fight, you defeated Zuri Lawrence, who most know as a very durable fighter. What was it like to be in the ring with such a veteran, considering that you've only been in the ring for two years?

DM: I think it was a great experience for me. I came up sick 10 days before the fight so it wasn't a peak performance, but when you look at his resume and see that he came very close to defeating Rahman, defeated Jameel McCline, and went 11 rounds with Sultan Ibragimov, I think it's impressive that I was able to defeat him despite the illness.

VW: In your second fight you were disqualified in a fight you were on your way to winning for what was perceived as a hit behind the head which appeared to disorient your opponent. How did you deal with that loss?

DM: Initially, it was very tough because I didn't want the "L" on my record, particularly if I wasn't really beaten, but it turned out to be a blessing in disguise because many fighters and promoters thought they could exploit me and all of a sudden they lined up and I ended up shutting the guys out one by one. I thank him for the loss now!

VW: You have a fight sceduled for Friday, September 26th. Tell us a little bit about that fight date.

DM: I'm scheduled to face Elfhair McKnight, another NYC heavyweight. The fight is taking place at Huntington Hilton Hotel in Melville, NY. It should be an interesting fight because we have a history from our amateur days. I'm just looking forward to getting in their and improving my skills and most importantly, winning.

VW: In closing, what do you wanna say to the fight fans around the globe who will now be watching out for you?

DM: I wanna say thanks to everyone who's ever supported me, and for those that don't know me now, stay tuned.

As Madison climbs his way up the heavyweight division there's no question that he's gonna be one to keep an eye on. Today that thought may not mean too much, but when the time comes, remember where you heard it first.

Article posted on 24.09.2008
previous article: Who's The Best Boxing Junior, Chavez Or Hearns?
next article: UK News: Maloney Goes Massive With Big London Show, Classic East Anglia Derby