Amin Asikainen vs Khoren Gevor: More Than A European Title Fight
22.09.08 - Miika Forsström: Stakes are high when world-class contenders "Idi" Amin Asikainen (25-1, 17 KOs) and Khoren Gevor (29-3, 15 KOs) will clash for the vacant European middleweight title November 28th in Helsinki Finland. The promoters P3 Boxing and Live Nation expect over 10,000 spectators to the beautiful Hartwall Arena. Asikainen´s trainer-manager Pekka Mäki told Eastside Boxing; "This is more than a European titlefight. We have two high ranked world class middleweights and the winner of this fight will be very close to shot at world title"..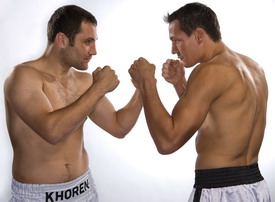 Asikainen is rated #4 by the IBF, #7 by the WBA, #8 by the WBO and #19 by the WBC. Khoren Gevor is rated #5 by the IBF, #15 by the WBC, #6 by the WBA and WBO. Respected The Ring rank´s Asikainen as middleweight champ Kelly Palvik´s #4 challenger.

In July Sebastian Sylvester relinquished the European middleweight title in order to fight the WBA world champion Felix Sturm. Asikainen was the #1 challenger to the title and European Boxing Union (EBU) named Gevor as the co-challenger. Asikainen vs. Gevor was announced last week in a press-conference in Helsinki.

"I am glad that we got this fight to Finland. The support of my fans will help me. I will train extremely hard for this fight and do everything I can to beat Gevor. When two world class athletes compete, everything is possible. The other one wins and the other loses. But I am confident that I will defeat Khoren Gevor" Asikainen stated.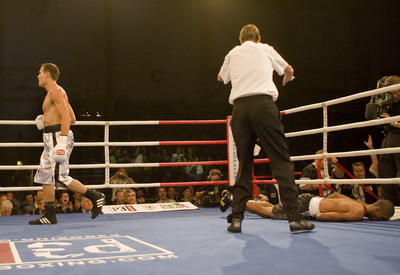 Asikainen won the European middleweight title in 2006, when he stopped Sebastian Sylvester in the round 8 in Germany. Asikainen defended his title successfully against Alexander Sipos and tough Italian Lorenzo di Giacomo. Sylvester beat Asikainen by a TKO in round 11 in June 2007 in a controversial fashion in the rematch. Asikainen´s manager Pekka Mäki made a protest about the referee´s actions in the fight, but EBU did not accept it. After two easy comeback fights Asikainen stopped former super welterweight champion Yori Boy Campas in round 7 in February. In August 30 Asikainen brutally knocked out Brazilian Roberto Oliveira de Jesus in two rounds.

"My goal is to become a world champion. To get another shot at world title I will have to beat Amin Asikainen. This fight is extremely important to me. If he beats me fairly I will retire from boxing. But that won´t happened, I will win and after that I will win world title. November 28th I will end Asikainen´s boxing career" Gevor told in the press-conference.

"Actually Gevor´s career ended already a year ago, when he was knocked out by Abraham" Asikainen responded to Gevor´s statement.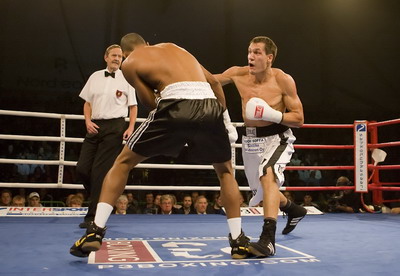 Armenian-born southpaw Khoren Gevor, who lives in Hamburg, Germany, won IBF and WBO Inter-Continental middleweight titles in 2005 by stopping 28-0 Gustavo Magallanes from Mexico in eight rounds. The next year Gevor defended his titles successfully by beating previously unbeaten (16-0-1) Sergey Khomitsky on points. In 2007 Gevor beat 23-1 Rafael Sosa Pintos on points.

In August last year Gevor challenged the IBF world champion "King" Arthur Abraham in Berlin. The brutal early rounds were very close. Gevor seem to outwork and outbox the harder hitting champion. In round eight Abraham rocked Gevor with very hard punches. Gevor proved that he can really take a punch and bravely kept on fighting. In round 11 Abraham landed a devastating left hook that knocked Gevor out cold. Although he lost the fight, Gevor gained the respect of the fans with his good effort against tough champion.

Asikainen will prepare to the fight in a training camp in Tenerife, where he will run in the mountains. After it Asikainen will have a three weeks sparring camp in Finland. "We will get him good left handed sparring partners from East" Asikainen´s trainer Pekka Mäki told. Gevor will train hard as usual in his hometown Hamburg. Gevor will be trained to this fight by Fritz Sdunek, who is right now working with Vitali Klitschko.

"Gevor´s style should suit me real well. I have always been at my best against shorter and aggressive fighters, just like Gevor. The biggest problem is the fact that he is a southpaw, but I can deal with it. I have fight very well to beat him." Asikainen told about the styles of the boxers.

"Asikainen is right handed and taller than me. That is no problem, because almost all of my opponents have been right-hander´s and taller than me. I can handle his style, but can he handle my?" Gevor asked. Article posted on 22.09.2008
previous article: Forrest Vs. Mora - Will There Be A Rubber-Match?
next article: News: Hernandez, Nevitt Co-Headline In Cicero, Chavez-Vanda II / Donaire-Mthalane PPV