News: Chad Dawson: "No Starver For Tarver!", Selcuk Aydin shocks Russia
The light heavyweight division's undefeated major domo and former World Boxing Council champion CHAD DAWSON stepped on the scale today, after lunch, a svelte 178 pounds – just three pounds over the light heavyweight limit. He's just 28 days from his world title rumble with International Boxing Federation / International Boxing Organization light heavyweight champion Antonio Tarver.. Promoted by AT Entertainment and Gary Shaw Productions, LLC, the Tarver vs. Dawson world title fight takes place, Saturday, October 11, in the Pearl Concert Theater at the Palms Casino Resort in Las Vegas, Nev. The fight will be televised live on SHOWTIME at 9 p.m. ET/PT (delayed on the west coast) along with the Samuel Peter vs. Vitali Klitschko WBC heavyweight championship battle.

"Tarver has 28 days left on death row before he faces my two-gun firing squad on October 11," said Dawson. "Instead of music, he'll be making his ring entrance to the chant of 'dead man walking.' If they ever do a remake of "The Green Mile," Tarver will have the experience to play one of the death row prisoners."

Dawson (26-0, 17 KOs), from New Haven, Conn., captured the WBC title, February 3, 2007, winning a unanimous decision over undefeated defending champion Tomasz Adamek. After three successful title defenses, Dawson vacated the title earlier this summer so that he could challenge Tarver in his next fight. Tarver (27-4, 19 KOs), from Tampa, is in his third reign as world champion. Boasting world title victories over Roy Jones, Jr. and Glen Johnson, Tarver returns to the ring after handily defeating defending IBF champion Clinton Woods via a 12-round unanimous decision in Tampa last April.


Selcuk Aydin shocks Russia

photo: M.A. Sayer - It was the spectacular ending of a great night ob boxing in Cuxhaven. In the main event WBC international welterweight champion "Mini-Tyson" Selcuk Aydin defended his title for the first time by stopping Marat Khuzeev with a stunning left hook in round 2. The challenger was out for several minutes.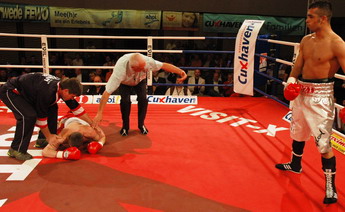 For Khuzeev's Russian home federation the brutal knockout came unexpected. "I received a call from our president", said coach Oleg Bogdanov on Saturday. "He asked me whether it was true what he had read in the internet. He couldn't believe that Marat had been knocked out. We knew that Selcuk is a very powerful fighter and a hard puncher but in Russia Marat is well known for his good chin. He has never been knocked down in his whole career – pros and amateurs. And he has had almost 300 amateur fights. He was junior champion at the amateurs. We all thought that he could outbox Selcuk and take home a decision win. The k.o. came as a real shock!"

Selcuk was less surprised. "I was looking for the opening and when I found it he was down and out. I hope he is alright but that is boxing. Destroying your opponent is the name of the game. I am already looking forward to my next fight."

Article posted on 14.09.2008
previous article: News: Malignaggi/Hatton Quotes, Andreas Kotelnik Beats Kimura In Ukraine