Solis, Lara, Kretschman And Aydin Score KOs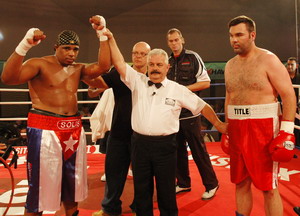 "Mini-Tyson" Selcuk Aydin strikes again! After only 32 seconds in the 2nd round the WBC International Champion hat stopped his challenger Marat Khuzeev with a stunning left uppercut. It took several minutes for the physicians to bring the Russian back to his feet. "Once more Selcuk proved that he is one of the most dangerous fighters today", stated promoter Ahmet Öner. "He is a knockout machine." "For me there is no welterweight who punches as hard as Selcuk", added coach Karsten Röwer. Aydin defended his title for the first time and promoted his record to 16-0 with 13 stoppages.

Heavyweight sensation Odlanier Solis was even faster than his stable-mate. The 2004 Olympic gold medallist and three-time world amateur champion stopped US veteran Chad Van Sickle after only 98 seconds in the first with a hard body shot. "It went pretty well", said Solis..

"The opponent was simply not strong enough for Odlanier", added promoter Ahmet Öner. "He will face stronger opposition in the future. Still it was a very impressive victory. Odlanier came back from an injury and he did it with style. On October 11th he will be back in action on the Vitali Klitschko-Samuel Peter undercard. And I think next year he is ready for the world title."

"Solis got great power, great hand speed and a fantastic eye for the situation", said coach Orlando Cuellar. "He is special and I'm sure that he is already one of the best in the world. He is ready to become heavyweight champion of the world."

German heavyweight hope Steffen Kretschmann stopped journey-man Otis Tisdale in the 5th. It was Kretschmann's 11th win in his 11th pro-fight including 9 knockouts.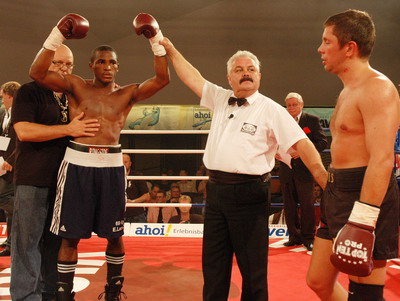 2005 world amateur champion Erislandy Lara won his bout on the fast track as well. Lara impressively knocked out Latvian Denis Alekseevs after 2:19 minutes in the 1st. It was Lara's second win in his second pro-fight.

ARENA-CEO Ahmet Öner was very happy with the show at Cuxhaven's Kugelbake-Halle. "In a few years, when those fighters will be the dominating forces in their weight classes and champions of the world people will still remember this great night of boxing." Article posted on 13.09.2008
previous article: Closet Classic: Shinji Takkehara vs. Sung-Chun Yi
If you detect any issues with the legality of this site, problems are always unintentional and will be corrected with notification.
The views and opinions of all writers expressed on Boxing247.com do not necessarily state or reflect those of the Management.
Copyright © 2001- 2015 Boxing247.com - Privacy Policy l Contact