Keys To Victory, Predictions: Guzman v Campbell, Marquez v Casamayor, Forrest v Mora
13.09.08 - By Vivek Wallace, photo by Tom Casino / Showtime - Tonight, the fighters scheduled to see action won't be the only ones with too much on their hands. Normally, fight fans can grab the popcorn with one, a low-key brewski in the other, and kick back while they're entertained. This time around, they'll either be very hungry or very thirsty because one of those hands will be permanently glued to the remote control as they waver back and forth, unable to settle on which fight card they actually wanna tune in to..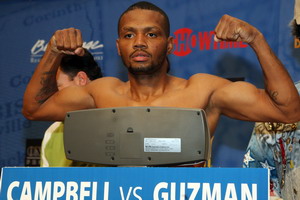 One thing that may help the cause is the fact that the Showtime card is actually free with great action attached, while the HBO card is a pay-per-view ticket. With so much at stake, it'll be tough to accurately predict who wins, but in an effort to narrow down the odds, we break the fights down.


MARQUEZ v CASAMAYOR (HBO PPV)

Keys To Victory (Marquez): Keep doing what he's always done. Basically use those boxing skills to outpoint and periodically stun the opponent while working off the stiff jab. Use angles - to enter and to exit - as Casamayor can be a very slick competitor when he wants to be. Marquez is moving up in weight and he couldn't have picked a more formidable opponent to do it against. He'll need to bring his A-game and make sure that he stays active. One other thing that Marquez needs to do that could have residual effects is go to the body. Casamayor doesn't appear to be a big fan of the gut shot. Body head combinations with a heavy dose of the jab could be the winning recipe.

Keys To Victory (Casamayor): Casamayor is the naturally bigger man - albeit not by much, so he'll need to impose his strength and will against Marquez and press the action. Marquez is clearly the better boxer but Casamayor has a better defense and that could make all the difference in the end. Casamayor will need to change his style a bit and press the action a bit more for the full 12 rounds if he wants to win a decision. He has a tendency to take his foot off the gas for rounds at a time, or periodically fail to fight for the full round, and a guy like Marquez could make him pay for that. Marquez has a tendency to leave himself open for the right cross. Casamayor won't knock him out, but a few flush ones could earn him enough respect to keep the distance. Last, Marquez doesn't like to fight backwards - as evidenced against Pacquiao - so Casamayor will need to keep that in mind.

Prediction: Tough one to pick but I like Marquez based on work rate and toughness. I think Casamayor will have his moments but Marquez will have more according to the final cards. For those that can't read between those lines, let me put it this way....After two very close and still somewhat controversial calls where Marquez ended up on the shorter end of the stick, if it's another close one, it won't happen again. Trust me! (MARQUEZ by UD)


CAMPBELL v GUZMAN (SHOWTIME)

Keys To Victory (Campbell): Nate is one of the most rugged fighters in the sport, and it could suit him very well against a finesse fighter like Guzman. I think Nate needs to come into the fight with that same mentality that he had against the very formidable Juan Diaz. Diaz was no easy match for anyone, which is why Pacman never dared utter his name. Campbell took his game to another level and proved to the world that when he is focused, few can stop him. Guzman will be a pretty tricky target to actually hit, but we all know pressure burst pipes. For Campbell to be effective, I think he'll have to not only pressure him, but use power shots to hurt him and keep punching. No specific target in mind, whether it's the shoulder, the arm, the forearm, whatever. Campbell will need to just keep laying that leather on Guzman and make him realize that he moved on up and there's nothing 'feather' about this weight class. Pressure is the main ingredient for Campbell in this fight. With it applied intelligently, he probably wins. Without it, he will lose.

Keys To Victory (Guzman): For Guzman, he will need to use his defense to make Campbell miss and make him pay. Considering that Campbell is a very pressure-oriented fighter, Guzman will need to use his counter-punching ability and don't allow himself to engage in close arms combat. If Guzman - for whatever reason - doesn't stick to his gameplan to simply box, it could be a long night in the ring against a guy like Campbell. If Guzman keeps jabbing and counter-punching, this could be a points victory waiting to happen for him.

Prediction: Guzman is considered by most to be the better pure boxer, but this will be one of the best 'chess-match' type fights we'll probably see this year. In Nate Campbell - a student of the game - you have one of the most intelligent in-fight strategist in the sport. And in Guzman you have a highly talented fighter who's coached by aruably the best corner man in the game. I see a full 12 rounds of strategy both ways. In the end, I think to accurately predict this fight you have to look no further than the recent past. So far this year we've seen a ton of pure boxers get up-ended by pressure fighters. (Think Pavlik/Taylor, Marquez/Pacquiao, Clottey/Judah, and the best example of them all, Margarito/Cotto). This fight I think continues that trend. Guzman will be slick, but if Campbell is on his game like we saw him against Diaz, those track shoes on Guzman won't stop him from eventually getting walked down. It'll be Friday The 13th walking down Elm Street all over again! (Campbell by SD)


FORREST v MORA (HBO PPV)

Keys To Victory (Forrest): Forrest will need to come into this fight with the passion burning and a major chip on his shoulder. He can't afford to take any rounds off because as he learned before, no ones out to do him any favors, and that long list unfortunately includes the judges. Forrest will need to press Mora and not give him the room to maneuver his way around and outslick him. Forrest will also need to keep pumping that double jab he uses from time to time. In the first fight, he had no true 'pace-setter', and we all know the jab is any man's best tool to control the pace in the ring. Finally, Forrest will need to enter the ring loose. He has appeared a bit tight in his last fight and the outcome was tangible proof. He needs to revert to his old self and simply come to seek and destroy, but use that energy to focus, not to over analyze the actions of the opponent. Let it flow.

Keys To Victory (Mora): Mora needs to come into this fight with the mindset that he lost the last fight and has nothing to lose. If he comes in too high from his victory in the first fight he will lose because I do expect Forrest to come out ready to give a statement performance. Mora will need to avoid the many traps that Forrest will lay and just stick to his gameplan which is to box and outslick the other guy. Quiet as it's kept, Mora has more power than most think, and has a beard to match that strength. If he can use his 'herky-jerky' off momentum style and keep himself from being an easy target, it could be an easier night for him than most think.

Prediction: I think that Forrest will come in to make a statement and typically that's a good thing, but against a young, fresh, energetic fighter lke Mora who has better than average skills, the statement he makes may not be the one he intended. I think this is Forrests' fight to lose, but in the end, I feel Mora may be too slippery once again. (MORA by SD)

In the Bradley/Cherry fight, I see Bradley being tested more than he was by the Junior Witter, but I think he prevails in a gutsy performance. (Bradley by UD)

(Read more boxing talk from ESB's Vivek Wallace at www.examiner.com, contact him at vivexemail@yahoo.com and 954-292-7346, or show him some love at www.myspace.com/anonymouslyinvolved)

Article posted on 13.09.2008
previous article: Joan Guzman and all that is wrong with boxing
next article: Call Em Out Fridays: Vernon Forrest - Is The 'Viper' Snake-Bitten?