Arnaoutis-Athumani, Johnson-Seldon Weigh-In Results
All fighters weighed in today for Joe DeGuardia's Star Boxing show this Friday night at Bally's Hotel and Casino in Atlantic City, NJ. - "Mighty" Mike Arnaoutis weighed in at a ripped 142 lbs. while his opponent Nasser Athumani tipped the scales at 141 lbs. "I feel great, and am ready to go," said a cofident Arnaoutis. "I had a great training camp. I am physically and mentally one-hundred percent prepared for this fight. You are going to see the best Mike Arnaoutis ever tomorrow night.."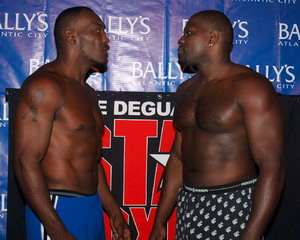 Next to weigh-in were the two co-main events fighters Kevin "Kingpin" Johnson and Bruce "The Atlantic City Express" Seldon (PHOTO ABOVE). Sledon was the first to weigh in as he tipped the scales at 221 lbs. It was the lightest Seldon had weighed since 1991, as he looked in great shape and ready to go. Johnson weighed in at a strong and muscular looking 242. "This is going to be fun. I am on a different level then this guy and trust me I will show that to everyone tomorrow night. I promise you that this fight will not go the entire 10 rounds, mark my words," stated Johnson.


UNDERCARD WEIGHTS

The rest of the fighters weights go as follows:

Patrick Lopez - 142 vs. Doel Carrasquillo - 144
6 rounds

Terrell Nelson - 263 vs. Bernard Brown - 259
6 rounds

Yathomas Riley - 173 vs. Zeferino Albino - 178
4 rounds

Ray Robinson - 146 vs. Eberto Medina - 148
6 rounds


"MIGHTY" MIKE AND KINGPIN SUPRISED AT WEIGH-IN

After the weigh-in for Star Boxing's Friday night card at Bally's in Atlantic City, NJ Joe DeGuardia CEO of Star Boxing had a special surprise presentation for "Mighty" Mike and the "Kingpin". Both fighters will be celebrating their 29th birthday's this weekend, Mike on Saturday and Kevin on Sunday so DeGuardia presented the two Star Boxing fighters with a birthday cake in their honor.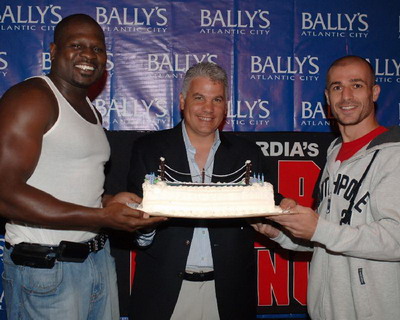 Article posted on 05.09.2008
previous article: Zab Judah's Future - Does He Still Have One?
next article: Mayweather Sr Possibly Out As De La Hoya's Head Trainer