Weights From Berlin: Valuev 317.7, Ruiz 238.9
Weights from Berlin: WBA heavyweight title:
Nikolai Valuev: 144,4 kg - John Ruiz: 108,6 kg

EU heavyweight title:
Francesco Pianeta: 110,0 kg - Scott Gammer: 109,1 kg ..

Nikolai Valuev and John Ruiz would not stop staring at each other when they posed for the photographers following today´s press conference in Berlin. After two long minutes, they were finally separated by Wilfried Sauerland and Don King. "I think we will be seeing a very exciting fight on Saturday," Sauerland predicted.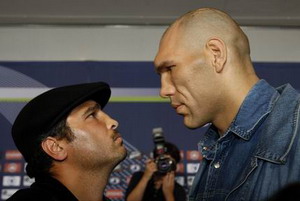 Both fighters are brimming with confidence ahead of their rematch. "I feel like I won the first fight," Ruiz said.

"I am here in Germany to get the belt back. I have worked very hard in practice with my coach. I am in great shape and I will show that on Saturday." His trainer, Manny Siaca Sr., was also confident of success.

"On Saturday the two best heavyweight boxers will meet in the ring. But this time the ending will be different from their last meeting. You will see that John Ruiz will be world champion again."





The Russian Giant, however, has different plans. "It would take too long to describe all the things I have changed (in my game)," he stated. "I have prepared very hard and very long. I am in very good shape. I want to win!" Wilfried Sauerland warned everyone not to underestimate the 36-year-old former champion. "I saw Samuel Peter´s fight against Jameel McCline. Peter went down three times. But then McCline clearly lost to Ruiz on points."





Don King also praised Ruiz´ performance against McCline. "John did a great job," the US promoter stated. "He is here to win. He will be in great shape. All eyes will be on Berlin. We can expect a great fight."

Article posted on 29.08.2008
previous article: 'Call Em Out Fridays': Ivan Calderon - Will The Puerto Rican 'Iron boy' Get A Mexican Meltdown?
next article: Exclusive Interview With Former Two-Time Cruiserweight Champion Marvin Camel