Lamon Brewster Aims To KO Batchelder
Los Angeles, CA- "Relentless" Lamon Brewster, 33-4 (29 KO) has built his fierce reputation with his wrecking ball left hook, iron chin and unwavering will power. Brewster intends to acquaint Danny Batchelder, 25-5-1 (12 KO), with his trademark qualities on Saturday, August 30 in the 12-round main event for the vacant NABA heavyweight championship at the Cincinnati Gardens in Cincinnati, OH. The card is promoted by Lamon Brewster's Relentless Events in conjunction with Colin Bates' C'Believe and Andrew Williams' R&R Promotions.

The former WBO heavyweight champion aims to make a statement in his first fight since losing to current Wladimir Klitschko, vaulting him back into the title picture. "I finally feel like the real Lamon Brewster again and that's the Lamon Brewster I am ready to unleash on the world. My defense feels excellent. My offense, how I hold my hands, my footwork, everything is coming together wonderfully. I'm going to run these heavyweights out of town.."

Brewster has had his best training camp since his days as champion, working many rounds in sparring with James Toney and Javier Mora, among others. The card is billed as "The Return", appropriate since Brewster is returning to the training habits that brought him his best success. "I've never trained like a heavyweight, I've always trained like a middleweight. I've been able to match speed with light-heavyweights and super-middleweights. For awhile I fell into a pattern, what Muhammad Ali called being a dinosaur, I started fighting like a dinosaur. I'm back to being a complete fighter again."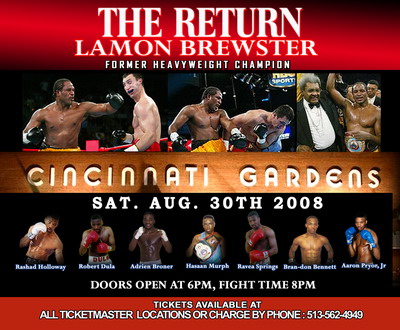 "I'm just looking forward to showing the world what a throwback fighter is. I fight with heart, skill, power and speed. I'm going to unleash that on everyone I fight."

After Batchelder, Brewster plans on settling old business in a trilogy with the man he stopped for the title back in 2004. "I'm going to brush this rust off then go and knock Klitschko out."

Brewster assures that as tough and determined as Batchelder is, it won't be enough to handle what he's coming with on fight night. "It doesn't matter if he's in good shape, when I hit him that won't mean anything. I'm going to knock him out."

Prized local prospects Aaron Pryor Jr. and Rashad Holloway will also see action in separate bouts as part of an under card loaded with Cincinnati's finest young fighters.

Fans can watch the card online at www.gofightlive.tv at the affordable price of $1.99. The internet stream begins at 8 PM Eastern/5 PM Pacific.

Tickets are priced at $102, $77, $32, $22 and $12. They are available at the Cincinnati Gardens Box Office, at all Ticketmaster Outlets including select Kroger stores, charge at 513-562-4949 or online at www.ticketmaster.com. For more information on this and other Relentless Events shows visit www.relentlessevents.net . Article posted on 22.08.2008
previous article: Boxing News: Ruiz Ready For Valuev, Ndou Targets Mundine