BJ Flores Back In Action On Friday; Solo Boxeo Returns To Chicago On Aug 15
PHOENIX, AZ (August 13, 2008)Undefeated and world ranked cruiserweight BJ Flores returns to the ring this Friday night, August 15th to take on veteran Cory Phelps at the Ibiza Nightclub in Washington DC in an eight round bout. Flores, 21-0-1 (13KO's), is currently ranked #2 by the IBF, #5 by the WBO and #8 by the WBA..
The 24 year old Phelps, fighting out of Catlettsburg, Kentucky, brings a record of 13-4-1 (7KO's) into the battle. Earlier this year he fought to a six round draw with Bobby Gunn in Fountain Hills, Arizona.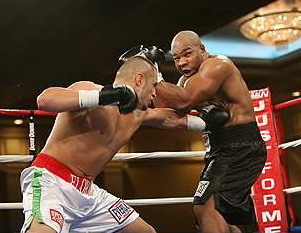 Speaking after a final training session in his hometown of Phoenix, Flores stated, "I'm thrilled to get back in the ring, it's been six months since my last fight and I'm ready to go. With the time off I was still training in Phoenix and Las Vegas because I knew a fight was coming, it just took a little longer. The fight against Phelps was offered to me late last week and it offers me an opportunity to get back in the ring."

Continued Flores, "Hopefully now I'll be fighting on a more consistent basis with bigger fights on the horizon. This fight is important for me because I want to fight more often and this is the first step. There are a lot of great fighters in the cruiserweight division and I want to fight the best."

With the fight in Washington DC, Flores returns to region of his biggest win, the nationally televised twelve round unanimous decision over Darnell Wilson in nearby Dover, Delaware on February 8, 2008.

"The fans were great to me in Delaware so it's nice to go back there and fight", said Flores


SOLO BOXEO RETURNS TO CHICAGO THIS FRIDAY, AUGUST 15TH

Chicago's 8 Count Productions, HOME OF THE BEST IN CHICAGO BOXING, fresh off their terrific ESPN2 televised Friday Night Fight's card featuring unbeaten light heavyweight contender Tavoris Cloud, returns to the Aragon Ballroom this Friday night, August 15th to present, ON FIRE/EN FUEGO, another outstanding evening of world class professional boxing.

Tickets for "ON FIRE/EN FUEGO", presented with Oscar De La Hoya's Golden Boy Promotions, can be purchased in advance through Ticketmaster (www.ticketmaster.com , 312-559-1212) or through the 8 Count Productions offices at 312-226-5800.. The Aragon Ballroom is located at 1106 W. Lawrence Ave. , adjacent to the corner of Broadway and Lawrence. Doors will open at 5:30pm, with the first bell at 6:15pm.

Headlining ON FIRE/EN FUEGO is a ten round lightweight bout between former lightweight world champion Carlos "FAMOSO" Hernandez and Hector "THE MONGOOSE" Alatorre.

A native of EL Salvador, now residing in Los Angles, California, Hernandez brings a record of 42-7-1 (24KO's) into the battle with Alatorre. Known for his crowd pleasing aggressiveness, this is the first time he has fought in Chicago .

Hernandez won the junior lightweight IBF title by stopping David Santos on February 1, 2003 in Las Vegas , NV . After defending it against Stevie Forbes, Hernandez dropped a very close decision to Eric Morales on July 31, 2004. His illustrious career also includes outstanding battles with world champions Floyd Mayweather Jr., Genaro Hernandez, Jesus Chavez and Kevin Kelley (his last bout almost two years ago).

The 26 year old Alatorre, from Tulare , California , has complied a record of 15-4 (4KO's) since turning pro four years ago. He is coming off a very close SOLO BOXEO televised majority decision loss to Jeffrey Resto this past May 2nd at the Home Depot Center in Los Angles.

The eight round co-main event features heavy handed junior welterweight prospect Javier "ZORRO" Castro, 16-1 (14KO's) from Ciudad Juarez, Mexico, facing off against Santo Domingo, Dominican Republic native, Harrison Cuello, 15-7-2 (11KO's).

Castro is coming off a devastating first round knockout of Ramon Guevara on May 16th, a bout in which Castro knocked Guevara down three times in the opening stanza before referee Raul Caiz Sr. stopped the bout at the 2:32 mark. This was Castro first appearance in the United States , having fought all of his previous bouts in Mexico .

Upset minded Cuello, now living in the Bronx, New York , made his name with a third round knockout of hot New York City prospect Edgar Santana on June 20, 2007.

The undercard features undefeated Chicago based welterweight prospect Ivan Popoca, 7-0-1 (6KO's) taking on St. Joseph, Missouri native Brian "THE LION" Carden, 8-5 (7KO's) in a six round bout. Popoca has won five in a row since a draw last summer.

Also on the undercard, fast rising 20 year old undefeated junior featherweight Eric "EL LOCO" Estrada, 4-0 (2KO's) of Chicago , IL will face Brandon "THE PITBULL" Quintana, 2-1 (2KO's) in a scheduled four rounder.

Making his pro debut is Chicago welterweight Ryan Shmedick who will face Eric Bradford, 0-1, of Lincoln , Nebraska in a four round battle.

Also making his pro debut in a four round bout is Cameroon native Foster Nkodo against Eric Clinton of Tallahassee , Florida .

The weigh in for ON FIRE/EN FUEGO will take place at 7pm on Thursday, August 14th at MARISCOS EL VENENO Restaurant at 6651 S. Pulaski Rd. , on the southwest side of Chicago .

The Master of Ceremonies for the evening will be Lupe Contreras, the internationally recognized voice of Latino boxing.

8 Count Productions was started by Dominic Pesoli in 1998 and has consistently presented the highest quality professional boxing events in Chicagoland. In 2003, Pesoli along with former featherweight contender Mike Garcia opened JABB Boxing Gym, a 6,000 square foot venue dedicated to the finest Chicagoland boxers of all talent levels.

Article posted on 14.08.2008
previous article: The 'Left-Hook Louge': Vivek Wallace's Weekly Q&A Mailbag, Featuring Oscar, Cotto, Pacquiao, Hopkins, Mayweather And More!
next article: Manny Pacquiao Refuses to Bow to Oscar's Demands