Clottey Beats A Gutsy Judah Via A 9th Round Technical Decision - Rematch Anyone?
03.08.08 - by James Slater, photo by Naoki Fukuda - Last night in Las Vegas, Accra-born Joshua Clottey finally became a welterweight world champion. Capturing the vacant IBF strap with a 9th round technical decision over a badly busted up Zab Judah, "The Hitter" did not win in overly satisfying fashion - through no fault of his own..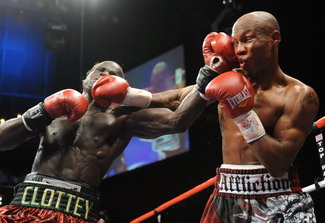 The official ruling stated that an accidental head clash prompted the fight's termination and its going to the cards, but it did seem as though a punch caused the damage - a massive slice above Judah's right eye. At 1 minute and 22 seconds of the 9th, the bout was stopped and the cards were sought. Clottey was the winner by scores of 87-84, 86-85, 86-85. Clottey improved to 35-2-0-1 (21). Judah fell to 36-5-0-2(25).

At first it seemed some fans felt Judah had tried to get out of a fight he knew he was losing by claiming he couldn't see and in trying his luck on the score cards. But in replay it was apparent the Brownsville man really could not see. Asked by the doctor who held up two fingers how many fingers were there, Zab replied three. "No, he can't see," said the examining doctor and the bout was over. Judah did not quit, he genuinely could not see properly.

The ending of the fight came as a disappointment, especially after how good the fight had been. Showing real guts and character, Judah took a lot of punishment, particularly with the right hand to the head - a shot Clottey could not miss with at times. His nose busted up in the 4th round and getting steadily worse as the fight went on, Judah's plight was becoming a hopeless one. Still throwing out fast combinations, Judah kept trying. The real factor in the fight that proved to be the southpaw's undoing, however, was the size and weight difference between the two men.

For some reason (probably an attempt to hold an advantage in speed) Judah weighed-in at a low 143-pounds. Putting on only four pounds by fight time, Zab was out-weighed by a Clottey who entered the ring at just below middleweight! The advantage in physical strength held by the African who now lives in New York proved too much. Still, Judah had his moments.

A sprightly opening round very much his, Judah also won two or three more sessions. He also appeared to hurt Clottey with a wicked left uppercut to the chin in the 7th. Hurt first himself by a straight right hand to the head and then under pressure, the warrior in Judah saw to it that he fired back with his left hand. Clottey instantly held on and bought some time. Clottey was just too strong, though, and came back at the end of the round to really hurt Zab, unloading freely at in the last 20 seconds or so.

Judah, his nose and mouth bleeding, was still game, but he had taken a lot - both to body and head. Very patient, Clottey kept coming forward and was draining his opponent of anything he had left. Showing the kind of courage he showed in the Miguel Cotto fight, it seemed the same fate lay in store for the former light-welterweight and welterweight champion. But then, the bout was stopped in the 9th after the accidental head butt had been ruled, and the cards were read.

Now very much wanting a return with WBA champ Antonio Margarito (who was ringside), Clottey may or may not get his wish. Because of how last night's fight ended, however, I would not be surprised to see Clottey-Judah II instead.

Article posted on 03.08.2008
previous article: The End for Zab Judah?
next article: Life In The Welterweight Division: Full Of Stories, But Nothing To 'Joke' About