Kirilov-Darchinyan, Dirrell-Paschall Weigh-In Photos
Photos by Tom Casino/SHOWTIME - Dimitri Kirilov weighed in at 114 ˝ pounds and challenger Vic Darchinyan tipped the scales at 114 pounds during Friday's weigh in at the Fife Parks, Recreation and Community Services Dept. in Fife, Wash.  Andre Dirrell measured 168 pounds while Mike Paschall weighed in at 166 ˝ pounds.  Vic Darchinyan talked a big game in the days leading up to his world championship showdown with Dimitri Kirilov on Saturday, but will the "Raging Bull" be able to back it up when the bright SHOWTIME cameras roll?  Tune in to find out..

Dimitri "The Baby" Kirilov (29-3-1, 9 KOs) will defend his International Boxing Federation (IBF) junior bantamweight title against former IBF flyweight champion and knockout artist Vic "Raging Bull" Darchinyan (29-1-1, 23 KOs) live this Saturday on SHOWTIME CHAMPIONSHIP BOXING at 9 p.m. ET/PT (delayed on the west coast).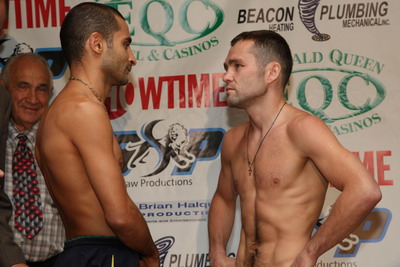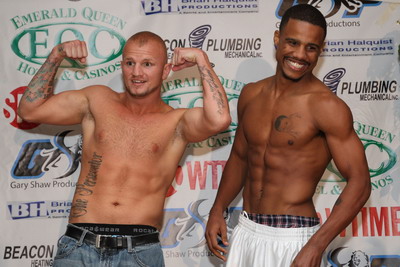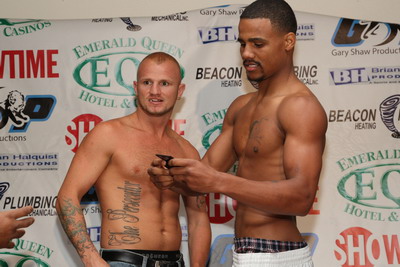 Article posted on 02.08.2008
previous article: Trainer Freddie Roach Concerned For Bernard Hopkins Ahead Of Pavlik Fight - "I'm Worried," Roach Admits
next article: Young fistic stars Bryan, Vargas and Diaz shine in North Bergen.