'Call Em Out Fridays': Zab Judah - Relevant, Or Simply An Arrested Development?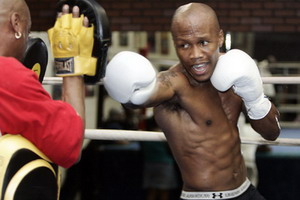 By Vivek Wallace, photo by Chris Farina - Top Rank - With all but one of the available welterweight straps accounted for, Saturday night in Las Vegas, that scenario should all change as two contenders redefine their status among the sports 'Battalion of Young Stallions', the deep and formidable welterweight division. To the left, we have the durable Joshua Clottey (34-2, 20KO's), and to the right we have a very familiar face, New York City's Zab Judah (36-5, 25KO's). Years ago, Zab would have been virtually a lock against any foe you placed against him. After a few years of turbulent times and a few unexpected bumps and turns, the flight path to his projected destination isn't quite as clear, and depending on who you listen to, it's not quite known either. Like every other 'Call Em Out Fridays' segment, today, we'll put our subject (Zab Judah) under the microscope, and analyze him a bit closer to see if he's the super talented phenom we initially thought he was, or simply another boxer with good talk and a fight game that will forever fail to catch up. We'll analyze the fan-supported perspective, the critics perspective, and in the end, we'll take a glimpse at mine before we ultimately learn yours. So, with no further ado, we now examine the 'Brooklyn Bomber', Mr. Zab Judah.......

Zab Judah (Fan-Supported Perspective): Back on September 20, 1996, at the James L. Knight Center in Miami, Florida, fight fans would get their first professional glimpse of a fighter who had already been touted (based on his 110-5 amateur record and 3x Golden Glove Champion tenure) as the sports next eventual phenom. Superb speed, great footwork, solid power, and to top it all off, he was a southpaw from Brooklyn with the biggest ego on the east of the Mississippi. Although some would see that as a negative, at the time, he was considered a breath of fresh air, and his talent in the ring supported the swagger he would dare leave home without. To see him in the ring was to witness athletic ability at it's best, the way he slipped shots to land his own, and frequently sent opponents packing early, averaging only a mere 3 rounds through his first 17 fights. Establishing a resume that included names such as the gritty Mickey Ward, the slick Junior Witter, and veteran Darryl Tyson, Judah had quickly utilized his talents to become a household name as those who knew him loved him, and those who didn't would soon go out of their way to change that. Watching the years roll by, Judah found himself climbing the charts quite fast, and eventually staking a claim to his first Championship strap, the USBA Jr. Welterweight denomination. Only a few months later, Judah would also pin down the interim version of the IBF strap by soundly defeating Wilfredo Negron in a 4th round KO. His next task would put him in place to land the actual IBF strap (non-interim), as he stepped in to face Jan Piet Bergman. Despite winning the fight, in an ominous moment, Judah found himself having to recover from his first trip to the canvas. After seeing Judah rise to the occasion after the adverse knock-down moment, many figured this 'Super' talent named Judah to be the creme of the crop in his respective division. That veil of perfection would later crack........

Zab Judah (The Critics Perspective): Truth be known, the knockdown suffered in the Bergman fight may have very well left a mental scar in the mind of Judah because although he was able to fight back and reestablish himself in that showdown, he now knew that he wasn't invincible, and reality set in that on any given night, the right fighter could derail his road to supremacy, potentially for good. After slipping past a defensive minded fighter in Junior Witter, Judah would end up tasting the canvas again against former IBF Jr. Welterweight Champ, Terron Millet. Despite him holding on to win that fight, questions about the strength and durability of his chin came to the forefront of every discussion about him. Many critics have long felt that there was a missing element to the psyche of Judah that prevented him from maintaining the toughness he typically displayed. Any such thoughts could easily be chalked down as nothing more than an undeserving criticism, but shortly after the questions began, the perception would become reality as Judah would eventually fall victim to a very unfortunate night in the ring. On November 3rd, 2001, Judah faced Russian born Australian Kotsya Tszyu in a showdown matching two of the sports brightest stars, with a total combined record of 54-1 between the two of them. After an eventful first round where Judah scored early and often with his gifted speed, with only a few seconds remaining in round 2, Tszyu would land a sequence of shots that would forever change the way the world saw young Zab, sending him to the canvas, and giving him his first loss of his career. The suspect chin and the fragile psyche that was speculated had reared it's face in an ugly way, as Judah would end up in a blind rage after referee Jay Nady whom he felt stopped the fight prematurely. Despite finding moderate success after that unfortunate night in the ring, in the minds of many, Judah has never quite lived up to the reputation that preceded him. Aside from avenging a loss at the hands of Cory Spinks, Judah would subsequently lose 4 of his next 13, which included Floyd Mayweather Jr., Miguel Cotto, and the slow 'Cinderella-man', Argentinean Carlos Baldomir. After watching a shot at Shane Mosley slip away due to injury, Judah finds himself once again in the mix as he gets set to take on Ghana native Joshua Clottey. The talent and speed still remain, but the question of his ability to capitalize in the mind of his critics does as well.

Zab Judah (My Perspective): At the tender age of 30 and despite a few slugfest, Judah simply hasn't engaged in enough battles to be considered 'shopworn' by my standards. To say that he lacks the mental edge to compete with certain fighters is debatable, but clearly, his talent and speed still remain. Casting aside all the rhetoric about his heart and his chin, the one thing I do think needs to be gauged - and will come Saturday night - is the mindset of Zab. Has disappointment of the past stripped him of his passion for the sport? To take it a step further, has the pressure of trying to be Brooklyn's finest in the eyes of his local frats melted down his passion, overcoming his pure love for the game? Both questions are legitimate, and the fact that they yield a wide assortment of responses is perhaps the most telling stat of them all. Listening to fight fans I cross paths with, it often seems that they feel Zab simply hasn't been able to sustain that extra gear we all seem to know he has in him. In boxing, (and in life itself), there are 3 types of people. Those who watch things happen, those who find themselves asking someone else what happened?, and those who go out and make things happen. As it stands, Zab is currently watching things happen, and it's sad because he does have the skill to go out and make things happen. Until he does that, he'll be relegated to the 'watching things happen' role, and if he didn't train seriously for this fight, he'll rehash those questions about his chin, because with Clottey's strength, he may end up waking up asking someone what happened? All three scenarios come down to Zab and what he really wants. My parting question to him: Zab, can you silence the critics and make it happen? You don't have to answer that, but realize that the Sunday morning headlines will.

(Got Questions or Feedback? Contact ESB's Vivek Wallace at vivexemail@yahoo.com, 954-857-6858, or show some love at www.myspace.com/anonymouslyinvolved)

Article posted on 01.08.2008
previous article: Hatton vs Malignaggi on Nov 22 in Las Vegas
next article: Billy Grahamís Gone but Hopefully Not Forgotten!